Dreams of a Geisha
Exclusive
Take a journey through the magical and wonderful world of Geisha. Help Ichisumi in this incredible adventure to reopen the temples of Geisha and restore a world of beauty and passion. Dive into this engaging Match 3 game with beautiful scenery and relaxing music. Overcome obstacles, collect puzzle pieces, and be prepared to solve challenging puzzles in Dreams of a Geisha!
Fantastic gameplay
Exciting action
Restore a wonderful world!
Game System Requirements:
OS:

10.5

CPU:

1.83 GHz (INTEL ONLY)

RAM:

512 MB

Hard Drive:

69 MB
Game Manager System Requirements:
Browser:

Safari 4.0 or later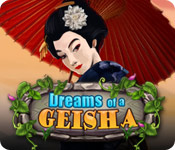 NEW299
The Big Fish Guarantee:
Quality tested and virus free.
No ads, no adware, no spyware.

Reviews at a Glance

Dreams of a Geisha
0
out of
5 (
0
Reviews
Review
)
Customer Reviews
I recommend playing it in the relaxed mode.
This can be timed or relaxed. Since the music if very soothing, and the tiles and background are very beautiful, play it slowly, enjoying it, and finding the restful place within yourself. Four playing modes (swap, block, chain, and token-in-hand which means that you have to make a threesome using the token you are given). It gets progressively harder, but again, it is all beautiful.
September 11, 2014
Fun Challenging M3 Game
I love this game. The variety of M3 and board rotation keep it fresh and interesting. Beginning levels are easier, but it quickly becomes a challenging game. The rotating board is my favorite aspect of this game. Would love to see more M3s utilize this feature. Don't miss this one.
July 11, 2013
Simply Beautiful!
Although there's nothing new in M3 gameplay in this one, it is a beautiful, relaxing game; such a nice change over zombies, vampires, etc. that are on so many HO games. Each of the 4 temples you need to restore has a different type of M3, each with beautiful backgrounds, challenging but winnable game boards, relaxing Japanese music, and useful powerups. My only criticism is the puzzles you have to put together periodically are too easy. If you are an old hand at Match 3 games then this one doesn't hold any surprises. But it is a fun, relaxing, serene way to kill a few hours!
October 26, 2012
A game to zen out to
Pros: Beautiful graphics, appropriate soundtrack, board rotation, multiple M3 styles, timed/untimed option Cons: It's easy In the current days of few really good M3s available, Dreams of a Geisha is a lovely addition for those who want a new M3 fix. There are four temples you must restore to keep the Geisha culture alive and each temple features a different style of M3 gameplay: swap, chain to match, token in hand, and pop clusters. At certain restoration checkpoints in each temple you will also get a puzzle minigame to play for a change of pace. You will earn powerups along the way and find others buried in some of the game boards to uncover for additional help. The typical obstacles seen in M3s are here too, and won't be too hard to figure out. If you get really stuck there's a Shuffle button to rearrange the tiles, and the game will auto-shuffle if you run out of moves. When you have solved the M3 portion of a board, a new puzzle pops up in the same playing field in which you must manipulate a key or keys along a pathway until they reach one or more chests at the other end. What makes DoaG unique is the board rotation concept. Right clicking or clicking on the turn arrows at the upper corners of the game screen rotates the game board 90 degrees. This is essential for solving the keys and chests puzzles but also helps the M3 portion of the game by shifting the pieces around into empty spaces and/or allowing the player to find matches more easily. There is both a timed and untimed option and the soundtrack is very soothing and appropriate to the game's theme, so this is a terrific game to help you relax. The game tiles are quite well detailed and pretty to look at. The lag time of about 3-5 seconds when you run out of moves and are waiting for an auto-shuffle, and the delay of the game in giving you a hint ("please rotate the board") are a bit annoying but not a total deal breaker for the game. If you are looking for a challenging M3, this won't be it, but there's nothing wrong with having a good chill-out game here and there.
November 21, 2011
Pleasant Game
Ichisumi needs your help to reopen the temples of geisha, a link to the mysteries of the past, which will take you to the magical world of beauty and passion. Gorgeous graphics, very good sound, colorful. There are 4 temples, and in each you will gain pieces of a puzzle. (I did not come until the end to know what will be formed). After finishing the required yellow tiles, a chest and a key appear on board. You have to rotate the board, so the key can open the chest. Each temple has a match 3 mode: pop, swap, etc. Despite being cute and entertaining, I liked more "Geisha: the Secret Garden".
March 22, 2012
relaxing fun
this is a fun little match three adventure with a cultural twist. in this game, you help a geisha, Ichisumi, restore the ancient art of the geisha. to do this, you must match three or more game pieces to win pieces of a larger puzzle that you solve. there are four of these larger puzzles, each of which depicts a temple that you must reconstruct. graphics: the background for the game boards are lovely japanese style art, and the colourful game pieces also maintain that japanese art theme. different levels of play have different game pieces, too. music and sound effects: i enjoyed the music, which has an appropriately japanese theme, and the voiceover (also scripted) was nice to listen to. storyline: the story line makes no sense to me, but honestly, this is a match three game, so i really don?t think it matters -- the game would be just as fun if there was no story line at all! gameplay: there are two modes of play: timed and untimed (relaxed). you have a variety of play styles (swap, pop clusters, matching chains, etc. -- one style per temple) and this game is unique amongst match threes that i?ve played because, by clicking on the arrows at the upper corners of the screen, you can rotate the gameboard by 90 degrees. not only does this help you make more matches but gameboard rotation is an essential feature for the later part of the game where you must move a golden key towards a chest to unlock it. if you manage this, you receive points and a piece of the temple puzzle. you earn power-ups along the way and you can reshuffle all the pieces -- and the game actually tells you when you?ve no more moves and must shuffle the pieces. gameplay is smooth with fairly rapid loading of scenes, although there are small but noticeable pauses at certain times, such as after you?ve progressed from the basic ?match three? to the ?golden key? stage of play. my interaction: one hour demo, relaxed mode. this relaxing little game will provide hours of fun for the entire family.
June 20, 2012
Peaceful M3 Game
The music is very peaceful. I liked that there were four different types of match 3 action. Sometimes I like a game that that is not overly challenging. The only problem is it got boring the longer I played it and I was glad when I had finished it. Still, I might play it again just for the music.
June 20, 2012
It's relaxing alright....
to the point of nearly putting me to sleep! I found this one a bit mind numbing.... The game is super easy -- very little thought required.... If you want to wind down after work, this one will relax you quickly. If you can't sleep, this game is perfect for you! ;) It's not a game I can play for very long... It's worth the DD price, but I wouldn't pay full price for it.... You might feel differently, so do give it a try.... you never know!
June 20, 2012
A match 3 game, which I didn't like very much.
This game is dull, boring and tiresome.
December 5, 2011
sorry!
not up to the usual standard, sorry
April 14, 2012
The Apple logo is a trademark of Apple Computer, Inc.
The Windows logo is a trademark of Microsoft, Inc.