Allora and The Broken Portal
Exclusive
A powerful wizard has been sucked into a portal and is lost! Only you can save him from a terrible fate in Allora and the Broken Portal! Approached by an Elf girl and a rodent friend, it is up to the eyes of a human to solve perplexing puzzles and collect the valuable crystals that power the portal. Use your Hidden Object Puzzle Adventure talents to travel to Faraway Forest and collect the necessary items and save the wizard!
Fantastic gameplay
Incredible graphics
Repair the Broken Portal!
Game System Requirements:
OS:

10.5

CPU:

2.0 GHz (INTEL ONLY)

RAM:

512 MB

Hard Drive:

301 MB
Game Manager System Requirements:
Browser:

Safari 4.0 or later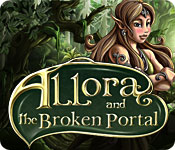 NEW299
The Big Fish Guarantee:
Quality tested and virus free.
No ads, no adware, no spyware.

Reviews at a Glance

Allora and The Broken Portal
0
out of
5 (
0
Reviews
Review
)
Customer Reviews
Allora and The Broken Portal
63
63
Mayzy's Review- Allora and The Broken Portal
This game was a bit of a toss-up for me. It had definite ups and downs. The plot was very basic, at best. Your goal is to move from scene to scene finding crystals and runes so you can save a wizard and go home. There ya go, you can skip just about all the dialogue scenes, because that's pretty much it. The puzzles were very easy and the music annoyingly repetitive. What this game really had going for it, though, was the art. It was colorful, whimsical, and quite beautiful. The hidden object scenes were just lovely to look at. I am very partial to games which take a good, stylistic approach to their art, rather than grainy, 'copy-and-paste' realism. I wish that the review system allowed ranking rather than just yes or no for recommendation. I'm going to have to put no, as I definitely wouldn't recommend paying full price for Allora, but it might be worthwhile as a daily deal or if you have a good coupon.
January 4, 2012
First Half Solid, The Rest...Not So Much
Add Allora and The Broken Portal to the list of hidden object games where you go in search of someone. In this case, it's a wizard, whose technology had a serious flaw and deposited him..somewhere. You play the part of a human who crosses over to this fantasy world to repair the portal and rescue him. You'll know you're a human since that's what everyone calls you for the entire game. I can just picture developers sitting around the table saying, "Not enough human references in that line." Were it a drinking game, you'd be cross-eyed by the middle. In any case, you have two companions on your adventure: the aforementioned Allora #who gets top billing for being an elvin Lara Croft# and a mouse with glasses. Neither of them do anything, just boss you around to get you from location to location. There are no voices in the game, so not much to write home about there. Animations are decent, but unspectacular. Where this game does shine is in the hidden object department. For those of us that really like those type of games, there are tons of HO scenes in this game. In fact, they come hot and heavy and never let up. You'll travel through a bunch of different scenes. In each of the three or four areas within said scene, you must collect a list of objects. For added challenge, you also have to find certain objects to use in the environment to collect the crystals you need to open that darn portal. The objects are hidden creatively, and even though the formula is repetitive, it manages to get quite a bit out of it before ennui sets in. There is also one "test" per level, usually standard fare of assembling a jigsaw or flipping tiles. My major issue with this game, and the reason I didn't rate it higher, was that the second half of the game is just tacked on. Essentially you have to revisit every location you've already seen and find even more of the same junk. The final puzzle is very underwhelming, as is the resolution of the game. Ultimately, this game is a great way to spend a lot of time finding stuff, but those flaws prevent it from being any less broken than the portal itself.
December 21, 2012
Okay game, not very difficult
While I didn't feel this was a bad game, I can't consider it a great one either. This one is primarily a hidden object game with a few pretty easy puzzles scattered throughout- usually one per location. Most of the puzzles are traditional in that you fit pieces of something together to make a whole object. There are also a few other types as well. The storyline is as follows: a wizard has fallen into a portal and the only way to save him is to collect crystals and runes. Pretty basic. There are several different locations that you go to, and several of them are repeated later in the game. Each location has three or four scenes. You go between these scenes looking for hidden objects, and some of those objects help you to manipulate other objects in the scenes to find crystals and runes. I thought the graphics were good, though they do have a cartoonish look to them. That I didn't mind, as all I really care about is being able to identify objects I'm looking for. There were a few cases where I used hints to find an item, but hardly any instances where the object I had trouble finding was impossible to distinguish. The sound I'm afraid I can't comment on- I played with the sound off. Overall the game was okay. I thought the hidden object portion was a bit challenging, but the puzzles very easy. I would recommend if you can get it on a sale like I did.
June 10, 2012
Charming beginner game for the whole family
*Review of completed game* This is a straight HOG with a few easy mini-games thrown in. The story is okay; nothing that really drew me in and made me want to continue playing. I really enjoyed the graphics, though! I liked having a few scenes to visit each chapter, and collecting inventory items to use in the various locations. What I disliked was the way those items, when found in a HOG, hovered in the middle of the screen way too long! The jewels you found by placing inventory items also did that, which really annoyed me! It's a good game if you want to play a quick chapter inbetween, nothing to indulge yourself in on a lazy sunday. I really couldn't decide between 3 or 4 stars and chose 3, because it was just too simple for me, but I still recommend it for beginners and kids!
July 6, 2014
Cute game
The title of my review pretty well describes all the good qualities of this game. The game is basically a big HOS with some easy puzzles and IAs thrown in. If you are young or just like fairy tales and HOSs, then this is probably a good game for you. I don't recommend this game for anybody else.
July 31, 2012
Pure HOS
Kind of cute, but really just a HOS game. Nothing exciting, no adventure, no real story.
July 30, 2012
Average HOG
i played the demo, and decided it was worth the daily deal price of $2.99. I'm not a big HO fan but this will come in handy to pass the time when there's nothing else to do. There is a puzzle (easy) for every 3 HOS and items you find to use to find the crystals. Finding the crystals is the storyline so you can skip the cut scenes. Music and graphics were okay, scenes were a bit dark and objects hard to find at times since they were half hidden. The demo took me into the third chapter so I figure the game would take me close to 4 hours to finish (I peeked at the walkthrough to see the length!) I'd recommend this game only for those HO fans.
April 29, 2012
If you're visually impaired...
I am visually impaired and it's hard to find games that have good quality graphics and this one does, however, I have to use the "Hint" a lot and it does not stay on the screen long enough for me to find the object, let alone the highlighted "Hint". I had to stop playing because I cannot find one object! :(
September 29, 2012
allora and the broken portal
After playing the trial version I'm still trying to figure out the storyline other than finding the crystals in each scene. It was annoying trying to find the hidden objects. For me I couldn't wait for the trial end. Not one of the best games.
December 9, 2011
Not a fan of adventure
I have not been able to make it all the way through this game, Lost interest as it is not a straight hog game and too much moving around...
November 25, 2011
The Apple logo is a trademark of Apple Computer, Inc.
The Windows logo is a trademark of Microsoft, Inc.