Macabre Mysteries: Curse of the Nightingale Collector's Edition
Explore the Nightingale Theater, which was ravaged by a devastating fire 40 years ago, and uncover a dark mystery! After receiving a letter and a golden ticket in the mail from your grandfather you are off to see an amazing ballet performance. With fantastic graphics and an incredibly mystery, Macabre Mysteries: Curse of the Nightingale will draw you in to a beautiful world. Explore Hidden Object scenes and more!

This is a special Collector's Edition release full of exclusive extras you won't find in the standard version. As a bonus, Collector's Edition purchases count toward three stamps on your Monthly Game Club Punch Card!

The Collector's Edition includes:
Bonus gameplay
Wonderful wallpapers
Stunning soundtrack
Extra puzzles
Game System Requirements:
OS:

Windows XP/Vista/8

CPU:

1.0 GHz

RAM:

512 MB

DirectX:

9.0

Hard Drive:

586 MB
Game Manager System Requirements:
Browser:

Internet Explorer 7 or later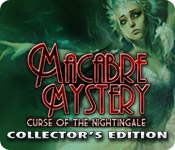 The Big Fish Guarantee:
Quality tested and virus free.
No ads, no adware, no spyware.

Reviews at a Glance

Macabre Mysteries: Curse of the Nightingale Collector's Edition
0
out of
5 (
0
Reviews
Review
)
Customer Reviews
Macabre Mysteries: Curse of the Nightingale Collector's Edition
57
57
Dissapointed in this one
I just don't like games that when you find an object and use it, it doesn't work because you've done it out of sequence. You have to do a puzzle or find something else before it will work. The hint works when you place an object on top of it -- to show where it goes. And even if you are correct, it won't go until you find something or do something in proper sequence. This is to be expected with some items and in most games, but not to the extent of this game. It makes playing frustrating at times. I did not finish the demo which is rare because of this.
January 10, 2012
MY LEAST FAVORITE TYPE OF HOG
This game is a FROG, my least favorite type of HOG. I really don't like finding "pieces" of items. The pieces that need to be found are very hard to see because they are often not the same color or in the same position as the picture of the piece shows. The storyline was good, except for the extra play at the end, which had little to do with the original storyline and actually contradicted it. The game never did tell where the grandfather went, even though that was alluded to in the extra play description. The puzzles were easy. I did encounter 2 new types of puzzles that I had never seen before, which was interesting. The game has a map, but it is not interactive, so you cannot use it to change locations. It showed two icons, one for current location and a different one for areas of interest. However, the icon for areas of interest were few and far between. Even when it appeared to be one, I could not find it on the map. The map added little or nothing to the game except confusion. The hint button worked good in the HOS, but was useless otherwise. It did nothing to tell you where you needed to go next. Thankfully the strategy guide was built into the game, and I had to refer to it often to figure out where to go next. This is very annoying to me in a game. It was a very long game particularly with my frustration with the FRO. I'm not recommending it because I don't like this type of HOG and because the movement through the game was so confusing.
December 5, 2013
Just did not get into it
Did not like it at all. I wasted my money on this one. Hint button to me was useless, only told you how to use the item but does not give any directions on where to go. Map did not work for me. Gave you no info. Music boring. To much going all over the place to do things but still needed more to solve the part.
December 19, 2012
What a Disappointment :-(
Based on completed game, including bonus. I hate to leave such a negative review, but I feel I should help counter the undeserved 4.5+ overall rating that this game has. Most of the 5 star reviews are probably based on the demo (I would have given this game 5 stars after the demo). Positive: This game is beautiful--really, really beautiful. That's important to me because I'm a very visual person, and I figure if I'm going to stare at something for hours, I want it to be a treat to look at. So I would ordinarily forgive a lot in a game that is this beautiful. The HOS are the FROGs (fragmented objects) that this developer is famous for, and they are normally one of my favorites. But in this game they are very, very repetitive. Towards the end I was groaning every time I saw the glimmer that indicated a HOS. And the puzzles were not a relief. There were only three not-very-interesting puzzles repeated over and over again. Really, there is only enough material (including storyline) in this game for about three hours of play, but the game lasts much longer...much, much longer. I also didn't care for the map--although that might be a matter of personal preference. I'm only able to play these games in 1-2 hour increments, and not necessarily every day, so when I came back to the game, I would get lost, and the map was no help because it was a) fragmented, and you could only see the map for the area where you currently were, and b) it was not a jump map, nor did it indicate "active" areas (well, except for the dreaded HOS). However, the map was probably designed this way on purpose to add to the challenge, and you may like it, especially if you play the game in just one or two sessions. I had to use the SG to get my bearings, since the hint button is very nearly useless outside an HOS. I am really sorry that I bought the CE. Normally I love collectibles, but trying to find the morphing objects in this game was no fun. I just gave up on them after a very short while. I hated the bonus game. It must of repeated the same 4 HO scenes 3-4 times each (I didn't count but it *seemed* like that much)--if I was tired of them in the main game, I was really tired of them in the bonus. And the story it told made no sense at all. If you really want to try this game for the visual treat, do yourself a favor and use a free ticket to get the SE--then you won't feel so bad when the ending of this game kind of lets you down. And even though the bonus game has new rooms (it's through a door that never gets opened in the main game), you are really not missing very much by not having it.
August 11, 2013
Don't Be Fooled By Positive Reviews Based on Demo Only
***Review Based Upon Completion of Full Game and Bonus Game*** Ok, most here know how much I loathe reviews left after playing only the demo or less. I think reviews should be left only upon completion of a full game. However, that is NOT what this is all about. Trust me, on this game, you REALLY need to not leave reviews after the demo. This game started out with real promise, and if you play only the DEMO, you are going to come back here and leave positive feedback, because the first of the game is actually quite good. Then it continues and its wheels roll off quickly. The repetitiveness of this game becomes annoying at first, but you think maybe they'll hit their stride as the game goes on. THEY DON'T. The repetition goes on and on and on and on. (Pun intended.) They literally have only THREE different mini-puzzles that rarely make an appearance, and they are the lamest mini-puzzles I've every play on any game. There are HOGs everywhere you turn. They should have just named this game the HOG game. And it is the kind where they give you objects and you find where the objects are, as opposed to giving you the words of object and you finding those. As HOGs go, I prefer that - but not 100 TIMES A GAME! This game was SO amateurish and the story is ridiculous. Oh, and get this: they actually introduce a new character at the end of the game who supposedly has a major impact on the game, but you've never heard of that character until the end. Where did he/she come from, developer? They just pulled that character out of their...um...ears. The music is definitely turn-it-all-the-way-down music. The ending is a joke, an unintended joke. I'm really dislike being so negative, but I have this thing about always finishing games I start, so it was maddening trying to get to the end of the game. I finally just started hitting "Hint" on the HOGs just to get them over with, and I never hit "Hint" on any game. I could not WAIT for this game to end. Terrible, terrible game. As a matter of fact, the developer ought to be ashamed of themselves. I know I am ashamed of them.
July 6, 2012
Too simple
Way too easy and back to back HOs which I hate.
April 23, 2014
Boring and Uninteresting
I am not too sure how this game managed to get such high ratings. To me it's only worth 2.2 stars [on my scale] and recommendable to only fans of HOGs. In fact, here, we should say HFOG in which FO stands for Fragmented Objects. Snag is... many of these FOs are in fact UFOs. The HO Scenes are sharp, well drawn and richly colored but much too cluttered for my taste. Too many fragments are hardly recognizable and/or so well buried that I couldn't find them. The generous Hint System helped a lot but that didn't make me happier. I may have lost a few brain cells overnight for there were a few things that I didn't quite grasp, for instance: - the theater burned down completely, totally devastated, so you expect to have to navigate in a heap of ashes, among charred beams, holes in floors, collapsing black remnants of walls and all sorts of debris falling on your head. Well, no, not at all. Each location is clean, neat, colorful and nearly brand new ! Or maybe I wasn't in the right place..... - a novelty [though not that novel because you find it in other games]: special powers like "vision" [!!??]; I haven't yet figured out what they were for since I never got a chance to use them. Apparently they are automatic. Puzzles ? Few and far between, with some originality, but childishly simple -at least in the demo. Simple too, the tasks you have to accomplish. And they are not different from those of many other games. 30 morphing objects [more objects to find... !! ] which replenish your hints faster... if you can find them, that is.. I didn't see a choice of modes, and I found the challenge level very low. As for the music, I turned it off, it hurt my eardrums and got irritating very rapidly. I would have preferred the sweet twittering of... a nightingale So what's left ? The artwork: splendid. The voice-over at the start: good. Navigation: straighforward and you have a map. 6 long chapters [7 in the CE]. A ghost that's not friendly at all. A corpse in perfect condition (after a fire ???). And some sort of madman going beserk. Don't ask me how the storyline is like, I doubt it's of any interest and I will never complete the game to let you know. I am sorry not to follow the other reviewers on this one, but, no thanks, this game is definitely not for me and I cannot recommend it.
December 24, 2011
The Apple logo is a trademark of Apple Computer, Inc.