Tales of Lagoona: Orphans of the Ocean
Welcome to the magical undersea world of Lagoona, to the town of Coral Bay. New Anemone Orphanage is in trouble of being shut down, and it's up to you to save it. Explore a host of breathtaking, underwater locations as you search for valuable items and sell your wares at the market so you can upgrade the orphanage. Test your skills with challenging minigames, and even accept quests from people around town. Help Islabelle the Mermaid save the orphans!
Exciting gameplay
Fantastic atmosphere
Enter magical Lagoona!
Game System Requirements:
OS:

Windows XP/Vista/8

CPU:

1.0 GHz

RAM:

512 MB

DirectX:

9.0

Hard Drive:

248 MB
Game Manager System Requirements:
Browser:

Internet Explorer 7 or later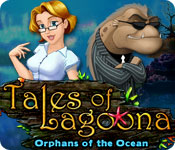 NEW299
The Big Fish Guarantee:
Quality tested and virus free.
No ads, no adware, no spyware.

Reviews at a Glance

Tales of Lagoona: Orphans of the Ocean
0
out of
5 (
0
Reviews
Review
)
Customer Reviews
Tales of Lagoona: Orphans of the Ocean
53
53
Save the Laguna Bay Orphanage!
Review based upon completion of the storyline, which happened after 82 levels for me. As for achievements, up to that point I completed 39 out of 47. An orphanage for fish is about to be torn down by an evil barracuda, and you are supposed to help the mermaid Islabelle to save the building. Judging by the number of puzzles, there are 160 regular levels plus a bunch of "Find 10 of the same thing" levels. The Good: + VERY long game + very funny little stories + achievements + colourful, bright graphics + 20 different puzzles (from easy to getting very tough) The Bad: - since you are always looking for the same items in the same rooms the game length can become tedious Favourite puzzles: o Nonograms o Puzzles o Untangle Web Least favourite puzzles: o Find the Differences o Trivia (three questions about Lagoona, bit boring) o Three Strikes Memory (make three matching mistakes and start over) Bottom Line: This is not my favourite sub genre since you are more or less always searching the same rooms for the same items that are put back into the scene. Puzzles have 8 levels and can become really tough. (My story ended at level 4 for all puzzles save for the ones that started level 5.) The funny story kept me hooked though.
April 10, 2012
Simple but fun!
This was a very simple but enjoyable game! It is an HOG with some puzzles intermixed. You also beautify the Lagoona school with upgrades you buy with your money from the HO finds as well as market sales of your HO items. Each scene also has gems to find which open more and more HO rooms in the school. Good story and characters, too. A game you could play with your kiddies. I liked it.
February 28, 2012
Not challenging, but still entertaining.
This game is reminiscent of Gardenscapes, Hidden Expedition: Titanic, The Little Mermaid, & Spongebob Squarepants. It has your typical love-to-be-evil villain with his bumbling sidekick & the sense of humor is something only kids are going to laugh at, but the plot & novelty of it are enough to keep you going, basically a mansion converted into an orphanage (nevermind that those barely exist anymore) needs to stop looking like "the house the crazy slovenly hoarder lives in" needs to clean up or it gets torn down. If you enjoyed this, try the "Yard Sale" games.
May 11, 2012
Great story and you can add on
This game doesn't end and I love the fact as you build the grounds you can change different areas. My kids and I play this game together. They love the scenes and story line.
September 28, 2012
Perfect Beginner Game
I learned on this game years ago. I still love parts of it even better than some of the more complex games with moving animation and live actors. There's no blood or gore in this one. It's about a school but it's not those awful role play games I detest. You help rebuild the school. It's very static, except for bubbles that move. The villains are not scary and fish puns abound!! If you have a senior family member in early stages of memory problems, this could be a great exercise. Harmless plot line will not confuse them with imagined threats if they're sundowning later in the day. Remembering which card you turned over or following a dot to dot sequence is very good for brain stimulation. Pretty colors and large graphics a plus.
October 6, 2014
Soothing & Consuming
BASED ON DEMO FIRST IMPRESSIONS My first reaction was this game is going to be too cute, juvenile and silly for me. But it is not at all. It is really quite a good time. And there is so much to do! SIGHTS & SOUNDS Being able to adjust the aspect ratio to suit my widescreen is always a good start with me. The locations where you repair and rebuild the orphanage, that is, the areas outside the HOPs are cartoony but beautifully done, bright and bold, and aquatic, which is my personal favourite environment. The HOP scenes are pseudo realistic and not so good. You notice the rough edges to items that just doesn?t happen outside. The music is divine. So soothing and relaxing, just a light piano twinkle. Very cool. There are no voiceovers for our cast of characters and no ambient sounds. Again, it?s a shame because underwater sounds can be so nice. WHAT?S HAPPENING You are trying to save the orphanage from nasty developers who want to close it down. In order to do this you are going through the building and collecting surplus items to sell at the markets. As well, you take on quests, searching for specific items that they need. With the money you make you can upgrade the orphanage and beat the sharpie sharks. MAKING PROGRESS There are about a zillion items casually left where they lay in countless rooms of the orphanage building. This is a strictly HOG, so you won?t be choosing which room you go into or when, and there is no inventory to worry about. You are given a list of items, 15 or so, exposed only 6 at a time. As well, there are gems in each scene to collect for extra cash. Each item has a different points value depending on how long it took you to find it. (There is also a untimed option). There is also present in each scene a catalogue you need to open up new improvements for the orphanage. Once you have completed a room you can send the items you have found to market and complete any quests you have fulfilled. You can also choose to buy upgrades depending on which catalogue you retrieved. With each, you have 3 choices of design for that particular improvement. There are puzzles that are not too hard, at the end of each level, about 12 in all, I think. Each of these you can unlock as you beat them in the game. And each has 8 levels of difficulty. You can also unlock wallpapers as you go and set them on your desktop as you unlock them. FAMOUS LAST WORDS This is definitely a nice game, in type it is similar to the other aquatic games such as Fishdom series and Aquascape, but I think the overall game design provides a more sophisticated gaming experience. Certainly worth a trial.
December 24, 2013
Lagoona 2 is WAY better!
This is a good game, but Lagoona 2 (which I played them back to back) is much better! Now that I've completed both games in their entirety, I probably won't play this one again. Lagoona 2 has sooooo many more puzzles, I played hours on the "Seek and Sprint" and completed all levels (Gwendolyn gives a bonus seek and sprint to complete in 45 min.) If you only have $$$ for one, go straight to Tales of Lagoona 2:Peril at Poseidon Park...you'll thank me later!
November 15, 2013
Entertaining
The idea is good, but I think it's boring, to much of the same in the challenges.
November 20, 2011
Cute Game/ Not the usual HO
This game involved HOs, filling shopping orders, and fixing up the broken down orphanage grounds. It is full of adorable characters and would be loved by youngsters. It was not my type of game, but i believe that many will love it! It is very creative.
August 29, 2012
A very boring and repetitive HOG
Don?t waste your time on this one. It was a good idea poorly executed. It begins as if it will be a gang buster and then slides down into repetitive drivel. There are only a few scenes which are repeated over and over again with the same items being found each time. You find items in numerous ?rooms? of junk which then ?go to market? in an unseen flea market. Money filters back and is used to improve the orphanage. Unfortunately, after each HOS is a puzzle, and most of the puzzles are awful. I skipped almost all of them. In each room there are gems to find and gems unlock additional ?rooms?. Unfortunately, again, the gems do not add to the total to unlock rooms. Therefore, when I finished the game, I had 7 rooms I had not been able to unlock yet. Those 7 rooms COULD have made the game more interesting, as it took me a month to finish this game. I could have finished it sooner, but it was so boring that I used it as a preface to bedtime. The artwork is tremendous, the story line extremely weak, and the game play is very repetitive. It all adds up to a no recommendation. Nothing here to recommend.
July 29, 2012