TangleBee
Bees are humming, the Spiders coming; untangle quick before they stick! The TangleBees have unfortunately been caught in the tricky spider's web and need your help. Untangle the bees to set them free, find trophies, and bring peace back to TangleWood Forest. Relax and discover the changing of the seasons complete with bubbling brooks, autumn leaves, and wild flowers.
More than 400 levels.
Unlock power-ups.
Bonuses and secret levels.
Game System Requirements:
OS:

Windows 2000/XP/VISTA/7/8

CPU:

600MHz or faster Processor

RAM:

128 MB
Game Manager System Requirements:
Browser:

Internet Explorer 7 or later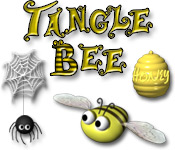 NEW299
The Big Fish Guarantee:
Quality tested and virus free.
No ads, no adware, no spyware.

Reviews at a Glance

TangleBee
0
out of
5 (
0
Reviews
Review
)
Customer Reviews
I?VE BEEN LOOKING FOR A PUZZLE GAME LIKE THIS!
First of all... I did love this game, hence the 5 stars... to be honest though... most would probably give this game 3 stars. TangleBee is a Cat?s Cradle/untangle the lines game. There isn?t really a ?story? but you have a goal of traveling through the forest and different scenes to find and free all of the queen bees. Each Queen bee has a different power to help you free the bees. This is a long game, but probably not the kind you would play from start to finish, like you would if you were playing a hidden object game. For an older game, released in January of 2007, graphics are clear, but not sharp and crisp like games today? if that makes sense. A nice, cheery, colorful puzzle game. *3 levels of difficulty? Easy, Normal, Hard *There are goals of bronze, silver, and gold to try to earn. Gold? even on easy? even in the Kids level?is tough to get! *There are many ACHIEVEMENTS to earn. 5 different modes of play? which are as follows? *TangleBee Classic (Timed)? 135 levels In this mode? as you uncross the overlapping lines the bees are freed and fly off. Free all the bees to complete the level. The timer is a SPIDER who climbs up a thread and tries to get to the honeycomb. If he does? you lose the level, and a life. *Tangle Bee Kids? An easier, more colorful version of Classic. *Tangle Trouble? 90 levels? A more difficult version of TangleBee Classic? *Tangle Puzzle? 50 levels? You must untangle all the lines before the bees get freed. Timer seems fairly generous on this level. *Timeless Tangle? This is one long level with no time limit. There are also Bonus levels in between the regular play levels? avoid the spiders while clearing the picture in the background. The music is a nice, relaxing acoustic guitar with 3 songs? you can choose to play one particular song from the options menu or ?random?, which switches them around. BOTTOM LINE... If you don?t particularly care for the Cat?s Cradle/Untangle the Web type of puzzle, don?t bother even demoing because you won?t find anything you would like with this game. To YOU I do NOT recommend this game. If, however, you are like me and love the ?untangle the lines? type puzzles? you will love this game! To YOU I highly recommend this game.
March 22, 2012
Untangle the Bees before the Spider Gets them all.
If you have ever played a game where you have to untangle all the birds, bees, whatever ..... forget everything you've learned. In those games, you've had to untangle everything before you can pass the level, mini game, whatever. In this game, you untangle bits and pieces of the mess (and yes, it gets to be a b-a-d mess) at a time. For every bit you untangle, they disappear. Your goal is to ultimately untangle the entire mess (sorry, can't think of a better word) until nothing remains. Then, you level up. Periodically, a Queen Bee will be entangled with the other bees. You want to make sure you untangle her because she is the one that carries the bonus and as you level up and it gets to be such a tangled mess you shudder to think how you'll ever get through it, those bonuses will come in handy. Especially, when you don't have to think - do I use this one or that one - because it just automatically takes care of itself. Things to look out for. There is a spider on a line to the right of the honeycomb. That's your timer. Don't let it get to the top or you lose the level. Bees that get covered in a sticky web. Don't fret, just include them in an "untangle", free them and you're good to go. Bonus Level: Here you're on your own. Keep the bee away from the spiders flying all around you as long as you can. I made it up to level 5-4 before the free demo ended with no problems whatsoever. Once you get that first bit untangled, it's smooth sailing the rest of the way. I know this sounds very confusing, it's not. I am NEVER good at this type of mini game but went through basically over 50 levels with no problem, sometimes it was even kind of boring because the bonuses would take over and do all the work - lol. This isn't a purchase for me because I just don't care for this type of game, but I do encourage everyone to give it a try. Go ahead ... rescue those little bees .... you know you want to. Happy Gaming.
July 28, 2014
discovered that I need completion satisfaction
I adore the untangle connected lines types of puzzles. However, I also adore the satisfaction of triumph when I solve a puzzle. This game makes it difficult to obtain the latter. The music, sound effects, and graphics are OK. They are not fantastic, but not annoying, either. The game concept and story line are in much the same category. Since I play to enjoy the process of playing, all these things are fine for me. What I found annoying was just how difficult this game makes it to experience the satisfaction of solving each puzzle. First, I have a handicap that makes all timed games out of reach for me, so I was happy to see there was both a timeless mode and a puzzle mode available in this game. (You do have to play some of the classic mode to make them available, however, which was somewhat annoying.) It turns out that puzzle mode is timed, which was a disappointment. I was hoping it would be scored by how many moves it took to solve the puzzle or something other than timing, but not so. Therefore, puzzle mode did not work for me. Timeless mode turned out to be annoying in an entirely different way. As you start to untangle the strings, more are added, so you cannot get the satisfaction of completing the puzzle. Just as you are starting to make progress, it adds more! Unhappily, solving the original layout was not in the developer's minds with this mode. (Perhaps infinite frustration, rather than timeless, would be a better title for this mode.) For those of us who like untimed brain teaser and puzzle type games, there are a number out there that provide plenty of completion satisfaction. If that is what you are looking for, I recommend you play one of them and skip this one. (Just so you have an idea of some other puzzle-it-out type games to try, here are some of the ones I like: Professor Fizzwizzle, Ruin, Crazy Eggs, Christmas Tale)
June 29, 2013