Vampire Saga - Welcome To Hell Lock
Welcome to Hill Lock, a place no one in their right mind would want to be. The abandoned town beckons you to explore its ravaged streets. Fire that reaches up through cracks in the earth threatens your life and signs that something unnatural is stalking you have your nerves on edge. To escape, you'll have to gather useful items and solve clever puzzles. Find the path that leads you out of hell in Vampire Saga: Welcome to Hell Lock!
Terrifying locations
Fantastic gameplay
Escape from hell!
Game System Requirements:
OS:

Windows XP/Vista/8

CPU:

1.4 GHz

RAM:

1280 MB

DirectX:

9.0

Hard Drive:

314 MB
Game Manager System Requirements:
Browser:

Internet Explorer 7 or later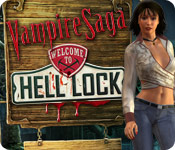 NEW299
The Big Fish Guarantee:
Quality tested and virus free.
No ads, no adware, no spyware.

Reviews at a Glance

Vampire Saga - Welcome To Hell Lock
0
out of
5 (
0
Reviews
Review
)
Customer Reviews
Vampire Saga - Welcome To Hell Lock
23
23
Keeps you on the Edge of your Seat!
Really enjoyed this game! I'll tackle story first as many seemed to think the game lacked in this area. For me - I disagree! This game is all about Suspense! I felt the story was metted out very nicely - one little suspenseful piece at a time! Yes - you do wander around the town alone - but you never know what will be around any given corner - what piece of the puzzle you might uncover next! This kept the suspense high & for me kept the game most interesting! The pace was great too - a relatively calm start - lots of exploring and heightened pace near the end where you are practically flying from location to location! I am stunned this is not a Collector's Edition - you sure get a LOT of game play for a standard price! Game ran very well - did lock up once, but I didn't lose any of my game (whew!). The interactive map made this game! You can walk back and forth if you prefer - but you can check the map for "hot" areas & jump from scene to scene if you want to speed things up! Also a great mix of items you use right away & things you need to keep track of for later. Hidden Object scenes were challenging without being blindinly difficult. Lovely graphics as well - but there is a creep factor for sure! Happy Gaming!
April 9, 2012
ELEMENTS THAT I LIKE IN A HOG
I enjoyed this game because I didn't have to traipse around. You take a pic at each new location and when you want to go there you just open the book with the pics...click on one and then click on GO There. Also there were "gears" to show you where something needed doing. HO scenes were good because the item would light up green when you were near it and get darker when you were closer. IF you don't want to use the pics the hint button would tell you which way to go.
December 5, 2012
a really good game
you have lost your memory and so you take pictures as you go and that is how you can move from one place to another. that is there in place of a map. there is a journal. the HO scenes are not too crowded and there is a lot of back and forth but with the pictures and the photo album it is not too bad. graphics were good. didn't have sound on. good game. i played on casual. hint/skip buttons charge pretty fast.
January 17, 2013
A Different and Excelent Game
This is a different game. It has many different locations but taking picture of them and moving location to location through the pictures makes the game easy and user friendly. The HO are easy to find because the name highlight green when the cursor pass close by. Sometimes I got bored going to the same locations looking for objects but this way make things easy and the game goes fast so you don't get bored. I loved the story line. The graphics are no the best but this is somehow an old game. It's worth to buy at least for $4.99 or if you get the $2.99 deal go for it!
November 12, 2012
A mixed bag but pretty decent overall
I played the first game in this series (Vampire Saga: Pandora's Box) and liked it so I got this one, however I'm not sure how the two games are related. Is it supposed to be the same vampire in both games? There's some things I liked: - The "map" in the form of an album of photographs of each location in the game. Locations where you can take an action are marked with a gear image, and the presence of a hidden object scene is marked with a shimmering effect. - You see a brief, creepy image of the ghosts haunting the town when you enter a new location. - This game seems to have taken partial inspiration from the movie "Silent Hill" with the setting of a deserted town with a coal seam fire burning under it. This makes for some gorgeous location artwork. And some things I didn't like: - There were two or three too many hidden object scenes at the end of the game that interrupted the excitement of the climax. - Too many unanswered questions. I would have liked to find out more about the mystery of the protagonists' origin. There were essentially NO puzzles in the game, just hidden object scenes and inventory item usage. This was fine with me, although I haven't played an iHOG in ages that doesn't have puzzles.
March 7, 2012
Good game
I liked this simply because it was a good game, not because of the vampire association - if you where hoping for a good 'vampire game' this one will disappoint as it is very vaguely related to vampires, at best. The gameplay and graphics though are very good and I thoroughly enjoyed playing through the game and learning the story as I went along. It lasted for a decent amount of time and was challenging enough to keep me interested.
January 11, 2012
A good game to spend a few relaxing hours
This vampire story is not similar to Dracula or Love Kills. In fact it's very different in that no vampire shows up except once in a cutscene and at the end. But that's what keeps the suspense going, together with shadows and ghostly figures emerging out of a corner or behind a lamp-post The storyline holds the road all along although one cutscene is misleading and seems out of context. The last scene is contrary to the expectations the player may have nurtured during the whole game but constitutes a logical ending. Yet what follows thereafter is hardly credible. After a simple intro, the hero finds himself in the middle of a windy night with his motorbike totally wrecked, no memory and a vampire's bite on his neck, on the outskirts of a deserted small town in which most buildings are crumbling down and streets are lit with candles. From there he explores 35 different locations and performs a multitude of tasks, most of which are logical and natural in the circumstances, and quite relevant to the story. That said, these tasks consist mainly in fixing things up and using tools. No magic lock, no dungeon type action, no potion, no spell, no fancy artifact. In between tasks, many HO Scenes and very few puzzles or minigames. All HO Scenes are purely traditional and not particularly difficult. On the easier of the 2 Modes Hints recharge real fast, something I always appreciate as I don't like to spend more than 2 minutes locating useless objects. Moreover, the name of each hidden object turns from white to green when the cursor is on or near it. A plus [for me, at least] which allowed me to speed through every HOS. Visiting each locale can be done in any order and requires a fair amount of backtracking. Two ways to navigate: - either by using the arrows on screen, but that adds a lot to the total mileage; the hints show you where to go as well as what to do next; - or by clicking on the photos so as to jump from one locale to another; here the hints are no help, you have to figure out your next destination by yourself. The artwork is quite good, well drawn and colorful in the darkish tones, with enough details such as cobwebs, rats, vegetation growing hectically everywhere, derelict interiors, deep holes in the asphalt, to set a semi-spooky atmosphere. No voice over, simple intro and custcenes in the form of stills, and a soft, undisturbing music. I had liked Pandora's Box, a similar kind of adventure, I liked this sequel just as much, not because they deserve an Oscar, but rather because of the technical tasks. They are both unpretentious, rather easy, relaxing, and offer a fair degree of challenge. If you don't mind bouncing from one place to another and reparing TV sets, compressors, using a pneumatic drill or a fire truck, etc.., if you want a bit of suspense and originality, if you don't want to think too hard but just hard enough, then you willl probably like this game.
January 8, 2012
Better game than storyline
This is a definite improvement over the first installment. Better graphics - good depth to the graphics, nice spooky tone. Several types of hints make the gameplay pretty easy. But it was entertaining and I never found it to be tedious or too repetitive. I thought there was a nice amount of Hidden Object scenes, versus the first installment which just had too many. There were a lot of locations and not too many repeat visits to each HO scene. The photo map shows what tasks can be completed and where the next HO scene is, so with the jump feature it keeps you from wandering around aimlessly. The Vampire theme was weak, however there were a couple of truly creepy scenes. One scene in particular could make some players jump if you were playing it alone in a dark room. If you hate spiders, one scene is sure to give you a serious case of the heebie jeebies. The cut scenes were paced well this time. This won't be the best game you ever played but it is a decent length with decent gameplay so you will at least feel like you got your money's worth.
January 20, 2012
Vampire Adventure
Overall, this was an enjoyable game. I would have prefered more hidden object scenes and more minigames. On the positive side, I liked the camera function and finding rubies for the necklace. I also liked the photo album that let you travel directly to scenes where action was required rather than going scene by scene, wondering what to do next.
March 21, 2012
Addictive!
I got hooked on this game right away. It has very little to do with vampires, which was fine by me. The FROGs are a nice change of pace. Nothing is all that new, here, but I found it fun and addicting.
April 12, 2012