The Treasures Of Montezuma
In The Treasures of Montezuma, you'll do more than match ancient artifacts and activate powerful magic totems. You'll also follow the beautiful and clever Dr. Emily Jones as she solves a mystery that can transform the world. The beginning of her quest takes her to the mountains of Mexico, where she makes an astounding discovery that sets the archaeological world on fire. But that's only the beginning of the challenges she'll face.
41 levels overs 5 episodes
4 bonus games, 8 bonus levels.
7 Power Totems to activate.
Game System Requirements:
OS:

Windows 2000/XP/Vista/7/8

CPU:

600 Mhz

RAM:

128 MB

DirectX:

6.0

Hard Drive:

25 MB
Game Manager System Requirements:
Browser:

Internet Explorer 7 or later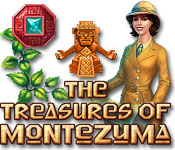 NEW299
The Big Fish Guarantee:
Quality tested and virus free.
No ads, no adware, no spyware.

Reviews at a Glance

The Treasures Of Montezuma
0
out of
5 (
0
Reviews
Review
)
Customer Reviews
The Treasures Of Montezuma
8
8
Time Challenge
This was either my 2nd or 3rd match 3 I'd ever played and every time I upgrade my computer, on this game goes for another round of playing. For me I found this to be fun and challenging the higher up in levels I went. I love the graphics and animations and the interface is nicely done.
November 26, 2011
great match 3 game
i love this game and also the other two the second one is still the best for me but i give all three 5 stars and hope that it will be a 4th montezuma
July 19, 2012
Exciting and fun
I love this game . It is so exciting and fun to play. I just wish they had more of them. I first saw the third one and downloaded it,loved it,so went back to find they had one and two. It is such a cool game I do not know why there are no other reviews yet. I hope they come out with more on this series because I would so play them. I wish I had a credit card to get them all. I am not a total fan of time-management games yet,but am working on that. These games are challenging and my 7 year old son likes them as well. Thanks again.
April 5, 2013
Fun and challenging M3
This is a very good M3 game, in my opinion. I've played it in a time I had a lot on my mind, and it did make me concentrate on the task at hand, I can tell you that! But... you need to be able to click very fast and have good eyesight to be able to see which match to make in the midst of all those colors and glimming stones. I had a lot of fun with this one!
November 9, 2014
Montezuma good game!!
I am buying it right now. A Lot of different things to do in the game. So much action and power ups.
October 19, 2013
The Treasures of Montezuma.
Overall challenging and fun. For a match three game I liked it mostly though just for the challenge. It could use a little more information on your scoring and how well your doing on each level you finish.
January 7, 2015
A good, basic Match 3
Swap-to-match only. Timed only - but you have unlimited re-try on the levels if you run out of time so it is not impossible. Fairly long - 41 levels over 5 different 'locations' and when those are finished you can re-play on Hard mode. Unlimited Hint, but it costs points. 2 shuffles each level. But if there are no more matches possible, the game auto-shuffles with no penalty. The objects for matching are tokens in different colours, and at first glance this may make the boards look dull compared to newer M3 games. In some of these tokens are embedded gems. Matching 3 or more will explode the tokens and free the gems. This is the ultimate goal of each board; complete the level by collecting a set number of gems. The number increases by 5 each level. As usual, 'skillful' playing #M4, M5, speed etc.# will give bonus items such as bombs, lightning rays, extra time, and these can be upgraded. Power Totems are essential to winning. These are items that you purchase/upgrade, which holds special powers that will help you win the level on time. Their powers are activated by making its corresponding colour-match 2 times in a row, if upgraded enough additional powers are unleashed by making 3 matches of its colour in a row. Obstacles: - Steel tokens - cannot be matched, but will move. Fills up the board and gives less colour tokens to make matches. - Chains - locks the tokens in place. Remove by include it in a match. - On later levels the grid #board# gets smaller, hence less tokens available for matching. There are some mini-games to liven things up, quite easy on the lower levels but gets harder - i.e you have less time to finish, or things move faster. There are trophies to be earned, and they carry over to Hard mode. There are some minuses: - The whole game feels quite sluggish - the tokens are quick to move when you grab them, but there is an annoying hesitation in the matching/exploding and resulting falling down. This can be taken advantage of, however, because you can make matches above if you are quick enough, before the tokens fall down. If you get into a rythm you can keep this up so that at one time half my board was 'empty' because the matched tokens had exploded but the above tokens hadn't had the time to fall down yet. - In-game help cannot be turned off. Annoying if you re-play under a different profile. - If you earn a trophy during a level, the trophy room will pop up while you play, interrupting your flow. - The power Totems are not efficient enough on later levels, meaning that after you reach about 120 gems to be collected you spend what feels like an eternity on each level. - The description of the help from the Power Totems is not exhaustive - after upgrading one, a new 'power' is mentioned, but not always what you need to do to activate it - which is usually making 3 consecutive matches of its colour, not just 2. This is one of the staple Match 3 games that has in some ways formed a mould for later games. Although it is some years old #2009, I think# it has held up admirably. Even with the minuses is still better than many newer of the M3 genre.
January 15, 2012
Stuck with the timer
I tried the trial and liked it so bought it, into about the 2 level I found its very hard to get the 45 stones to pass the level. But I am older and not as fast as the younger people that have bought it. I would love to be able to play the game and try to finish it but I know theres no way for that to happen. So if your elderly don't buy this one you will not be able to get very far in it. I really love all the up grades you can buy if you pass a level.
July 3, 2012