Nancy Drew: Shadow at the Water's Edge
Nancy Drew heads for Japan where she's staying at a traditional ryokan (inn) for a little RnR with Bess and George, but when reports of a vengeful ghost start scaring away the guests, Nancy's vacation takes a turn for terror! It'll be up to you, as Nancy Drew, to uncover the secret that lies beneath the surface, before the ghost can take its revenge in Nancy Drew: Shadow at the Water's Edge!
Incredible storyline
Fantastic gameplay
Confront terrifying secrets!
Game System Requirements:
OS:

Windows XP/Vista/8

CPU:

1.0 GHz

RAM:

256 MB

DirectX:

9.0

Hard Drive:

1113 MB
Game Manager System Requirements:
Browser:

Internet Explorer 7 or later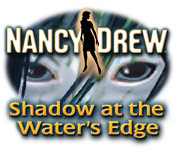 NEW299
The Big Fish Guarantee:
Quality tested and virus free.
No ads, no adware, no spyware.

Reviews at a Glance

Nancy Drew: Shadow at the Water's Edge
0
out of
5 (
0
Reviews
Review
)
Customer Reviews
Nancy Drew: Shadow at the Water's Edge
35
35
Fun Adventure Game
Another entertaining Nancy Drew game. The characters are engaging, the atmosphere is spot on, and the graphics lovely. The biggest negative was the constant back & forth to do singular tasks, & also as you were teaching during the day, only having the afternoon & evening to get things done, was a little limiting, & tedious at times. In saying that, this game had some very entertaining puzzles, especially the Suduko, Renagrams & Nonagrams - just loved those.
November 21, 2011
One of the Better Nancy Drew Games
This game was delightfully creepy. Some of the mini-games were really fun. My 8 year old daughter was hooked on one that was a touch too hard and I got to do it over and over with her. I'm sure I'm smarter for it. As usual, the graphics are great and the story is fun. The grandmother's accent is completely unlike any Japanese accent I've ever heard, but all else is great.
November 28, 2011
Loved This Game!
I absolutely loved this game! The graphics were fabulous and you really felt like you were there in Japan. Even though it is a murder mystery type, there is a lot of fun elements to this game, like riding the train, playing arcade games and helping the one character prepare 'Bento' food packages-a puzzle. I really didn't want this game to end but it had a satisfying conclusion.
November 18, 2011
creepy fun
In terms of atmosphere, this is one of the best Nancy Drew games, with plenty of spooky noises and strange happenings, and a mysterious family curse to solve. Like the other Nancy Drew games, this one is much tougher than most HO games- at several points I had to read the walkthrough because I was completely stuck. There are also a lot of number-puzzle type games that you have to play (no skipping!) in order to continue through the game, and these got tedious after a while. I also wished I could fast forward through Nancy's sometimes lengthy conversations with the other characters. But overall, it's very well done and worth buying if you liked some of the other games in this series.
November 22, 2011
Another Great Nancy Drew Game
I have a large collection of Nancy Drew games, both physically and those from Big Fish. My daughter and I love playing the games and she especially was excited to see Nancy Drew in Japan. One thing I like about ND is that when she travels the world, she becomes immersed in the local culture. Shadow at the Water's Edge was no different. You travel around Japan and the puzzles are also Japanese-based. If you love Soduko, Renograms, and Nanograms, then you'll love the minigames here. Of course, Nancy always has to have a job, and in this case, she tutors kids in English, so you'll have papers to correct. There is a level of creepiness to the game and there was one time where I heard my daughter let out a small scream when a ghost jumped out at her. I will admit, I also jumped when I came across the same scene. However, some of the scenes and even the ghost itself reminded me of the movies "The Grudge" and "The Ring," which were originally Japanese horror movies before being remade in America. Some of the puzzles were difficult, but otherwise challenging. Any fan of ND will know that there has never been a skip button for puzzles. That's usually found in Hidden Object Games, never point-and-click adventure games, which is what ND is. So, if you require a 'skip' button, then this game is definitely not for you. In my opinion, the culprit was a lovable character, but their motive was a bit weak. I was also disappointed that Nancy didn't fight off the culprit, instead just gave the person a slap on the wrist and a choice. So the ending, while there were two different ones, was a bit disappointing. Overall, this game was a great one and I would recommend it to anyone who is a Nancy Drew fan as well as anyone who's been curious about Nancy Drew or is a fan of the Japanese culture.
March 19, 2012
Too much dialog, not enough sleuthing!
Having done all of the previous Nancy Drew Mysteries, I had high expectations for this game. Unfortunately, I was disappointed. There is a great deal of silly dialog, which if you like that sort of thing, fine, but I am a quick reader, and it was excruciating having to wait for the characters to get their words out. Especially when it is Bess and George discussing nothing at all! The puzzles really should have skip buttons, especially the timed ones.. Some of the puzzles are quite lengthy, and you cannot save a partially done puzzle. The ending was not very believable either. While it was set in a great location, has interesting characters, and the visuals are well done, the game gets very repetitive, very quickly. The mini-game at the arcade was ridiculous--just mind numbing clicking until you collect enough marbles. No thinking what-so-ever. This is nothing like Phantom of Venice which was a great game!
February 19, 2012
What Happened?
I have played two Nancy Drew games before this (Waverly and White Wolf) and I found the quality of storyline to be lacking in this one compared to the others. There was a very confused atmosphere in this game. I think it was because the developers attempted to cover all of Japan-both the hyper-traditional and hyper-modern versions. In the end, all that happened was that you got a very small portion of each as well as a feeling of being limited. As in, you feel a bit taunted, because there are so many train stations and you want to look at what they lead to-but! Nope. You are limited to the ryokan (mostly hallways leading to rooms you cannot enter), the garden (the most enjoyable destination, but nothing more than pleasant), the expo centre (sounds huge right? fully explorable in four clicks.), Yumi's apartment (consists of one room# and a miniature arcade where you can play games #after you make enough money to buy two things, you're done there). This Nancy game is practically raved about on here as being creepy and awesome. Maybe I was expecting too much from it, or maybe I'm just rebelling against popular opinion, but it was not creepy. There was one timed puzzle where my heart was pounding in a rhythm that sound somewhat like: "You do not want to know what happens next so get out of here!" You were in a small room. The door locked behind you. There was rattling coming from the wall, along with hissings, whispering and banging; all growing louder by the second. You had to unlock the door to get out by completing a puzzle. I failed to complete it. Guess what happened next. Did the ghost slither in, grab her throat and squeeze the air from Nancy's lungs? A piece of wood I could have been sure was not there before fell on her head. And killed her. Not to doubt the dangers of chopped up trees, but? Now we get into the really important stuff: There were no subplots. None at all. One of the main, if not the main, reason I love Nancy Drew games. I love finding out about things you would never expect because you're focusing on the main plot line. And Shadow at the Water's Edge was completely bare of them. I seriously, severely hope this is not going to be standard in new Nancy Drew games. Also, the characters were not very engaging for me. They weren't ridiculously unrealistic, but they were kind of annoying. Not that I don't know anyone who is annoying in real life, but you are in contact with the other characters alot in this game for questioning's sake-even versus other Nancy Drew games. I think, this being considered, the character's personalities should have been made more complex than usual-not simpler. Usually Nancy culprits have far better motives than the culprit did in this one. When they went on their usual 'this is why I did this and I am fully justified because of it' speech I was sure it had to be a cover. And, -I cringe as I write this!- not a very good one. Yet it was real. Now, I have saved the worst thing about this game (in my case) for last-THE. MATH. If you do not enjoy math, I absolutely do not recommend this game to you. Puzzles are integral to Nancy Drew games and the game focus in Shadow at the Water's Edge is graphs, math and numbers. I had to constantly use walkthroughs for the games, and many of the puzzles were still extremely frustrating for me. I wish I wasn't, but...I am really dissapointed in this game. It just is not the Nancy and I have quickly some to love.
February 28, 2012
A Japanese puzzle/adventure game
I love that most Nancy Drew adventures are so different from each other while still retaining elements that make them distinctly 'nancy drew.' Some ND games set around homes or castles etc end up being quite alike and rely on different plot or puzzles to be different, although they are good. This feels different from the people being widely dispersed - two on phone, one elsewhere and three within the Ryokan. There is a theme in this game and it's very strong throughout - Japanese culture from modern to traditional and I thought how they did this was excellent. Even the puzzles are mostly Japanese or are well known in Japan, little things like that make this a very well-thought out game. Sometimes ND games are more adventure with only a couple of puzzles, here there are a lot and as usual you can't skip them. The puzzles you have are - suduko (quite a few) nonogram renogram memory skills origami cryptogram type tangram bento boxes (picture puzzle) couple of timed puzzles Pachinko In ND games you always get a couple of games that you can play as much as you want - here it was pachinko which is an arcade/pinball type game and bento boxes which if you don't like the picture you get just back out and go in again and it gives you a different configuration. If you don't like suduko, nonogram, and renogram puzzles I found out after playing that if you get an easter egg in the game (there are 4) you can actually skip those that are given by one person (although you will have to do a couple later in the game.) There is one timed colour in type puzzle near the end and thankfully I got it on the third try or would have got frustrated as I don't like timed things. I love learning things and learned quite a bit about Japanese culture by doing a couple of puzzles and by reading things in the game. There were a good variety of locations and sometimes it's just set in one place - here you go to an arcade parlour, a mall (I think) an apartment, and the ryokan which has gardens, baths as well as the main area. As it was a bit more complex the plot there was slightly more dialogue in it than other games but it wasn't a dialogue heavy game at all factoring in all the adventure, exploring and puzzles although it would be great if you could skip dialogue once you had read it. I loved it and wouldn't have changed the amount at all as I thought it was interesting. If anyone has seen "the ring" I think you will appreciate one aspect of it - I loved the nod to that movie with that but if you haven't seen it (and I do recommend the Japanese version much more creepy) it isn't necessary but an added layer of 'very clever and creepy' if you have. Also the obvious nod to 'the grudge' movie and like those movies this, especially at one part actually made me jump and no game ever does that with me. I so loved that Japanese ghost theme throughout (so different from other ghost stories.) As there was a lot going on, if you are new to ND games to even to LF then do choose junior mode. As you get a task list to check off, and I do secretly miss that playing senior! Also you get to phone Bess or George for a hint and I think the puzzles could be easier so if you don't like puzzle then do choose junior mode as you can't skip them. The second chance is here as usual, which brings you back to a time before you make a mistake or timed puzzles. It's a manual save game and load game, so you can go back if you make a mistake so save often but don't overwrite old saves. This is one of the games that have achievements but you don't know what they are till the end of the game if you do want to know what they are beforehand, do a search so you know what to try or just leave it to chance to see how you did! I love them. I thought this was a very clever, involved plot, and hard (but not in the very hard range) puzzles with interesting adventure game. It's not one of their 'easier' games and if you don't like a lot of puzzles it might not be for you but what a well-done game that I learned a lot from - what more can I ask?
January 30, 2013
My favorite
I've played almost all of the Nancy Drew games and this one is my favorite, mainly because I loved the puzzles. I love Sudoku and nonograms and I wish I could find more of the renogram type puzzles out there now that I've finished this game. It was long, but I was kind of trying to draw it out so I could play all of the puzzles, but there is a lot of running around talking to everyone. I liked the spooky atmosphere and I really enjoyed figuring out the map, but I did like that you only have to do it once for each location. Great game!
July 4, 2012
One that will make you jump
I have always enjoyed ND games - this one will make you jump at least once - much better than the previous release. Enjoyed the mini games that I had to fine them on line to play. Nice job!!1
November 29, 2011