Dracula: Love Kills
The Queen of Vampires is back and is determined to destroy the world! No one, human or vampire, will stand in her way. Count Dracula is still weak from his last battle with Van Helsing, so an uneasy alliance is formed between the two mortal enemies. Will they overcome their hatred and stop the Queen? Find out in Dracula: Love Kills, a terrifying Hidden Object Puzzle Adventure game!
Stunning artwork
Incredible gameplay
For a more in depth experience, check out the Collector's Edition
Game System Requirements:
OS:

Windows XP/Vista/8

CPU:

1.0 GHz

RAM:

512 MB

DirectX:

9.0

Hard Drive:

359 MB
Game Manager System Requirements:
Browser:

Internet Explorer 7 or later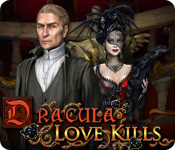 NEW299
The Big Fish Guarantee:
Quality tested and virus free.
No ads, no adware, no spyware.

Reviews at a Glance

Dracula: Love Kills
0
out of
5 (
0
Reviews
Review
)
Customer Reviews
Dracula: Love Kills
32
32
I played the CE - which has quite long bonus
This is supposed to be the sequel to my favourite game here at BF - dracula origin. If you haven't played that then don't think dracula origin is anything like this because it's not. I so wanted a good sequel and got a completely different game (like azada in libro). But again putting that aside this is a good game. Instead of playing Professor Helsing you play Dracula. So you are on the outlook for blood. Your choice with this matters as it will change the story at the end and that is unique and good. For those fishies that have played Hound of the Baskervilles (same developers) this gameplay is the same as the hound of the Baskervilles. Including the ability modes, map of achievements. There was 2 modes of play - hard doesn't have sparkles. I played on the hard/advanced mode. Didn't like the accents on the voice overs. There was an interactive map (transporter map) click to go to area and it also told you if there was tasks to complete in an area. When you have done everything in an area there is also "location complete". [b]Puzzles [/b]The mini puzzles were good though mostly non -original, (one sort of original) not hard, and skipable. And there were plenty and if you don't skip them it should be a long game. I really enjoyed hound of baskervilles and I do really enjoy this. BUT I LOVED the first Dracula game, it's humour, uniqueness and this didn't have the same humour. I think it is trying to appeal to a wider audience of gamers - those that love IHOGs. (It's just a B+ game and not an A+ game which I was hoping for) LENGTH There is 6 chapters plus a bonus chapter. First chapter took me exactly one hour on hard mode and no skipping puzzles or using hints. - overall took me 5 hrs with 2 skips in puzzles. for your info BONUS in CE - Bonus took me nearly 2 hrs. - Completely different area than the main game, different puzzles, good length. And like the Baskervilles game, unlocked all H0 scenes, puzzles (although no new ones). If you are wondering if you should buy the CE for once the length is good. and the puzzles and H0 scenes are unlocked in the CE If you just want the SE then this will still please as the story of bonus is a sideline and the SE is complete.
February 14, 2012
Just How Bloodthirsty Are YOU?
You'll find out in this hilarious vampire adventure in which 'The Count' (that's you) teams up with Van Helsing to save the world. Just as you'd expect from the stories, your character is gorgeous but evil, and the vampire hunter is a stuffed shirt good guy, with Igor in the middle being simply, well, simple - and vicious. The game looks great, feels almost believable, and has enough quirky HO scenes, tricky but not impossible puzzles, interesting story and odd characters to rate as a fine HOPA game. Even if you're not a vampire fan, you'll enjoy this fresh look at the legend.
January 14, 2012
A not too gory HOG/Adventure
I already reviewed this game at length in the CE section and I am giving only a quick summary here. Eerie atmosphere right from the start, but nothing horrible, nothing gory, even though Dracula feeds on blood to be able to use his powers. Gorgeous graphics, nice soundtrack, well crafted locales; plenty of tasks to accomplish and items to find and use; HO Scenes a bit cluttered but OK; Hint system generous, recharging fast, telling you what to do next; a map; objectives clear. A profusion of puzzles and minigames, not always that easy, but challenging, with a few novelties. Very good voice-overs, one very British, the others with a Transylvannian accent, and quite a fair amount of humor. 6 Chapters, several hours of gameplay. Worth 4.8 stars and adding to your collection.
December 27, 2011
Sympathy for Dracula
The title of this game turned me off. It sounds like it's going to be a sappy Twilight-inspired "romance" but it's actually an engaging plot with some good snarky dialogue between Dracula (your character) and Van Helsing, your nemesis who you are forced to work with for a common goal. Your henchman Igor has plenty of funny lines. I also appreciated the detailed history of your family and other characters. It really gave the game a lot of flavour. The graphics look great, especially the goopy red stuff that threatens to infect the world with a vampiric plague. You travel to different locations around the world and the change of scenery is great. There's an original (for this genre) game mechanic that was exciting to me when I first encountered it. You can make a choice as to whether you drink someone's blood or don't do it and it will affect the outcome of the game! However, I was a little disappointed that these choices had a minor effect (only on the ending and getting a few extra puzzles, not on most of the game). The puzzles were great fun. Challenging without being frustrating, and a nice variety. One of the more original recurring puzzles was one where you get a few moments to see and memorize a maze, then the screen goes dark and you have to guide your character through the maze and try not to bump into the walls. I like that you gain special vampire powers as you progress through the game and that they're powered by blood. The hidden object scenes were of the same high quality artwork as the location scenes. Overall, this is a really high quality game. I wish they had done more with the game mechanic of making choices, but still a very good game.
October 23, 2012
Fast-paced HO Game
Fun game. Good story. Interesting minigames. I enjoyed the variety of scenes, having to get a supply of blood, and acquiring special powers. Only negative comment I have is that I found Igor annoying (like JarJar Binks).
March 24, 2012
a lot to like here
I didn't think I'd like this one right off as it seemed to have a lot of blood. But there was so much more to the game that you soon lost sight of that. It had achievments including finding all the vials of blood, biting all or none of the women and some of the more traditional ones like not using hints for HO scenes. It also had abilities that you can earn and finding the vials of blood gave you the energy to use them. Even in it's SE form this is a long game. Locations were marked as complete as you went along. There were VO's that were excellent especially the one of Igor. It also had some quite humorous dialogue. There were several times here where you are given options with consequences and must choose what you want to do. Not sure how the game would have changed if I had chosen differently. May try it again. I found the mini games, with a couple of exceptions, relatively easy but fun. There was just sooo much to like about this one. For someone who's not that into vampire games I was surprised how much I liked this game. If you liked Sherlock Holmes..Hound of the Baskerville you will like this one. Give it a go.. try not to notice the blood and you'll soon be enjoying the storyline.
April 30, 2012
An excellent game
If you like long,and a little bit complicated games,this one will certainly appeal to you! TIME Well,the most H.O. games I've played are too short,this one wasn't!!It took me 4 h and 40 min. to finish it!And man,that'a a good time for game!No food,no moving,just siting in my chair!(ok,I took a break about 1 h.) MUSIC/SOUNDS Anyway,I liked the music while I was finding the ojects,nice, it just suit perfectly the "dracula-theme"! GRAPHICS Hmm,awesome graphics,really really good!I just have a complain about it...At the very beginning (and in the end as well)there was a video about the story,the graphics were sooo cool,Like 3D,I thought all the game would be like that..but I felt dissapointment when I found out that it was too good to be real!!Although the graphics were amazing!Don't worry about it! SCENES/PLAYING THE GAME Oh,yaeh,I found it...The most of the scenes where covered by blood so..be prepared...it's a bit disgusting but this is the type of the game,I guess!I played the easy mode,as it was my first time playing that...and it was easy enough:hints charged too fast,really,and I just clicked in random items and in no time at all I had finished!So for people who are not American and they may don't understad some words it's the best game for them!The great thing about the game is the choice you have to bite or not the bad guys...I don't really know if that could change the game,but it's preety nice to feel that you have the control... PUZZLES I won't forget to mention the puzzles..Oh my...what was that?I am not sure if I did solved a couple of them...some where too wired,others too easy!Luckily the "skip"button worked!!:) STORY ..Nice story...but I think I missed something.."dracula origin"describes in its strory,something that I should know?Mina doesn't love Dracula?Is Dr Van Helsing an enemy?I thought they were friends!Ok...if I forget my the missing links..it's very very good... COMPLAINT(S) One last thing,and quite sily...well,when I 'd to use the powers a red"star"appeared...Oh,please,that's not a star actually,and that is the only reason I was feeling guilty when I bought it...xoxo. Anyway,download it,and then buy it,if you like long adventure games! *It's not a romantic story really!
May 6, 2012
Do yourself a favour & play this
The game has great graphics & an involved story line. You move around the world, as Dracula, with Van Helseing as a companion.
December 8, 2011
Loved it!
Dark and creepy, just like I like it! I played on Easy mode, because my head hurts a bit and I didn't want too much of a challenge. ;o) I really enjoyed the game...not too hard, not too easy. Loved that there was a map that allowed you to warp to one place or another! I'll probably go back and try it out in Expert Mode so I can get the rest of the achievements.
February 4, 2012
DOA.
This was a nice game theme but a flop when completed. The game was easy to navagate when moving from one scene to another and the scenes were nicely done. Dark and damp just like you would expect from Dracula, but the mini-games were weak, the hidden objects obvious, and the chalenges were minimalistic. This would be a good game for beginners, but other than that I feel like I wasted the $6.99
December 26, 2011