Mystery Trackers: Raincliff
After a group of young students go missing, the Mystery Trackers are called in to search the city of Raincliff! Tackle this difficult case and unravel the strange mystery to save the students! Explore the entire town and discover who is watching your every move in Mystery Trackers: Raincliff! Use your Hidden Object talents to carefully dissect scenes and piece together perplexing puzzles!
Game System Requirements:
OS:

10.5

CPU:

2.5 GHz (INTEL ONLY)

RAM:

1024 MB

Hard Drive:

989 MB
Game Manager System Requirements:
Browser:

Safari 4.0 or later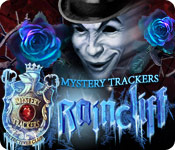 NEW299
The Big Fish Guarantee:
Quality tested and virus free.
No ads, no adware, no spyware.

Reviews at a Glance

Mystery Trackers: Raincliff
0
out of
5 (
0
Reviews
Review
)
Customer Reviews
Mystery Trackers: Raincliff
84
84
Not so much a HO game, it had alot of different puzzles throughout
challenging game but alot of back and forth..the hint button came in handy lol
August 19, 2012
Pretty Good Game
On the plus side, I thought it was a good story with some nice features... Such as, if you collect over fifty "secret frogs", you get a special achievement icon. The atmosphere was nice with snow constantly falling and interesting details. The hint button was so specific, it was great... You didn't have to guess what they meant. It specifically said, "You need to return to X and get the Y behind the Z.". You can't get any more helpful than that! I didn't play with the option settings, but the theme music got a little loud after long moments of silence. I actually thought the silence was nice where you could only hear the snow or the wind or footsteps. Sometimes the graphics seemed incomplete in areas (like there was the impression of a wheel but not the whole wheel--perhaps intentionally stylized this way?), but I don't think I had to use the hint button to find an item more than once or twice. It took a few hours and was really relaxing and entertaining, great for casual gaming. Over all, a good game.
July 8, 2012
Puzzle scenes were a challenge
The Hidden Object scenes were good, sometimes difficult but only when you're down to the last item. The Puzzle scenes (mini-games?) were quite a challenge. I don't remember exactly how many there were but on at least 5 of them I was just completely stuck. I even looked up the walkthroughs online and they didn't help either. I had to skip those 5 mini games as I just got so frustrated and had to stop. Some of them don't have reset buttons - I don't understand why all of them didn't have a reset?? Agree w/ other reviewers on going back and forth - that was tedious. There was no journal/map to follow - once you have reached/beat a scene, you should be able to return easily w/ a map that keeps updating. I've played other games where that is very helpful/useful. Many times I forgot where I had to go next. Having to return to the very first scene when you have reached the near end of the game was just a pain. Storyline was just OK. Didn't really get background on who I, the game player, was in the story. Again, a journal would have helped here. Overall, it took me awhile to play (at least 5 hrs, maybe more) and so it was worth the $6.99, but I wouldn't pay for the Collector's Edition for just another scene. If you want a challenge on mini-games, this one is for you!
April 9, 2012
Some minor problems, but mostly a great game
This game has beautiful graphics and top-notch animation and cut scenes. The puzzles were really fun--a significant number of original puzzles and almost all of them were of above average difficulty. Gameplay consisted more adventure game elements than hidden object scenes, which I appreciated. There are achievements, which I really like, so there's added challenge beyond just finishing the game. It also reminded me a lot of MCF: Dire Grove with all of the snow and missing students, use of full-motion video, and tense music that kicks in when something happens, rather than just looping through different scores. This is both good and bad as I really liked Dire Grove, but it's a little TOO similar. There was a lot of backtracking, which I generally don't mind, but feel in this case negatively affected what was an otherwise exciting (and original) story. Those minor issues aside, everything else was excellent, I'd say I still like the first game in the series (Mystery Trackers: The Void) more, but this one is very good as well.
April 8, 2012
Some good and some not so good!
This was a very long game, probably one of the longest HOGs I've played - it didn't quite live up to my expectations... The good points: There were many different locations to explore; it was very long and good value for money; sound quality was ok; there was a cut-scene playback option and there was a very clear hint system; I liked the achievement awards, which added interest and challenge to the game. The not-so-good points: Because there were so many different locations it entailed a lot of to-ing and fro-ing over the same territory and there was no map. Clues were often found many scenes later and it was easy to forget what they were for and where they should go. Some of the mini-games were a bit tedious for me and I did skip several - which I find detracts from the overall satisfaction of the playing the game. In places the graphics were rather washed out and it was difficult to see some of the items in the HOS. I'm not quite sure I understood the story-line completely but it didn't seem to have any impact on the game-play until the last 10 minutes or so. Overall I would recommend the game but it's certainly not one of my top buys.
June 14, 2012
OK Hidden Object Game
While this game was ok, it was a bit of a disappointment compared to the first Mystery Trackers game, which I loved. There was no real storyline, & way too much traipsing all over the place, and constantly having to go back & forth, instead of being able to do things in a more logical sequence. I really liked the diary in the first game, & found it very helpful, but the video diary in this one was just a waste of time. Some of the puzzles I found irritating, while I like to be challenged, some of the puzzles in this game I found down right confusing, & had to resort to the walk-through to work out what to do. Having said all this, I do not regret buying it. I think it is more I played the 2 games too close together & was maybe comparing them too much.
November 29, 2011
Too many things going on
After completing mystery trackers: The Void, which i absolutely loved i wanted to get another game in the series. Unfortunately, Raincliff wasnt what i hoped it would be. There are simply too many things going on at the same time that it becomes too confusing to keep track of all the items that you need and what to use them for. There are several steps to finding one item and unlocking one puzzle and before actually solve a puzzle, 2-3 more need to be solved before you can finish the first. I found the confusion to be more annoying than entertaining. Also the video log to keep track of your progress isnt as great as it sounds. I prefer the original journal that all other games in this category have. The story was interesting and original and the effects were pretty good. There were more puzzles that hidden object games, making this game a bit unbalanced. In short, this isnt a game that i would play again, at least not for a while. If you're looking for a game to pass the time between work and study, this ISN'T it, as you seriously need to sit down and make time for this game, because it is not easy at all and sometimes it feels like it is impossible to solve without a walkthrough.
May 15, 2012
Elephant games without the extras can be irritating
I found the game more irritating than fun. Too many places to visit, too many puzzles needing elements, and when you find an element you need to hit "hint" to figure out WHERE. No one has that good a memory, and having to keep asking "what do I do with this" is too much to ask... Elephant games does that too often. We overlook it because of details like otherworldy, magical settings, or cute helpers, or just an intereting storyline. But here we keep gong from room to room, and not learning much except that we may have to backtrack somwhere else we have forgotten, or something we may need later on. And no characters to talk to us, or to identify with. Others might like it, and enjoy the challenge. I find it just annoying and I did not feel I was missing anything if I deleted it and got something else that I enjoyed more.
May 11, 2013
It was pretty good, but.......
I think this game has potential..but I spent the majority of my time lost and using the hint/help button way too much. The HO scenes were great (very challenging). I just found the overall adventure of it to be too constantly back tracking and the logics of how to use the inventory items to be too vague..(caught myself scratching my head and thinking "that doesn't make much sense). It is a game that you REALLY have to think about and can't just sit and play. I also found some of the puzz;le scenes to be rather confusing.....Having said all of that, it is definitely a challenging game...and I DID enjoy it, just required a little more brain power than I was expecting! lol Reminded me very much os Dire's Grove!
April 10, 2012
Bring along some friends...
I enjoyed the Void so much that I purchased this game sight, unseen. However, after playing for awhile, I became very frustrated with piles of inventory objects I couldn't use, and a myriad of blinking locations, requiring wandering all over the place into every nook and cranny. As I reached the middle of the game, I found myself hitting the HELP button frequently. To me, this doesn't make for a fun experience. I see that a large number of masochistic players think it is a wonderful game, but I'm with the minority that found the back-and-forth concept unappealing. I will definitely test the current Mystery Tacker game before I buy it!
March 29, 2012
The Apple logo is a trademark of Apple Computer, Inc.
The Windows logo is a trademark of Microsoft, Inc.