Grim Facade: Mystery of Venice
Two young ladies have gone missing and its up to you to find them in Grim Faade: Mystery of Venice, a terrifying Hidden Object Puzzle Adventure game! The two young women had just left a masquerade ball in a gondola when they went missing. The driver of the gondola was a man wearing a mask of Medico Della Peste. Track him down and discover the terrifying secret!
Game System Requirements:
OS:

Windows XP/Vista/8

CPU:

1.4 GHz

RAM:

1024 MB

DirectX:

9.0

Hard Drive:

585 MB
Game Manager System Requirements:
Browser:

Internet Explorer 7 or later
Alcohol Reference
Blood
Use of Tobacco
Violence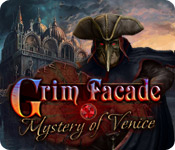 NEW299
The Big Fish Guarantee:
Quality tested and virus free.
No ads, no adware, no spyware.

Reviews at a Glance

Grim Facade: Mystery of Venice
0
out of
5 (
0
Reviews
Review
)
Customer Reviews
Grim Facade: Mystery of Venice
44
44
See Venice and buy the game
Based on CE trial, really nice game, HOS set out well, no junk piles!! puzzles not too much of a brain strain, art work excellent as usual, voice overs were good, in keeping with the theme there are opera glasses to look at objects,very original.coins have to be found throughout the game to buy much needed objects to help you, look out for fans to collect which count as hints.One to buy.
March 13, 2013
Not bad
I got this as part of a Grim Facade bundle and played Sinister Obsession first. I nearly didn't bother playing this because that one was so bad, but this was quite a lot better. In contrast to Sinister Obsession, it actually had a coherent and complete storyline which was engaging enough. However, I don't like the fact that there is no map, and the locations seem disjointed without one. Maybe that's why there isn't one - it probably wasn't possible to create a map. I also wasn't over-keen on the graphics - they seemed a little fuzzy to me. Others may disagree, though and find this atmospheric. Use of some items is a bit illogical, but not as bad as Sinister Obsession. Puzzles are quite simple and the game didn't last very long. I did like the way you earn hints by collecting fans in HOS. Overall, this game is adequate, but not outstanding. Worth it if you have an offer or a token.
March 10, 2013
Delightful
Enjoyed this game a lot. Music was nice but did begin to wish they'd play a different tune. It was challenging but not too difficult to enjoy. I did have to consult a walkthrough a few times. The game did move a bit slowly at times (i.e. bringing up the inventory was slow, etc.) Recommend this game as a good HO game.
March 6, 2013
Grinm Facade Mystery of Venice
this was a very good game. I love the storyline, the visual and sound. some of the puzzles were a little hard but that's what made it fun. the second half of the game sinister obsession was great. I need to find more games like this
February 13, 2013
Liked It Fine
I'll keep this brief. The storyline was cohesive, but at the same time, I couldn't understand why anyone would go through all of the trouble that they did to support the storyline. I enjoyed collecting ducats along the way to make purchases for the items I would need throughout the game. The visuals were great. The challenges were challenging at times. There was no interactive map. I would recommend the game overall. But it really depends on the types of games you like.
February 3, 2013
Pretty good game, fun, but the music was annoying
The game was pretty fun. The HO scenes were fairly easy (there are unlimited hints). The puzzles were a mix of easy, medium, and hard (and they can be skipped). The graphics were lovely and the story, while predictable, was fun and still held me slightly in suspense. It might get boring after you play it 10 times, but it is good for all ages, and I found it a nice diversion from the very creepy games I had been playing. I have two complaints: one is that the music was period appropriate and fit the game theme, but it was super repetitive and annoying. The second complaint is that the game wasn't that long. I got to the end and I was sure there must be more (maybe there is more in the collector's edition, as I only got the regular edition).
January 24, 2012
Couldn't Help Getting Frustrated With This Game
As much as I tried, and as many chances as I gave this game, I just couldn't. This gamehas given ERS studios another strike and with one more I'm not sure I'll be able to trust this developer again. As usual with this game, there are some brilliant graphics. ERS always puts a lot of time and detail in to them, and this game doesn't disappoint. The storylne is hands down the best part of the game. It's brilliant, the intro hooks you and you just need to know what happened. The game seriously needed a strategy guide as sometimes you had no idea what to do next and even if you used the hint, sometimes it wouldn't help. This really dragged down the fun rating and was utimately what made me give up on the game. The Hidden Object Scenes were a bit disappointing too. The objects were easy to find, and I liked how some of them were in groups, but ligh could easily got on the screen way too easily, and if I played in the dark I couldn't find them, so I had to tilt my computer screen forward, which really annoyed me. The one thing I find really weird about this game is the hint system. Really? You need to find fans to give you extra hints which I think is just ridiculous, and once you run out of fans you have to wait for the hint to recharge, which took a long time. While I liked Grim Facade: Sinister Obsession, this one just didn't cut it for me. I was very disappointed with the gameplay and this may be the game that finally makes me lose trus with this developer.
July 11, 2012
Not a bad game...but not the best
I just finished this game more because I hate leaving things unfinished rather than because I was enjoying it. I felt I should have enjoyed this more but there were bits about it that just didn't gel. While the overall graphics were absolutely beautiful and evocative of Venice, I couldn't understand why the graphics got grainier in the HOS. This made them a little bit of a strain at times and detracted from their enjoyment. The storyline was also flimsy throughout but then finished quite quickly with a creepiness in the last scene that didn't tie up with the beauty of the scenes that went before. Some of the mini-games were too easy and I often found that when stuck Hints didn't help or even, in one case, pointed at the wrong thing! I had to resort to the Walkthrough Guide at that point. In conclusion, I won't be rushing out to purchase any more in this series.
October 21, 2012
Grim Facade: Mystery of Venice
One thing that made me decided to buy this game: nice story, set in Europe. ERS is getting better with voice acting and the graphics, but backtracking is tedious and I hate collecitng coins. Puzzles are rather difficult and I chose to skip them. The background music I have heard before, probably in the Puppet Show. But still, I love the game and hopefully the next installment of the series is better..
June 9, 2012
Beautiful, but repetitive HOS
This game LOOKS amazing. The scenes are very beautiful, and you find yourself keen to find and explore new areas. The puzzles are challenging,the inclusion of a shop to access some of the items you need is nice! (Make sure you find all the ducats hidden around the game!) Sadly, as this is a Hidden Object game, the HOS scenes are the thing that i really disliked. They are necessary to provide vital objects for the rest of the game, but they start to become more of an annoyance than a help. They contain the same objects in each scene, arranged on a different background. Revisiting each HOS scene and sometimes working through three of them in quick succession before any progress in the story can be made can start to become irritating. The music, whilst lovely, is also extremely repetitive. Also cannons do not have wicks. Not ever. A little research would have resulted in me swearing at my screen less. ;) It is a good storyline. It is a beautiful game, The areas you get to explore are really interesting and varied, The puzzles are challenging and fun. If you like lots and lots of HOS then go for it. If you like the 'adventure' part and want SOME HOS and some puzzles and some story to work through, there are better games out there.
May 23, 2014
The Apple logo is a trademark of Apple Computer, Inc.