Grim Facade: Mystery of Venice
Two young ladies have gone missing and its up to you to find them in Grim Faade: Mystery of Venice, a terrifying Hidden Object Puzzle Adventure game! The two young women had just left a masquerade ball in a gondola when they went missing. The driver of the gondola was a man wearing a mask of Medico Della Peste. Track him down and discover the terrifying secret!
Game System Requirements:
OS:

Windows XP/Vista/8

CPU:

1.4 GHz

RAM:

1024 MB

DirectX:

9.0

Hard Drive:

585 MB
Game Manager System Requirements:
Browser:

Internet Explorer 7 or later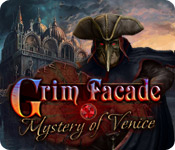 NEW299
The Big Fish Guarantee:
Quality tested and virus free.
No ads, no adware, no spyware.

Reviews at a Glance

Grim Facade: Mystery of Venice
0
out of
5 (
0
Reviews
Review
)
Customer Reviews
Grim Facade: Mystery of Venice
42
42
Venice, Masks and Fans to Find - Loved It!
PLUSSES = I loved this game, it is set in Venice and you find lovely fans and beautiful masks ? that makes this girl?s heart so happy! The game is set in Venice at the time of a plague. The story begins with a missing mother and daughter, who disappear from a gondola after leaving a masked ball. You, as the detective, are asked by the husband/father to find them. You receive 2 gold ducats as payment. After leaving the father, you will travel to 5 major locations in the game, with multiple rooms/areas on and off of the main site to explore. On your journey to find the missing females, you will need to look closely in all areas, as multiple objects are hidden throughout the game, and you will need this inventory of items to complete the game and rescue both mother and daughter. You will also collect more gold ducats and use them to purchase needed items. There are prices on the items that you buy, and you have limited amounts of gold, so shop wisely and think of what is needed at this moment in the game. The graphics were clear and non-fuzzy, and the scenes of Venice are lovely. The music and voiceovers were okay. Items in the Hidden Object scenes were fairly easy to find, but I had to use some thought processes to figure out how to get some of the interactive items. A new twist to this game is that you will also look for fans in the HOG scenes, and they will add to your Hint system. (However, I used the hints several times and never ran out of them). MINUSSES = The hidden object scenes have various colored shadings, so some corners are slightly harder to see. There are multiple HOG scenes in this game, and you will revisit each one. The cursor will explode if you click excessively. The storyline of finding the missing relatives may feel familiar. The story is NOT dark and eerie, and there are no witches, werewolves, vampires or devils, just some bad people. There are some small spiders in the HOG scenes, there are an occasional bug, and there are rats (Well, it is plague time in Venice). I would recommend this game for those who like Hidden Object games, want to have some fun, and are not looking for a sophisticated, complex adventure game.
November 29, 2011
beautiful game
If you need some relaxing time, try this one. The music is lovely, and the scene is beautiful. The HOS is quite clear, items are easy to be found but you need to think a little bit for the interactive items. Puzzles are interesting and most of them are easy. One thing to complain, I had to play the game twice since the first time I didn't gain 15 coins for the cat. The scene quitted accidentally when I failed to pick up a coin. I can't continue the game without the cat so I had to restart it from the very beginning.
January 19, 2012
Interesting story, but...
Dialogue and story were both fascinating and interesting. This game seems to be more of a scavenger hunt where the player gathers items to perform necessary tasks. There are two modes to play and would advise using the mode that displays prompts just to avoid frustration for those who have trouble in figuring out what they should be doing. Would recommend this game for those players who enjoy scavenger hunts more than hidden object games. For those who are purists with HOG, this may not be your cup of tea.
December 3, 2011
Pretty good game
Overall pretty interesting. Sometimes the action did not flow and it was necessary to hunt for where the next activity should be. A couple of the mini games were either boring or possibly impossible. Either way, I skipped about two of them. The hidden objects were generally well hidden rather than just obscured by darkness.
November 24, 2011
I really like this beautiful game!!
I have only played the demo in regular mode, and finished the demo in 47 mins, however I really enjoyed this game! The scenery, HOS, and cut scenes are absolutely beautiful, crisp, and clear, but a bit dark sometimes. Game play is, for the most part, smooth. It seemed to take a little bit for a couple of the new scenes to load...for a min there I thought the game had frozen up, but it came up after about 20 seconds. I think the story line is intriguing, but I really like period/historical games. I believe a lot of thought went into this game, and it was lovingly created! The HOS are beautifully drawn and are interactive, but some areas can be a bit dark/grey. A few of the HO are tiny/blend in very well, which can be a challenge. Overall, most of the HO are easily recognizable. I really liked looking for the fans in the HOS, to add to my hints. Looking for the ducats to purchase inventory items that are needed is a fun twist! I loved the music!! It is so "Venice"!! Some of the music almost reminds me of Irish folk, or Celtic type! It adds "flavor" to the story, creates emotion in a scene, yet is not obtrusive at all!! The voice overs I feel are authentic, and very well done!! I also like that when you are finished with an area of interest, you can no longer click/zoom into it. The hints are helpful, without hand holding, and recharge quickly, even without finding fans. From what I have seen, there are a limited number of areas per chapter, so it doesn't take very long to figure out what to do next when you are stuck. The game does have a minor flaw, in the flow department. There were a few times when I didn't know what to do next. Perhaps that is the design...to make you think. There is a lot of toing and froing, and you do have to visit a HOS at least twice, but the scenes are so beautiful, it doesn't bother me. The puzzles are kind of odd though. Some were very difficult/impossible for me, and some were very easy. Again, perhaps that is the design...puzzles for all levels of gamers. All are skippable, which is very nice! There are directions for each puzzle, so you aren't going to get frustrated trying to figure out what to do, on top of how to do it. All in all, I would highly recommend this game for all gamers!! I think it was designed with care, for all types and levels of gamers! A very beautiful game!
December 30, 2011
Pretty good game, fun, but the music was annoying
The game was pretty fun. The HO scenes were fairly easy (there are unlimited hints). The puzzles were a mix of easy, medium, and hard (and they can be skipped). The graphics were lovely and the story, while predictable, was fun and still held me slightly in suspense. It might get boring after you play it 10 times, but it is good for all ages, and I found it a nice diversion from the very creepy games I had been playing. I have two complaints: one is that the music was period appropriate and fit the game theme, but it was super repetitive and annoying. The second complaint is that the game wasn't that long. I got to the end and I was sure there must be more (maybe there is more in the collector's edition, as I only got the regular edition).
January 24, 2012
Interesting game
Set in Venice the scenery was good and the graphics not too dark. Interesting puzzles, not too hard. Hidden object scenes fair and objects fairly easy to find. Fans give you extra hints. Look out for ducats as they are part of the game when you need to buy a certain item. Found the game to be of a good length. Had to resort to the walkthrough a couple of times but this didn't spoil the enjoyment.
January 14, 2012
COINS ARE VERY IMPORTANT
There are certain items that need to be purchased and it'll be important for you to keep an eye out for all the coins and to not use them randomly as I did. Fortunately for me, what I had purchased from the shopkeeper I was able to use to gain more coins to purchase what I REALLY needed at that moment. The items that the shopkeeper displays (they highlight when you click on them# will provide you with not only the cost of said items but also give you a heads up as to what you WILL NEED to buy; I will say, that the cat is the LAST item to be bought. I found 1 puzzle to be quite confusing because the tiles were not clearly indented with their markings and once completed, I hadn't realized that it had been solved #until I read the walkthrough# because of the fact that the needed item did NOT #as in the other mini-games# automatically go into the inventory -- it had to be clicked into it. Overall, this was a good game and demonstrated the false belief of the reason behind the plague and other's ignorance #based on that belief) on how to save their beloved city of Venice.
January 26, 2012
A nice journey in Venice!
The storyline is interesting: you have to save a mother and a daughter from a baaad guy. I played in expert mode. - The graphics are crisp. - The HOS are clear. You receive hints for fans that you'll find in these scenes. - The puzzles are quite easy, but some are really challenging. - There is no map, but no need to travel the whole way back after completing a part. - There are ducats to find, so you can buy things you'll need at some locations. The game length is good, it took me 3 hours to finish. All in all, again a great ERS game.
July 7, 2012
Venice Facade
Love the game as it were many mini games that keep you wanting more. The graphics are clear and musicality was suspenseful. I enjoy the interaction with characters. One drawback is you instead of the area showing "clear" you keep returning to the same area, even though it said nothing more to check another area. I wish all the games would say "area clear" and you don't have to move on. It would also be nice to have a map so you can see your location and if there area any items to retrieve from previous areas. Overall, I will be playing this game again and recommending to friends.
January 1, 2012
The Apple logo is a trademark of Apple Computer, Inc.