The Missing: A Search and Rescue Mystery
A group of college students have gone missing from a remote island in the Pacific Ocean. You are called in to rescue them, but nothing is as it seems as the island is haunted by a mysterious evil! Use all your skills to complete Hidden Object scenes and solve perplexing puzzles as you delve deeper into the island's sinister secrets. Find the students and unlock the mysteries of The Missing: A Search and Rescue Mystery!
Fantastic mystery
Incredible gameplay
Find the missing students!
Check out our Blog Walkthrough
Game System Requirements:
OS:

Windows XP/Vista/8

CPU:

2.5 GHz

RAM:

1024 MB

DirectX:

6.0

Hard Drive:

325 MB
Game Manager System Requirements:
Browser:

Internet Explorer 7 or later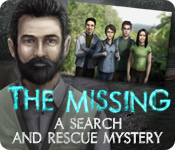 NEW299
The Big Fish Guarantee:
Quality tested and virus free.
No ads, no adware, no spyware.

Reviews at a Glance

The Missing: A Search and Rescue Mystery
0
out of
5 (
0
Reviews
Review
)
Customer Reviews
The Missing: A Search and Rescue Mystery
18
18
Off the Beaten Tracks, very Immersive
There isn't one single thing I didn't like while playing the demo. After a great intro movie backed up by a very good music score, I was surprised by the scenery. So clear, so neat, so realistic. I believe they are actual photos. They convey a heavy, mysterious atmosphere very successfully. A nice change from hand-drawn graphics because photos give you a different overall impression, closer to a FPS than the casual games we are used to. The HO Scenes are neat enough for you to find the items without difficulty, misclicking entails no penalty and Hints refill fast on the easier of the 2 Modes. What I saw of the puzzles seemed to me quite interesting with a good level of challenge. Tasks are not difficult to accomplish, useful items easy to find, there isn't to much bouncing from location to location, you have a map, and the objectives are clearly stated in the journal. Unfortunately there is no voice-over. I can guess what the storyline is about and if I am right then it is a bit weird. But that, too, can be easily overlooked because this blend of adventure/HOS is quite interesting with several features that I didn't find in the other games I played [and I play a lot] Playtime should be long with 9 chapters for the main game plus a Bonus Chapter in the CE. It seems to me, in view of the little response it has received so far, that this game has been overlooked to the benefit of several -often overrated- latest releases. The Missing deserves a better chance and a good rating. 4.5 stars [rounded up to 5]
December 29, 2011
Sulus Games Has Produced A Winner!
Sulus Games and its capable Producer, Alexey Ushnisky, have come up with a game that is both compelling and graphically great! You, the rescuer, must fly to a strange and mysterious island in the Pacific Ocean to save a professor and four students from the clutches of something or "someone" very evil! You must gather 56 power sticks, missing none, and solve many puzzles before you can save the party of five! I must say that this game held my interest, even though I usually play only large file games. A game such as this one could even get me to play more HOGS! The 2D-3D graphics were top-notch and the storyline was logical and clear. Congratulations, Sulus, on a job well done, and KUDOS, BIG FISH GAMES, for giving us this treasure!
October 16, 2012
Excellent HOPA, provides great enjoyment.
I bought this game abril/11, and today I played again ... and had a great time again! Very good plot: you'll help to find 4students and a teacher disappeared on a mysterious island in the Pacific Ocean. Do not skip the cutscenes... unbelievably well done !! Excellent graphics, really crisp and colorful, plenty of gorgeous details. Interesting and varied characters, and you interact with them. No VO, but sound is very nicely done and involves. Great environment - so realistic that you feel inside the story! Amount of HOS well balanced, not too challenging, but entertaining. Mini games are kind of different from usual, very enjoyable but not really challenging. A game you can play over and over again... always good, never tires.
March 25, 2012
Smooth and Fun!
This game didn't require a strategy guide. The clues weren't difficult to put together and puzzles weren't too outrageous. I loved the story too. Great!
November 12, 2011
very challenging
a good HO adventure game. fast/skip charge fast. this game makes you think and there is a diary, but an interactive map would have been nice because of the back and forth, but, alas, only a map. it is a wide area and more than one way to get from here to there. it got confusing, at least to me. it is challenging and i had to cheat a few times. played on casual. you are trying to find 4 students that disappeared and hadn't been heard from.
January 22, 2013
Lovely game to play
The graphics on this offering from Sulus Games are superb & the artwork very beautiful; it is a little dark in places but that is no bar to my enjoyment. The music is an excellent choice and the background noises are splendid. The H0 scenes are nicely laid out & items can be found with a little perseverance; there is a misclick penalty, your cursor disappears in a puff of smoke but reappears almost immediately. Not all the H0 had lists of items to find, some were silhouettes so there is variety. You get a journal which holds useful facts, gives an open task list & has a map, unfortunately the map is not interactive as it only shows where you are & what areas are open so you will need to make your way around 'on foot'. Do remember to read the journal as it can give some useful ideas on what to do next. There were a lot of areas to explore but not a lot to do in each so the game did seem a little short. The hint button recharges in 1 minute & is very useful as if you get stuck it gives a picture of the area you should visit. There are 56 crystals to collect throughout the game which adds interest when going to a scene as they can appear anywhere #one fell out of the sky# I did find the custom cursor a little 'sticky' which became tiresome in places, had to click a few times to pick up some items.
January 23, 2012
Interesting story, great weather effects
At its core, this is a pretty standard HOG with average (i.e. easy) difficulty hidden object scenes and puzzles. There are a number of things that make it stand out from the crowd though: - Interesting story with a genuinely intriguing mystery that unfolds bit by bit through found journal entries. There are also some tense moments when the mysterious monster appears in cut scenes. - Graphics are pretty decent, but the game features the most satisfying weather effects I've seen in a casual game. In one part of the game, you get to explore a part of the island, and then later go through it again except with the sky dark and stormy which was cool. I appreciated that when you're done with tasks in a set of locations, some in-game event occurs that makes sense in the story and seals off those locations to save you backtracking. Game length was pretty short but I was satisfied with it anyway. It didn't FEEL short, it just occurred to me when I was trying to figure out how long I'd spent playing it. :P
April 9, 2012
Nice Graphics
The Missing: A Search and Rescue Mystery Game is a hidden object adventure game that takes place on a mysterious island. You play the detective given the task of locating a missing group of students and their professor. As you go along, you uncover clues and solve puzzles to help achieve this goal. I have to say, I really liked the graphics for this game, as they are quite realistic. The storyline is engaging. The music is superb. The game provides you with a notebook to keep track of your objectives and clues, and there is a non-interactive map included to help you find your way around. Even with the map, I did find myself getting lost a time or two. The puzzles were good, not too hard and not too easy. The hidden object scenes would sometimes be a normal list, and sometimes show you outlines of the items you need to find. The game is less-than-average length. This isn't the best game I've ever played, but the nice visual quality, and great sound effects make it worth taking a look at.
December 7, 2011
SOMETIMES I FELT I NEEDED RESCUING
As a member of the Search & Rescue Team, you have to rescue 4 missing students. Great adventure game with plenty to do. A couple times, I felt like I needed rescuing, but the hint button shows you what location you need to seek to move forward. Of course, you just have to figure out how to get there before the map locations open up. Quite challenging if you don't want to use the hints. Puzzles and HOS were easy but fun. Loved the sound effects - I felt I was standing next the waterfall and in the airplane. Get a journal with tasks to complete, story and map.
October 20, 2013
Good game, but crashed near the end
I really enjoyed this game, but could not finish it as it kept crashing when trying to return to the lighthouse. Did anyone else experience this problem?
February 13, 2013
The Apple logo is a trademark of Apple Computer, Inc.