Art Mogul
Become an Art Mogul by bidding at exciting auctions, completing lucrative requests, exposing fakes, and much more! Travel to different gorgeous cities as you track down works by Van Gogh, Monet, Klimt, Titian, and Rembrandt! Open your very own art gallery as you earn wealth and fame in this unique Hidden Object game!
Unique gameplay
Incredible artwork
Become an Art Mogul!
Game System Requirements:
OS:

Windows XP/Vista/8

CPU:

800 Mhz

RAM:

256 MB

DirectX:

7.0

Hard Drive:

93 MB
Game Manager System Requirements:
Browser:

Internet Explorer 7 or later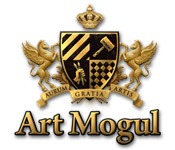 NEW299
The Big Fish Guarantee:
Quality tested and virus free.
No ads, no adware, no spyware.

Reviews at a Glance

Art Mogul
0
out of
5 (
0
Reviews
Review
)
Customer Reviews
Exciting Concept
Great hidden object concept, but wow it's very confusing and somewhat difficult to figure out. The tutorial is helpful but doesn't explain near enough in my opinion. You start out with a few hundred dollars (in New York that's chump change) You go to the local gallery where you purchase paintings that are guaranteed originals. There are 3-4 paintings to scroll between and you have to match up the exact items that are in circled tiles at the bottom, which could be a vase or simply a piece of clothing or decorations. Once you have found all of the hidden items you can then choose which of the paintings you want to purchase, each piece has a different price so keep that in mind when you have limited funds. Then you need to sell the painting for a profit so you can travel to another city such as San Francisco or London, more cities open up as you progress. You can sell your painting to another gallery, again finding hidden objects until the gallery owner makes you an offer, which hopefully will be for a profit. You can buy and sell paintings at the local cafe's if there are any customers available. The part I liked the best was the Auctions. You can buy a painting at the auction if you have enough money to keep up with the bidding against 3 other bidders. You quickly click on the bid icon and a hidden object icon shows up which you need to find as fast as possible which "stuns" your other bidders until they are out of the bidding process and you win. Some paintings aren't guaranteed to be originals, especially at places like cafe's. You need to click between the painting and a photocopy of the original, as many times as you want to search for differences between the two pictures, if you find a difference, the painting is a fake and you don't buy that painting. All of this seems confusing to say the least, it is, but you will catch on after 5 minutes or so and actually look forward to buying and selling beautiful art, enjoy!
March 18, 2014
AWESOME CHALLENGE!!!
I would never have tried this game, but I was bored. Man was I surprised! I have been playing for 4 hours and I am still hooked. You start out small buying and selling paintings. You eventually buy a gallery and fill it with a collection. When purchasing a painting you locate objects to lower prices. Auction Houses make special requests. You outbid others at auctions. This is fun guys. Try it and decide for yourself. Swim on fishes!
April 28, 2014
I wish it was longer, or that there was a sequel.
From what I can tell, this may be the only released game by Russian developer Funzai, which is a shame. The good: Pretty addictive. Reminds me a little bit of playing Carmen SanDiego as a kid, only instead of collecting clues to find a criminal, I'm selling & buying paintings & sharpening my observation skills. Technically, you can play this game endlessly, if high scores are your thing. The bad: I expected more locations to open up after completing the Shanghai Museum collection & then to be told to buy another museum in another country, but instead the game asked me if I wanted to restart or just keep playing, so...kind of an abrupt non-ending that left me wanting more, but I can't have more because Funzai is defunct.
April 17, 2014
Fun filler game
I enjoyed this game and actually found out a lot about different art and artists. The game is simple and does take a bit of time travelling around buying and selling art. It is a great game for when you just want to take a break; however, I found I did want to do just one more city to see how I faired. Overall I had a lot of fun and have play several times. I recommend this game as a time-to-take a break from the other intense HO games.
December 22, 2011
Great "Hidden Object" game in disguise.
Art Mogul lists as a "Strategy Game" but I think that it is in fact mostly like a "Hidden Object" game in disguise. Personally I have generally grown very tired of (especially Fragmented) Hidden Object Games, however "Art Mogul" makes great sense , as one in the game have to play like one that is an "art expert" and have to be able to "compare" and "recognize" objects or pictures (Paintings). Also the "Hidden Object" game feature got a "hint" function which I frequently used ;-) The game certainly got other qualities as it is also partly a "trade game" , got adventure game like elements and also contains a little "Strategy elements" - also there is some fast clicking needed from time to time (auction feature). The "Hidden Object" game features of the game may be a a matter of taste as there are some repetitiveness in the objects one have to recognize (which I personally liked). The game may not have great replay value but I liked it anyway....
May 30, 2012
Entertaining for an Ar Lover
As an Artist I was looking forward to playing this game and although it wasn't as good as I hope it would be, it definitely wasn't bad either. The concept is that you buy and Sell art. You can buy art at an auction,gallery or maybe discover an original in a cafe.Then if its what you were looking for put in in your gallery or sell it. There are some minor puzzle parts where you looking to discover the "modern items" in the painting or to prove its a fake or an original. The nice part is traveling through different cities in the world to see which gallery would buy the painting from you.For a person who doesn't enjoy Art at all I wouldn't recommend it, but I definitely enjoyed seeing different pieces of art. It keeps me coming back but after awhile it does get tiring because the game takes awhile to complete and you do similar things throughout the game
December 19, 2011
art mogul
good for those who love art. improves eye hand cordination speed
March 9, 2012
Entertaining
I'm not sure whether I like it or not. I like games using art, but I think the plot bying and selling art, is quite comfusing and don't do any good.
November 15, 2011
Fun resource management with nice pictures to look at
It is a leisurely played resource management game, with no time pressure - unless it is at an auction where you have to be quick on the uptake. Basically you buy painitngins at the best price you ccan get, and resell them, trying to make a profit. You can save your earnings in a bank, and also get loans (which you may need if you want to buy your own gallery, or you want to buy a painting you know others will pay good money for it. You have to payn attentiion to details in the paintings, as fidning them lowers the price when you buy and hikes it when you sell. You must build three museums of your own each with its own theme, out of your profits. It is a fun game, that lets yu look at a lot of (real) paintings. I wish though, tht they did a short description of the painting, the artist, and how if fits in art history. But as it is, it is fun enough.
September 26, 2013
Art-based Tycoon/HOG game
This was the first 'tycoon' game I played, and I enjoyed the novelty of buying and selling art in galleries and art cafes around the world. Many of the artworks featured in the game are famous masterpieces, so it was a thrill to pick them up for a song and carry them around in my 'portfolio' for a while. In fact my finances got into trouble because I didn't want to trade away my favourites! The paintings featured in the game are well-rendered and there was a wide range of styles, themes and artists, though it would have been nice to have had more info on each painting and its artist. There's a lot of Spot-the-Difference and Hidden Object-type gameplay, as you have to spot small details in each canvas to prove to others what an expert you are. My eyesight's none too hot but generally I didn't mind this aspect except where the detail was very small and dark. I've a good-sized screen but sometimes I was peering til my eyes hurt. That aspect downgraded the game from a 4 to a 3.5 stars for me. The Hint button's very helpful if you can't spot the detail you're searching for. There's no timer (though you have to be quick with both your eyes and your mouse during the Auctions) so it's a relaxing game where you can take as long as you want, fly where you want, and trade what you want. My two main gripes are the same as other reviewers'. Late on in the game you're forced to buy existing galleries to build your own collections. Since there are only seven galleries worldwide, this reduces your trading options considerably and also limits the fun. The other problem is that the game suddenly runs out of steam - I was on the hunt for a missing masterpiece when my 'mentor' suddenly popped up to announce that the game was complete. I could carry on trading but there were no further missions. I'd have liked a bit more proper closure than that.
September 21, 2013