Art Mogul
Become an Art Mogul by bidding at exciting auctions, completing lucrative requests, exposing fakes, and much more! Travel to different gorgeous cities as you track down works by Van Gogh, Monet, Klimt, Titian, and Rembrandt! Open your very own art gallery as you earn wealth and fame in this unique Hidden Object game!
Unique gameplay
Incredible artwork
Become an Art Mogul!
Game System Requirements:
OS:

Windows XP/Vista/8

CPU:

800 Mhz

RAM:

256 MB

DirectX:

7.0

Hard Drive:

93 MB
Game Manager System Requirements:
Browser:

Internet Explorer 7 or later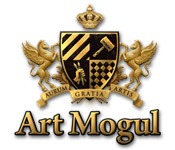 NEW299
The Big Fish Guarantee:
Quality tested and virus free.
No ads, no adware, no spyware.

Reviews at a Glance

Art Mogul
0
out of
5 (
0
Reviews
Review
)
Customer Reviews
Fun filler game
I enjoyed this game and actually found out a lot about different art and artists. The game is simple and does take a bit of time travelling around buying and selling art. It is a great game for when you just want to take a break; however, I found I did want to do just one more city to see how I faired. Overall I had a lot of fun and have play several times. I recommend this game as a time-to-take a break from the other intense HO games.
December 22, 2011
Great "Hidden Object" game in disguise.
Art Mogul lists as a "Strategy Game" but I think that it is in fact mostly like a "Hidden Object" game in disguise. Personally I have generally grown very tired of (especially Fragmented) Hidden Object Games, however "Art Mogul" makes great sense , as one in the game have to play like one that is an "art expert" and have to be able to "compare" and "recognize" objects or pictures (Paintings). Also the "Hidden Object" game feature got a "hint" function which I frequently used ;-) The game certainly got other qualities as it is also partly a "trade game" , got adventure game like elements and also contains a little "Strategy elements" - also there is some fast clicking needed from time to time (auction feature). The "Hidden Object" game features of the game may be a a matter of taste as there are some repetitiveness in the objects one have to recognize (which I personally liked). The game may not have great replay value but I liked it anyway....
May 30, 2012
Entertaining for an Ar Lover
As an Artist I was looking forward to playing this game and although it wasn't as good as I hope it would be, it definitely wasn't bad either. The concept is that you buy and Sell art. You can buy art at an auction,gallery or maybe discover an original in a cafe.Then if its what you were looking for put in in your gallery or sell it. There are some minor puzzle parts where you looking to discover the "modern items" in the painting or to prove its a fake or an original. The nice part is traveling through different cities in the world to see which gallery would buy the painting from you.For a person who doesn't enjoy Art at all I wouldn't recommend it, but I definitely enjoyed seeing different pieces of art. It keeps me coming back but after awhile it does get tiring because the game takes awhile to complete and you do similar things throughout the game
December 19, 2011
art mogul
good for those who love art. improves eye hand cordination speed
March 9, 2012
Entertaining
I'm not sure whether I like it or not. I like games using art, but I think the plot bying and selling art, is quite comfusing and don't do any good.
November 15, 2011
Fun resource management with nice pictures to look at
It is a leisurely played resource management game, with no time pressure - unless it is at an auction where you have to be quick on the uptake. Basically you buy painitngins at the best price you ccan get, and resell them, trying to make a profit. You can save your earnings in a bank, and also get loans (which you may need if you want to buy your own gallery, or you want to buy a painting you know others will pay good money for it. You have to payn attentiion to details in the paintings, as fidning them lowers the price when you buy and hikes it when you sell. You must build three museums of your own each with its own theme, out of your profits. It is a fun game, that lets yu look at a lot of (real) paintings. I wish though, tht they did a short description of the painting, the artist, and how if fits in art history. But as it is, it is fun enough.
September 26, 2013
It was Ok
Having played all 3 Chocolatiers, this pales in comparison. For me it was way too short. I didn't like the fact that once you bought the two alloted museums, you could only sell the painting in the ports that were left over, which were not that many to start with. Also, having so few countries to travel to made the tasks quite easy. Chocolatier left me feeling very satisfied, especially the last one "Decadence By Design". I didn't realize that I had completed Art Mogul until I signed in and the game message came up and told me I had completed the tasks and if I wanted to start over. If you've not played Chocolatier first, you might like this one as it is very easy to play. I must say that the graphics were great and the paintings were a real treat. Too bad the makers of this game didn't put just a little more thought into this game, it could have been fantastic instead of just okay.
October 20, 2012
OK Game
I liked this game until it fizzled out. You buy and sell art, traveling to different cities. It starts off fun and different but I found myself getting bored after a few hours. It is a chill out easy game, so if you like that I reccomend the game but for me it wasn't worth the purchase.
June 2, 2012
Art-based Tycoon/HOG game
This was the first 'tycoon' game I played, and I enjoyed the novelty of buying and selling art in galleries and art cafes around the world. Many of the artworks featured in the game are famous masterpieces, so it was a thrill to pick them up for a song and carry them around in my 'portfolio' for a while. In fact my finances got into trouble because I didn't want to trade away my favourites! The paintings featured in the game are well-rendered and there was a wide range of styles, themes and artists, though it would have been nice to have had more info on each painting and its artist. There's a lot of Spot-the-Difference and Hidden Object-type gameplay, as you have to spot small details in each canvas to prove to others what an expert you are. My eyesight's none too hot but generally I didn't mind this aspect except where the detail was very small and dark. I've a good-sized screen but sometimes I was peering til my eyes hurt. That aspect downgraded the game from a 4 to a 3.5 stars for me. The Hint button's very helpful if you can't spot the detail you're searching for. There's no timer (though you have to be quick with both your eyes and your mouse during the Auctions) so it's a relaxing game where you can take as long as you want, fly where you want, and trade what you want. My two main gripes are the same as other reviewers'. Late on in the game you're forced to buy existing galleries to build your own collections. Since there are only seven galleries worldwide, this reduces your trading options considerably and also limits the fun. The other problem is that the game suddenly runs out of steam - I was on the hunt for a missing masterpiece when my 'mentor' suddenly popped up to announce that the game was complete. I could carry on trading but there were no further missions. I'd have liked a bit more proper closure than that.
September 21, 2013
disappointed
The instructions are just too hard to follow. I could not understand the request. I tried the free trail but did not buy the game. Maybe it was just me but I would not recommend the game.
August 31, 2012