Timeless: The Forgotten Town
After stopping a runaway train, you must now escape from a town that is lost in time and space! Explore the mysterious city and solve its riddles to uncover the roots of a terrible disaster. Free yourself from the timeless trap as quickly as you can since the Chronometron is counting off the seconds of your life. Dive into Timeless: The Forgotten Town and use your Hidden Object Puzzle Adventure skills to survive!
Eerie atmosphere
Perplexing puzzles
For a more in depth experience, check out the Collector's Edition
Game System Requirements:
OS:

Windows XP/Vista/8

CPU:

1.6 GHz

RAM:

1024 MB

DirectX:

9.0

Hard Drive:

225 MB
Game Manager System Requirements:
Browser:

Internet Explorer 7 or later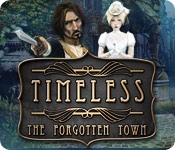 NEW299
The Big Fish Guarantee:
Quality tested and virus free.
No ads, no adware, no spyware.

Reviews at a Glance

Timeless: The Forgotten Town
0
out of
5 (
0
Reviews
Review
)
Customer Reviews
Timeless: The Forgotten Town
23
23
Fun Hidden Object Adventure Game
I really enjoyed this game, but sadly the ending spoiled it for me. The ending is quite abrupt, again it is a case of a developer using the deplorable practice of using the bonus chapter in the CE to complete the game story. However, the game overall is fun to play, it has a nice mix of puzzles, varying in complexity, some of them quite challenging, some easy. The different scenes were varied & visually quite beautiful, & the story up to the end, was interesting & engaging. The abrupt ending was why I deducted 2 stars, I cannot condone the practice of using the CE bonus to complete the story, bonus means extra NOT completion.
January 31, 2012
Excellent game
The graphics are crisp & clear with wonderful colours & the artwork is drop dead gorgeous; the setting is early 1900s & the scenes & objects are from the period. This includes the hidden object items, excellent attention to detail on the developers part, you won?t be looking for any electrical items in this game. The music is a pleasure & I liked the background noises. In the options you can choose full screen which fills my widescreen monitor & you can change the custom cursor; although I don?t think you will want to, the game cursor is long & elegant with a beautiful point. You can play in hard or easy mode ? hard mode does have a few glints but no major sparkles which appear everywhere on the easy mode. The hint recharges in around 30 seconds on easy but a massive 3 minutes on hard so you are not tempted to use it too often. The H0 scenes (there are a lot of these) are a mixture of word lists & shapes which adds interest; there is a misclick penalty ? the cursor turns red & moves around slowly which is ok in easy mode but takes around 10 seconds in hard which seems like an age. I managed to work out the answers to all the mini-games I played during the demo with some thought. Unfortunately there are no voiceovers just subtitles but it did not spoil my enjoyment. The gameplay was very logical; you could work out where you should be going & what to look for. There is a journal which tells your story & gives clues as to your next task but there is no map as you do not need it; there is walking between scenes but they are not miles apart. My one reservation is that the game did seem to end rather abruptly.
January 21, 2012
A HO/Adventure with many new twists
This game deserves a warm welcome for it is full of ingenuity and imagination. Not only does it offer many HO Scenes - a feature that should delight the aficinados of the genre, and even ravish those who are not too keen on them, for they are all very pleasant to play, although at times a bit cluttered - but also many puzzles and minigames you don't find in other games; some are very original, others are classics with a twist [except one]. I had fun playing them as I had fun performing the tasks and visiting the various locations well crafted with taste and talent. The HO Scenes do not always come with the usual lists, but also with silhouettes, and with objects you need to move aside in order to find the items buried underneath. Interesting. I particularly liked the beginning, the voyage in the bullet train that suddenly turns into an old choo-choo. And for once I didn't have to mute my speakers: the music is not bad at all and there is even a very nice piece that would do well as the main theme of a western or a war movie. Still, the game is not perfect and one could regret its shortness [4 hours for the SE] without skipping anything, the absence of voice-overs, the amount of bactracking which increases half way through the game, the lack of a map [although the Hints show you where to go if you get stuck], and the last part of the ending which is quite unecessary. The storyline is another classic, a ghost story mixed with an evil magician who stops time in and around a town. It's a full 4 star game which I can only recommend, on account of its novelties, several challenging puzzles, good minigames, and many interesting actions to perform.
January 6, 2012
Good Fun
I got this with a free game stub and am glad I did.I don't take others' reviews too seriously because they are usually based on the trial which anyone can play.I base all reviews on the games I purchase and I must say it was fun to play,had great graphics. It had the standard hidden object scenes paired with the sillouhette scenes and had a good serene music score.It was pretty straight forward meaning you don't need a map or walkthrough.There was the usual running to and fro that we have grown accustomed to and no voice-overs.The story was a typical ghosts in need of a helping hand.It was not a very long game but if what you are looking for is a fairly easy but enjoyable game then I recommend this one to add to your inventory.
January 20, 2012
Fun, original puzzles and nice graphics
This is a polished, high quality HOG with pretty graphics, good animations/effects and good music with a couple of distinguishing features: - Great variety on the standard hidden object scenes including find X object (e.g. find 10 coins), lists of object silhouettes instead of words, moving objects out of the way to uncover objects in the word lists. - Unique, original, challenging (for a casual game) puzzles. I especially liked one puzzle that was like a mini-strategy game; you control a knight that has to defeat monsters and you can pick up resources like weapons, food and keys along the way. I also really liked the idea of a town trapped out of time. I have only one somewhat minor complaint to do with backtracking: you find objects you can't pick up until later on when you need them, then you have to backtrack (for only 3 items), hidden object scenes can activate more than once in the same location so you have to wander around to find them. The latter wasn't that big of a deal for me because I just used the hint which led me straight to active scenes. (Speaking of, the in-game hint system is great, it's basically a built-in strategy guide) The right way to do repeated hidden object scenes is to do it like ERS, where you need to use an inventory item in an old location and you'll definitely pass by the active scene to use it. Overall, I really liked this game. If you enjoy interesting and challenging puzzles, check this one out.
May 9, 2012
Lots of Hidden Object Scenes...
But...that was ok. They mixed it up a bit. Some of them were the kind where they show you shadows of the object and you have to figure out what it is, and some were "find all 12 of "x" item"....so not too bad. Really, my only complaint was a lack of a skip button on some of the mini-games. That irritates me because some of them are just so tedious. But, other than that, I enjoyed the game.
February 3, 2012
SO GLAD I BOUGHT IT
This was an impressive and beautifully conceived game from Boolat. Length is about average (4-5 hours for casual gamers) and I can?t wait for the sequel. This is one of the better games I?ve recently played. Puzzles were unique, clever or had a twist. Difficulty ranged from average to challenging. There is no ?reset? button to restart a puzzle and there is seldom a skip available. So prepare to be occasionally exasperated, in a good way. Music and voices: No voice overs. All dialogue was written. Boolat Games actually hired a composer to write and supervise the musical arrangement specifically for the game. The music was relaxing and fit the story nicely. HOS: A variety ranging from silhouettes, lists, find 10, and moving objects out of the way. There are no tiny objects to find (yeah!). There was a least one unusual HOS which faded from clear to dusky and blurry and back again. Spectacular graphics of several environments. Engaging, well-developed and thought-out story with very limited backtracking. The adventure started and ended with the main character on a modern train, which transformed into an old-fashioned steam engine with wooden cars. The story occurs between the 2 transformations. No loose ends - except the transformation back to the present modern train leaves an opening for a sequel, which I look forward to. Diary: includes a short wrap up of what you?ve discovered, but also includes a very interesting backstory and information which you would never know existed without reading the diary. Occasionally, the diary will give a very broad hint on what you need to do at some time in the near future.
August 9, 2012
Too Many Poorly Drawn Hidden Object Scenes
I'm not sure why this game got such rave reviews, but I couldn't force myself to finish the 60 minute trial period. The storyline seemed intriguing, but it gets lost in all the hidden object scenes. There's one everytime you turn around. And a lot of the objects are not well drawn, which made it doubly frustrating for me. Another downer was the fact that you cannot skip the puzzles -- you have to suffer through them or consult a walkthrough. Sorry, but if "lock-picking" puzzles are not my favorite, I should have the option of skipping them. And the fact that most of the reviewers here complained about the lousy ending, was the final reason I quit playing. There's nothing worse than getting all involved in a story and investing hours of gameplay, only to find the ending abrupt or ill-fitting. I don't recommend this game unless all you care about is the hidden object aspect.
September 15, 2012
Liked it
Not a bad game at all, really enjoyed it and had great storyline and the graphics were fantastic! Didn't need a SG because the hint button did a great job of letting me know where to go next if i was stuck. Really enjoyable game.
April 1, 2012
Entertaining little game
This game offers a bit of a change from the usual HO/Adventure game. The graphic are very nice, the music good, no voice overs, no map but a good level of play. The HOs vary from the standard junkpile (most not to messy) to silhouettes to identical items to moving items around. Made for some interesting play. The puzzles were also very good and ranged from fair to somewhat challenging. The puzzles required inventory items to complete which again made for some interesting play. The game was a little short but was enjoyable. A little more of the faceless monster would have added to the storyline, but overall a pretty good game.
February 11, 2012
The Apple logo is a trademark of Apple Computer, Inc.