My Life Story: Adventures
Set off on a whimsical adventure in search of your life's true calling in My Life Story Adventures. Haunted by dreams that you are wasting your life, you finally decide to take action. It's time to dump your dead-end job, find a mentor and start working toward the life path of your dreams. Along the way, you'll encounter colorful characters with unique problems that only you can solve. Find your perfect job!
Incredible gameplay
Fantastic storyline
Find your life's true calling!
Game System Requirements:
OS:

Windows XP/Vista/8

CPU:

1.0 GHz

RAM:

512 MB

DirectX:

9.0

Hard Drive:

67 MB
Game Manager System Requirements:
Browser:

Internet Explorer 7 or later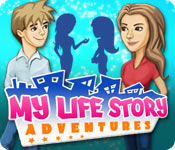 NEW299
The Big Fish Guarantee:
Quality tested and virus free.
No ads, no adware, no spyware.

Reviews at a Glance

My Life Story: Adventures
0
out of
5 (
0
Reviews
Review
)
Customer Reviews
My Life Story: Adventures
18
18
Less-stressful virtual life game
This is an enjoyable virtual life game. It is simplified, but less frenetic and without the crazy, sometimes unfriendly competition that exists in similar games. The story line is very light-hearted, scripts seem to be written by or for young teenagers, however it is still a fun game with challenging goals. If you like the hectic pace of life challenges games, you may enjoy other similar games more. If you're looking for a soothing escape from real life stress, you'll like this game.
December 17, 2011
Far too simple - hardly a sequel
I'd played 'My Life Story' and really enjoyed it. From experience, I would say that sequels generally aim to improve and expand from their predecessors. This is far from the case here. This sequel is more like a toddler's version of the original, a dumbed down, over-simplified and pretty linear game. You don't have to use your brain on this one. I Having said all that, if you don't compare this to the original and think of it as an entirely new game, it's fairly enjoyable. You just don't have to use your brain much and it doesn't last long.
December 30, 2011
Completely Honest
I really liked the first in the series and was expecting more of the same, but bigger, in this sequel. My girlfriend always downloads from here but decided against reviewing this game as negative, passing it off as winning some and losing some. I played, however, and I feel it incumbent to warn people. What I got instead was an extreme reduction and oversimplification of the first game. You can count the number of "adventures" on one hand, and they're flimsy, and you only ever get to do one. Want to do more? You have to start ALL the way over. You start with all the buildings you'll ever use and money very quickly becomes useless. It's supposed to cost money to do everything (from read a book to work on your art) but you can very quickly reach the point where you earn more money from daily interest than it's possible to spend in an entire day. I finished the game with over $150,000 because I literally did not have enough time in the day to spend it. Poor game planning. The gameplay was flat and linear and, worst of all, provided quite literally zero challenge. There are no deadlines or time constraints and not a single challenge or puzzle. You literally just build up enough "social" points or "exercise" points to allow you to purchase lame abilities like (I kid you not, "pruning") that you use for insignificant missions that progress the game but don't actually award you anything useful. I chose the "town hero" adventure course at the gym and was incredibly disappointed. Felt like the path and game were made for elementary school children. I kind of want to go back and try other adventure paths, but I know they won't be anymore exciting than the lame one I already played, and I refuse to sit there for in-game day after in-game day treadmilling through the same eat-exercise-dance-wish-read-work-rest-sleep-repeat cycle I did for the 40+ in-game days before that just to prove that the science "adventure" is as pathetic as the town hero one. For having the name "Adventure" in the title, this game couldn't be further from that fact. Save yourself the time and money and find a way to replay the first My Life Story but with a new challenge or something.
December 1, 2011
Horrible Sequel
When this game first came out I was so excited I didn't even bother with the free trial, I just bought it. Big mistake. I love games like Life Quest and I played through My Life Story (the first one) about 4 or 5 times. I was expecting something similar to the original. Instead I got a very, very poorly designed game. The "adventures" are nothing more than ridiculously simple quests to find a hidden object that isn't so hidden in another area of the game. To put it in perspective, my seven year-old played through the entire game in about two hours and even she complained that it was too easy. The graphics are the only thing that have improved since the first game. Everything else is a train wreck. The plot--sucks. The ingame characters--suck. Dialogue--sucks. The career choices are even more limited than the first one and while at first might seem appealing ie superhero, mad scientist and secret agent to name a few, their follow-through--sucks. I can't even begin to describe just how disappointed I was with this installment. Don't waste your money on it.
January 7, 2012
really good
I like it because you can chose what you do and have diferent goals and chose how to do it
November 11, 2011
Good for Kids Maybe
This life-simulation game would probably appeal more to kids than to adults. I found it to be too talky, too linear and too simple, with no opportunity for creativity. The object of this game is to choose one of four life paths and then build your skills in four areas to complete challenges. The challenges are mostly simple - a few took some thinking. There's a set group of characters who talk all the time and say things that are supposed to be funny but just come across as annoying and lame - you want to click through ASAP. You get no chance to choose your avatar, clothes, food or anything else. I played this game twice - a first time and a last time.
January 30, 2012
Ho hum
This game was alright. It is rather redundant with the running around. There are too many games like this and when you have played one, you have played them all. The graphics were so so. The story line was just okay.
January 8, 2012
Fun!
I did not play the first My Life Quest, so this review is based solely on this "sequel." I really liked it. I don't like the hectic sim games, so this simplified, linear game was perfect. I liked it and my 8 y.o. son liked it as well. I thought the characters were cute, the graphics were good, the story-line amusing, and the objectives sufficiently challenging. I also really liked Life Quest 1 & 2 #for compairison# & am hoping to find more games like these three. So, if you are looking for a frenetic pace game, this is not it; if you are looking to relax and enjoy a calmer sim game, then this is for you. ALso perfectly suitable for children.
December 30, 2012
Fun game for kid
This game is fun but really short. I finished it in less than 5 hours, and in 70 days. IMO this game is for kid.
March 25, 2012
not just hidden objects
i enjoyed the ability to choose what you wanted to do while completing hidden objects quests.
December 18, 2011