F.A.C.E.S.
When a medical consultation goes terribly wrong, it's up to you to realize the full potential of your unique ability and save the day! Discovering that other people have similar gifts as yours, you realize that evildoers would do anything to possess your talents. Dive into F.A.C.E.S. and explore gorgeous Hidden Object scenes to become a hero!
Incredible action
Fantastic gameplay
For a more in depth experience, check out the Collector's Edition
Game System Requirements:
OS:

Windows XP/Vista/8

CPU:

800 Mhz

RAM:

256 MB

DirectX:

6.0

Hard Drive:

254 MB
Game Manager System Requirements:
Browser:

Internet Explorer 7 or later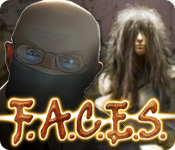 NEW299
The Big Fish Guarantee:
Quality tested and virus free.
No ads, no adware, no spyware.

Reviews at a Glance

F.A.C.E.S.
0
out of
5 (
0
Reviews
Review
)
Customer Reviews
?20Th Century Dumpster? Art
BASED ON COMPLETED GAME Don?t get me wrong, the ART is GOOD, well, reasonably good, but the game has got to be the UGLIEST I?ve ever played. Keywords for it would be RUST, BLOOD & GRUNGE. The GAMEPLAY is quite OKAY, if the artwork doesn?t put you off. PRIMARILY a HO GAME, the FREQUENCY & DIFFICULTY of the PUZZLES INCREASE as you progress. The HO SCENES are STATIC, NON-INTERACTIVE LISTS, which are visited TWICE. The lists are RANDOM GENERATED, so often you are asked to find the same items as the first time. As well, some items are given two different names (for example: metal cup 1st time vs. tea cup holder 2nd time). The AMBIENT SOUND was screams, cries and some pretty scary MUSIC. No VOICEOVERS. The STORY is the familiar ESCAPE THE ASYLUM one, with the TWIST of having PARANORMAL ABILITIES & other patients to RESCUE as well. There is a MODERATELY USEFUL DIARY, but NO MAP. HINT actually gives you ONLY a hint, and can be very frustrating because of that! For me the only really outstanding thing about this game was the "ANGEL", who turns up every now and then, complete with straightjacket, to provide some useful guidance. She is really well depicted and is great symbolism. She'd make a nice signature item for a series. Despite my lukewarm response to it, it must be noted I had no trouble finishing the game, it HELD my INTEREST all the way TO THE END.
May 22, 2013
F.A.C.E.S. MISSED THE 5 STAR MARK
First, the storyline was gripping enough to keep me riveted to the game. However, the ridiculous amount of hidden object scenes drove me crazy. They popped up constantly, and were often the same scene and the same objects to find. There were many times I quit playing just to get away from the hidden object scenes. So, for me, this was the foremost reason for not giving this game five stars. Secondly, there were supposed to be workers in the asylum but I never ran across anyone else except for the few "patients like me" who were there. You'd think since I spent the whole game traveling up and down in an elevator that I would have run into someone else. Also, the ending was a major disappointment, especially since the developer has not come up with the sequel yet. But here's what was great about the game: * It was lengthy -- I definitely got my money's worth. * Music & sound effects were perfect * Graphics and the creepiness of the asylum were top-notch * My particular "gift" was transporting myself using photos, which was an interesting concept. * Storyline was almost believable and the dialogue was well written -- it was not too excessive * Minigames were enjoyable and the Hint & Skip buttons recharged quickly. If you can put up with an excessive amount of hidden object scenes, I highly recommend this game.
September 8, 2012
Could not get into it
I played only 25 min of the trial and just could not get into it. Lots of crazy things to do and was not enjoyable for me. But try it and see what you think.
October 8, 2012
Very good, gorgeous, atmospheric spooky game with flaws.
There is so much they get right here. Great sound and music. Wonderful visuals. A sense of urgency and threat. An intense storyline (although a bit baffling in places). This could have been a really great game. Overall, I really enjoyed it. The puzzles were good, although sometimes poorly explained. It was diverting and fun. BUT... Misidentified objects make me feel cheated. When it happens over and over, it seems like every HOS is a random waste of time. Sometimes I wonder if young game developers hold meetings where they all gather to look at stock images for use in their hidden object scenes. I imagine it goes something like this: "I don't know. What do YOU think that is?" "I dunno. It looks a little like a... tea kettle." "A tea kettle? I was gonna say a gas can. Who votes for 'gas can'?" Some of the wildly erroneous object identifications: + "loupe" is not a loupe. It's actually a magnifying glass. I've used loupes often. I know what they look like. + "scales" is an old-fashioned coffee grinder. + "tissue holder" is a napkin holder. It sounds like they should be similar looking items, but they're really not. + "arrow" is a throwing spear, with rope and everything. + "battery" is a cigarette butt- no kidding- with charred end and everything. And there are many more. Also, HOS are repeated several times. In one there are two lanterns. Given the clue "lantern", EITHER should be acceptable. If it says "lantern", and I've found a "lantern"- guess what? I should win. Choosing one lantern in one go around, and then the other in another is NOT KOSHER! SO annoying. Which would be bad enough, but there is also some crazy illogic. Finding chemicals to "develop" a Polaroid picture makes as much sense as sharpening a ballpoint pen. Really. Go ask your parents. A solid block of ice filling an entire door cannot be "defrosted" with a crow bar. Freezing a metal cabinet door with liquid nitrogen may make it brittle and easier to break, but not with your fist. Unless you're the Hulk. What else? There is no map, and the back and forth becomes very very tedious. So- with a bit more work and thought, it would have been great. But the flaws are pretty outstanding.
June 21, 2013
Exhausted after playing.
I was mentally exhausted when I finished this game, and not in a good way. Although the story seemed interesting, there was just too much travelling around and I kept losing track of the story. I ended up checking the walkthrough, not to find out what to do next, but to see just how much I had left to do. After a while, the game just seemed to be dragging on. If I hadn't been curious about how the story ended, I think I would have quit half way through the game. The scenes were very grimy looking- appropriate to the story, but rather depressing. The screaming got on my nerves after a while so I finished with the sound off. There were a lot of hidden object scenes with some repetition and I found myself hitting the hint button just so I could move on. There are a number of different puzzles which were interesting to do. A list of tasks that need to be completed is helpful. There are some games that I know I will replay in the future, but this is not likely to be one of them. I don't regret buying it, but I have found other games more enjoyable.
December 20, 2012
HINT BUTTON AT TIMES -- USELESS
First of all, I did NOT like the filthiness of the scenes whatsoever; there was no purpose of it except to make you feel nauseous. Second of all, I would've liked for the hint button (it's supposed to also guide you if you get stuck but rarely did) to have kept up with me and had recognized what was in my inventory; it either was telling me to do things that I'd ALREADY done or it was telling me to do things that was IMPOSSIBLE TO DO until 2-5 scenes later. For me, it made for a nauseating and frustrating and oh please, let's-get-this-game-done-and-over-with feeling While the storyline was (for me) quite different than from what I've been playing (ghosts, vampires, etc.), the ugly scenes and unhelpful hint button just made this game become a task rather than a joy to play and accomplish. The ending leads you to believe that there's an upcoming sequel to this storyline; if so, I hope that the game developers provide much healthier and cleaner-looking scenes and a more helpful hint button.
January 30, 2012
Not as scary as it should be
I liked the storyline ok but its just not as scary as it should be. Graphics are good but not great and music is a bit boring. There are lots of hidden object scenes and there's a bit of backtracking. You play the same hidden object scene at times which is annoying. Overall: game does not live up the hyped reviews.
December 18, 2011
Just ok for me
When I played the trial 60 min. I thought this was going to be really scary and a GREAT game! But after I bought the game, it's pretty much the same ol' thing...running from room to room, everything in the asylum is gray and ugly, really bad junkpile HOG's, annoying music that you have to turn off... Maybe it's just me, but this was not what I was looking forward to!
September 8, 2012
A short psycho-thriller heavy on the HOS
This review is based on a complete playthrough of the game. I'm reviewing this game in 2014, so I'm judging it on 2014 standards. Fair or not, this is when you'll be spending your money, so it's got to be rated against the other choices you have now. The game starts off with a familiar theme: you're trapped in an insane asylum and need to escape. Unfortunately, there aren't too many twists and turns along that road, at least in this edition (bonus game may have some - game ends on a cliffhanger). There is an interesting mechanic that gets employed several times. The game is VERY HOS oriented. Almost all scenes are repeated. There are a few puzzles, around easy to medium difficulty. One or two I might call hard. Now on to the game: THE GOOD: The graphics and music fit the setting. They managed to maintain a 'creepy' atmosphere going even as the game went on. The other characters were done fairly well: both in the way they are introduced and the way you interact with them (no spoilers). No map, but you don't need one. Journal entries 'uncover' as you find information, so check it every now and then. Hint button works in HOS as expected (circles an area) and out of HOS gives you specific instructions (Go to X and get Y. You can use A to do B). More on the hint later though. Voice acting was well done THE BAD: The game took me a bit over four hours to play over three sessions, and I'm a slow player. This puts it on the 'short' side of the games in the pond. I'm sure you could blow through it in two hours if you did it in one shot and didn't stop too long to smell the roses on the way. HOS are all junkpiles, and you have to go through them twice (one literally back to back with itself). Almost every pile had objects hidden in darkness I couldn't see even after the hint showed me roughly where they were. There's also the annoying click-penalty - made especially annoying because it's the only way to search the dark corners, of which there are many. THE UGLY: More than once, the 'hints' out of the hidden object scenes were ahead of where I was in the game, so it would be telling me to go places or do things I couldn't do yet because there was some other step that needed to be done first. The ending left me with the feeling I needed to see what was in the CE to get the 'real' ending. I hate that - a SE should stand on its own. That said, the game does come to a reasonable conclusion (albeit with a few plot holes along the way). BOTTOM LINE: It's not a bad game. If you really like the HOS side of things, you'll probably like it even more. It's a story that we've seen many times, and it wasn't really told with anything new (yes, there was a new mechanic, but it really didn't change the story). All in all, I'm going to recommend it. It does do some interesting things, and as I said, it's not a bad game, just not one of the very good ones. Great game for a punch card filler or sale day.
July 14, 2014
special abilities and plot twists
You're trapped in a hospital and need to find and rescue others with different special abilities, e.g. telekinesis, ESP. I ended up wandering around a bit and used the blog walk through for help. Weird plot and sometimes odd puzzles. One problem is to get access to the elevator and its floors to save other patients. You still wonder why at the end of the day.
August 31, 2013
The Apple logo is a trademark of Apple Computer, Inc.