F.A.C.E.S.
When a medical consultation goes terribly wrong, it's up to you to realize the full potential of your unique ability and save the day! Discovering that other people have similar gifts as yours, you realize that evildoers would do anything to possess your talents. Dive into F.A.C.E.S. and explore gorgeous Hidden Object scenes to become a hero!
Incredible action
Fantastic gameplay
For a more in depth experience, check out the Collector's Edition
Game System Requirements:
OS:

Windows XP/Vista/8

CPU:

800 Mhz

RAM:

256 MB

DirectX:

6.0

Hard Drive:

254 MB
Game Manager System Requirements:
Browser:

Internet Explorer 7 or later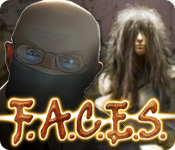 NEW299
The Big Fish Guarantee:
Quality tested and virus free.
No ads, no adware, no spyware.

Reviews at a Glance

F.A.C.E.S.
0
out of
5 (
0
Reviews
Review
)
Customer Reviews
A COMPELLING, GRIPPING STORY LINE AND GAMEPLAY!
Not a lover of horror or being scared out of my wits! Downloaded trial version and I felt compelled to help the young lady escape from the ghastly environment in which she was kidnapped and held against her will. The trial version does not give gamer any idea of the truly gripping story line that the full version developed. The art work is stunning! Was on the edge of my seat the entire game!
November 21, 2011
A good challenge with good graphics
I play all games on the hardest level and rarely find them difficult or challenging. This one had me stumped several times which I really liked. It also made me want to discover the solution myself rather than look at the walkthru which says alot about it's story line, The graphics are very interesting and creative so while looking around you don't get bored. This game took me the longest to finish of any game I have played here which made me feel I really got my money's worth, another testament to the intriguing story line.
February 11, 2012
Beautiful game, with an intriguing story!
I wasn't sure what to make of this game at first. It takes some getting used to. I have only played the demo in casual mode, and could have, if I had chosen a different path, not finished the demo in an hour. This is usually a pretty good indicator, for me anyway, that this game will be of sufficient length, as I usually finish a demo with time to spare. I was sort of lost, in the beginning, but the hints were helpful, and I got through it, to the "meat" of the game. I'm really glad I did! Toward the end of the demo you find out more about the characters, and their abilities...I found it to be a captivating story, once I got a feel for what exactly was going on. Lots to explore and do. The graphics are beautifully done, crisp, and clear, in a weird and creepy (but good) way, and the music is okay...it can get a bit obtrusive at times. There are no voice overs, which is a shame, as if they had been done well, it would have added to the game. Most of the puzzles are of moderate difficulty, at least for me. The first one was tricky, and confusing, though. Game play is smooth, and, for the most part, linear. Once I got used to the game, I knew what I had to do. Lots of relevant HOS, and the sparkles are quite subtle...not overpoweringly obvious, as I see many complaints about in other games. They don't reach out and grab you right away like most games do. A few of the HO are small/VERY well hidden/blended, and you'll probably need a hint to find. Now, for the story line...I really like paranormal type games, and this is one of them...involving "angels", for lack of a better term, so those that won't play games that involve anything to do with occult, will like this game. There is evil in the game, however, no demons or the like. Just evil people. There are rats, creepy eyes that move, syringes, dr.s, and all manner of hospital related creepiness, so for some this may not be their cup of tea. I personally find the "angels" aspect to be refreshing, after having played many a "demon/ghost" game. There are only a few things that really took getting used to, and I didn't exactly like. One is how touchy the cursor is. You have to move the cursor over the entire screen, so you don't miss anything, but even when you do, you'll still miss something. The cursor changes to an eye, or a hand, etc in areas of interest, however the areas of interest are small. So, you can put the cursor over an area of interest, and it will change, but blink, and you'll miss it. You must use tiny movements of the cursor to get it to change in the right area. It's nice that you have the option of locking your inventory bar, just for this reason. The blinding white light of the the "angels" departure could have been toned down a bit, and the cut scenes are a tad blurry. There are also multiples of a HO in a scene, so it can be confusing at times. For instance, Ball. Well there are a couple of different types of balls in the HOS, so it's a matter of finding which one they are looking for. All in all, I really like the storyline, enough to overlook the minor flaws. I would recommend this game to intermediate or expert adult gamers...probably not a game for kids or beginners.
December 31, 2011
Creepy Asylum Game
F.A.C.E.S. is a hidden object adventure game. You play an artist with a paranormal gift, that has caused you to end up locked up in an asylum by a doctor who is planning to kill you. Unless you can escape, that is. The graphics in this game are very nice. They are rather realistic. The music is very nice and appropriate. There are two levels of difficulty. I played on the harder level and the game took me 3 1/2 hours to complete. The game could have been creepier, in my opinion. But they did a nice job. The puzzles were not too difficult. The hidden object scenes were on the junk pile side, but the items were not too difficult to find. Overall, I liked this game!
January 5, 2012
A New Superhero!
This is my newest favorite! From start to finish, the storyline is very engaging. This is a psychological story, but I don't think it's creepy or spooky. The way it starts is unique. Your character has psychic abilities and is being experimented on at an asylum. When you discover that you're going to be exterminated, you frantically begin the journey to get out of there. And so your quest begins...! The visuals were just right for this type of game. I don't recall there being a lot of audio since dialogue segments were read. I would have liked some VOs, but no game is perfect. There's no map which is fine because you don't need one. The game is broken up into different floors of the asylum which you get to by elevator. You do, however, have to do a lot of backtracking. So if you don't enjoy games like that then this might not be the game for you. The backtracking really didn't bother me since the story was so compelling. There's 2 modes of play, and I chose advanced. I'm guessing that I got about 7 or 8 hours of play. The HOS were sometimes repeated, but again, the story more than makes up for that. The hint button was awesome! I used it in the HOS a few times and also when I was truly stuck in the game, which was about three times. Outside of HOS, the hint doesn't tell you what to do but rather where you might want to look. I really liked being able to solve the problem with minimal help. This is a fun pleasant game. The puzzles are solvable without being frustrating, and the ending leads me to think there may be a sequel! I hope so. If I had known how fun this game would be, I'd have gotten the CE. May the odds be ever in your favor...
March 29, 2012
A fantastic blend of psychology and sharp-thinking.
Breath-taking graphics. Very good characters. Though not terrifying, this kept me in tension and on the edge of my seat to the very end. Very interesting and original plot, sustained by the main character, who has the ability to enter photos and untangle past events - a bit like Drawn from this point of view. The other characters are equally intriguing, as they posses special abilities. Philosophically, all the characters in the game fit very well together and work as a team - rather than the classic mode of being a detective, you are part of the story and the only one who can solve a well-organized injustice, in the non-police kind of way. Great for intermediates and experts. All in all, this game felt very human and realistic. The only thing that bothered me was having to go back and forth all the time to find the needed items. But, hey, not all the asylums have hidden passages or shortcuts. I still wonder at times if the plot has some strong, real reference points. Anyway, take a good grip and press that play button.
December 22, 2011
Great, long game!
The storyline is very interesting - a girl trying to escape from a dark asylum (I know it's not the first one, but it's still different). The sound and graphics are very good. The HOS are clear. The puzzles are challenging. I map would have been useful; I had to use sometimes the walkthrough, because I didn't remember where to find a special room. I played in advanced mode and needed nearly 6 hours, so it's really worth it! I would be glad if there was a sequel!
June 13, 2012
Terrific AHOG
Vogat?s outdone itself with this adventure HOG. I found F.A.C.E.S. to be a well-developed and crafted game, with stunningly detailed graphics creating a creepy environment. I got caught up in the suspense and the music really added to the spooky atmosphere. The horrendous notes left lying around by the staff really nudges the imagination. I found a few of the puzzles were more difficult than expected. I like the challenge. I don?t like to be held by the hand, but the hint system was very welcome and helpful when I was just stuck stuck stuck. Even though the asylum is a common denominator for a lot of HOGS, this game outdoes the others. Keep 'em coming.
August 5, 2012
Creepy, interesting story
This game definitely has the creep factor. Everything from the music to the distant screams to the graphics almost had me on edge the whole time, which isn't necessarily a bad thing. I liked that the story wasn't exclusively supernatural or just science-experiment-gone-wrong, but an ominous mix of both. Putting supernatural beings in darkly realistic places just seems so different to me, so that was enjoyable. That being said, I felt kind of let down by the story's climax, since it seemed so... anti-climactic, but at least it looks like there may be a sequel in the works, so we can see the "real" outcome. Playing on expert (or advanced or whatever the highest difficulty is), this was a pleasantly challenging game. The puzzles were not too frustrating, and I generally had just enough information to figure out what I needed to do next rather than wander aimlessly without knowing how to continue. I can easily recommend this at the regular price.
December 5, 2011
Great Game
This was one of my favorite games of late. It is a hidden object type of game. You do have to do some thinking of where to go next. I had hours of fun with this game. The graphics were very good.
November 22, 2011
The Apple logo is a trademark of Apple Computer, Inc.