F.A.C.E.S.
When a medical consultation goes terribly wrong, it's up to you to realize the full potential of your unique ability and save the day! Discovering that other people have similar gifts as yours, you realize that evildoers would do anything to possess your talents. Dive into F.A.C.E.S. and explore gorgeous Hidden Object scenes to become a hero!
Incredible action
Fantastic gameplay
For a more in depth experience, check out the Collector's Edition
Game System Requirements:
OS:

10.4

CPU:

800 Mhz

RAM:

256 MB

Hard Drive:

221 MB
Game Manager System Requirements:
Browser:

Safari 4.0 or later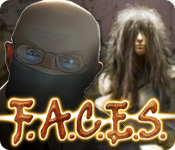 NEW299
The Big Fish Guarantee:
Quality tested and virus free.
No ads, no adware, no spyware.

Reviews at a Glance

F.A.C.E.S.
0
out of
5 (
0
Reviews
Review
)
Customer Reviews
Better than I thought it would be
An enjoyable game. Interesting story line and the puzzles are not totally impossible to do. They can be hard, but solveable.
January 3, 2012
Intrigueing Game
I had fun finding all the clues
February 11, 2014
Wowie Zowie!
This game drove me bonkers, especially the first segment before in the living room and the room at the asylum. Once I broke out of there, it was much easier to figure things out. The story is creepy and the characters such as Icarus are otherworldly. HOGs are scattered throughout the game and most are very difficult but not impossible to complete without using the hint button. As far as gameplay, this is a game for logical and sharp thinkers, which I appreciated. You''ll really use your wits to figure out how to navigate and place the objects you pick up in inventory. One thing that would have helped me is to recall which floor each of the characters lived on. I did a lot of back and forthing because I couldn't recall where a certain room was etc. A map would have helped. I didn't find the journal to be much help but it gave a few clues about progressing through the asylum and addressing certain tasks necessary for me to complete. When using the hint button, the developer assumes you know your way around but several times, I couldn't find my way to a location. All in all, it was with supreme satisfaction that I completed the game and rarely used the hint button. I think this game is one of the most difficult I've played and is a great mental challenge for everyone. I was pleased to find out that a sequel is in the works.
November 29, 2013
Kept My Interest
I'm actually a bit tired of all the scary/murky/evil storylines on the Ho games, but I still gave this one a try.... and was not grossed out. I found the story very interesting and the graphics were excellent. Yes, going up and down the elevator got old and you could easily forget where something was, but I thought the hints were excellent. I got stuck a number of times and was able to figure it out without having to resort to the walk through. I'd love to play the sequel. One of my favorite games to date.
July 9, 2013
Great Game
The storyline of this game is that you have basically been "kidnapped" by a secret group that is using your paranormal skills for no good and you are going to be "executed" the next day. Therefore, not only are you eager to escape but to help others within the asylum escape as well. The place is old, dank and deserted looking and you have a guardian angel who looks in on you from time to time. I played both the SE and CE and didn't use the strategy guide at all. In fact, I finished the demo with 12 minutes to spare and was all agony because I couldn't save my first person - so close! The graphics are ok, the music appropriate although I tend to tune that out. No voiceovers. The hint button recharges quickly and the HOGs are frequent, easy and not difficult to find items. This would be a great game for beginners on up. Glam-ma says you have to at least try the free trial - it's on my top 10 games to get.
June 5, 2013
Want another by this group... enjoyed it!
I got a lot of pleasure from this game. A bit of a challenge for me, hard to stop playing. Great addition to my find it games...loved it.
October 14, 2012
Amazing...and where's the sequal
I'm not usually a horror game fan, but this one is gripping. You will not be disappointed by the story, the sounds, and the game play. I just wish they had put out the sequel already!
October 6, 2012
Really enjoyed this game
This game kept me interested and intrigued. I liked that you had to travel throughout the locations time and again - I got to know the different areas. I liked that it was not overrun with HO scenes. I had to use a hint once or twice to figure out my next steps. The games were not overly easy and offered a nice challenge.
August 10, 2012
I couldn't stop playing
The story line was great, it kept me wondering. The characters are exactly what you'd expect to find in an asylum like that. I loved the games, and the music was not boring at all. I loved it, but the only thing that bothered me is that there were too many hidden object scenes. Everywhere, in every corner, you'll find a hidden object scene. But besides that, i loved everything, especially the way they designed the asylum.
August 7, 2012
Beautiful game, with an intriguing story!
I wasn't sure what to make of this game at first. It takes some getting used to. I have only played the demo in casual mode, and could have, if I had chosen a different path, not finished the demo in an hour. This is usually a pretty good indicator, for me anyway, that this game will be of sufficient length, as I usually finish a demo with time to spare. I was sort of lost, in the beginning, but the hints were helpful, and I got through it, to the "meat" of the game. I'm really glad I did! Toward the end of the demo you find out more about the characters, and their abilities...I found it to be a captivating story, once I got a feel for what exactly was going on. Lots to explore and do. The graphics are beautifully done, crisp, and clear, in a weird and creepy (but good) way, and the music is okay...it can get a bit obtrusive at times. There are no voice overs, which is a shame, as if they had been done well, it would have added to the game. Most of the puzzles are of moderate difficulty, at least for me. The first one was tricky, and confusing, though. Game play is smooth, and, for the most part, linear. Once I got used to the game, I knew what I had to do. Lots of relevant HOS, and the sparkles are quite subtle...not overpoweringly obvious, as I see many complaints about in other games. They don't reach out and grab you right away like most games do. A few of the HO are small/VERY well hidden/blended, and you'll probably need a hint to find. Now, for the story line...I really like paranormal type games, and this is one of them...involving "angels", for lack of a better term, so those that won't play games that involve anything to do with occult, will like this game. There is evil in the game, however, no demons or the like. Just evil people. There are rats, creepy eyes that move, syringes, dr.s, and all manner of hospital related creepiness, so for some this may not be their cup of tea. I personally find the "angels" aspect to be refreshing, after having played many a "demon/ghost" game. There are only a few things that really took getting used to, and I didn't exactly like. One is how touchy the cursor is. You have to move the cursor over the entire screen, so you don't miss anything, but even when you do, you'll still miss something. The cursor changes to an eye, or a hand, etc in areas of interest, however the areas of interest are small. So, you can put the cursor over an area of interest, and it will change, but blink, and you'll miss it. You must use tiny movements of the cursor to get it to change in the right area. It's nice that you have the option of locking your inventory bar, just for this reason. The blinding white light of the the "angels" departure could have been toned down a bit, and the cut scenes are a tad blurry. There are also multiples of a HO in a scene, so it can be confusing at times. For instance, Ball. Well there are a couple of different types of balls in the HOS, so it's a matter of finding which one they are looking for. All in all, I really like the storyline, enough to overlook the minor flaws. I would recommend this game to intermediate or expert adult gamers...probably not a game for kids or beginners.
December 31, 2011