Trade Mania
Purchase real estate in different cities, and make your company a fantastic success story in Trade Mania! Corner the real estate market as you master unique economic gameplay. Play through maps of actual megalopolises and feel like a real millionaire. Dominate the market and become a mogul in the world of Trade Mania!
Unique gameplay
Fantastic action
Corner the Real Estate market!
Game System Requirements:
OS:

Windows XP/Vista/8

CPU:

2.5 GHz

RAM:

1280 MB

DirectX:

8.0

Hard Drive:

116 MB
Game Manager System Requirements:
Browser:

Internet Explorer 7 or later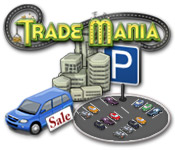 NEW299
The Big Fish Guarantee:
Quality tested and virus free.
No ads, no adware, no spyware.

Reviews at a Glance

Trade Mania
0
out of
5 (
0
Reviews
Review
)
Customer Reviews
Financial Fun!
Clear and colorful graphics! Interesting and fun game.
August 5, 2013
Boardgame: Cross of Life and Monopoly
I really enjoyed Trade Mania during the 60 min demo period and wound up purchasing it on the power of the first campaign. The game reminds me a lot of a cross between Monopoly and Life. Your goal is to "dominate" a city (Seattle, Paris, etc.) by owning most of the property and outcompeting your rivals. You do this by accumulating cash and purchasing properties; where you move and what property is available depends on the roll of the dice (though there are "cards" you can purchase that will give you a little bit of wiggle room on the board, e.g. +1 space, -2 spaces, etc). You can also buy and sell commodities that you tote around in your "vehicle" (you start with enough space for 2 and can "upgrade" your vehicle for cash when you land on the appropriate spots in the game), which can yield extra $ as well. Each time you finish crossing over the entire board and pass Start, you collect a salary of $20,000. There are also "Events" that can happen to you along the way (like having an accident and winding up in the hospital). Clearly, I enjoyed the game (I purchased it, didn't I?) What prevents me from rating it higher is the fact that like Monopoly, it can get repetitive after a while, especially when it is down to you and one other person and you are waiting for them to run out of money so that they will be forced to sell buildings, then properties, so that you can finally accumulate enough to win. Overall, entertaining though.
January 31, 2012
Enjoyable, but...
...if you're the kind of person who is more into 'time management', 'adventure' and other fast-paced genre, this is probably not the game for you. It's an enjoyable enough game, but like the real-life board game, this can be a bit too slow. Unlike the real-life version, you can't talk to your other players (when playing against your computer) and all you can do is turn the wheel, wait for your token to move and then decide your course of action based on where you're landing. This is a good game to rest your battle-mousehand (lol) and heart rate, and start utilizing your brain. Grab a coffee, sit back and start plotting to monopolize New York like a property tycoon. ;)
September 10, 2012
Didn't keep my interest
Like everyone else has said, this is like monopoly. There is nothing wrong with the game, it just got old really fast. You do the same things ad nauseum without there being much of a challenge and little strategy involved. My 5yr old likes it though, so bonus points for that!
December 20, 2011
Fun but Redundant
This game is fun, and I like the concept but once you start getting into the rhythm, to achieve the goals it is a lot of repetitiveness the game doesn't get more difficult later on. I played for the hour and decided not to buy.
December 21, 2011
Needs fixed
If you play this then be preprared to play straight thru. When you load a saved game and one of the computer players bankrupts, well you kind of expect thier properties to be put up for sell. Not the case as I have found out. Not only are they not put up for sale but if you land on them then you will still lose money.
March 12, 2013
fun game but..
THE GOOD - finally a board game! - i can play with a friend - a match is very long - it's funny THE BAD - only 3 matches???? - there aren't difference between seattle, paris and new york, seattle is simply shorter (the route) than new york and there are 2 more opponents. if i were to develop the game i would introduce more features, less in the 1st game and more in the 3d - bonuses for achieving the objectives are the same for all the cities - ia is very poor - cards are very cheap, so buying its it's easy to win - if you've been stopped by the parking or the hospital you can receive the payments from the opponents; why? why have i to go out and maybe paying the rent? - i can't change the colour of my character.. - i always start first
February 16, 2013
Short bursts of fun
This game is best played when you're feeling like you want to play Life, or Monopoly. It was great for the campaign levels (three) but it loses its touch after that.
December 5, 2012
The Fun ends
This is a great game, for awhile. I love playing it but I never lose and so there isn't much of a challenge. I've played all six levels multiple times and again, I never lose. So it's great fun at first and then you realize there is nothing new or exciting and you can't really beat your score.
September 30, 2012
Artificial Intelligence is just that in Trade Mania
This has the potential to be better than Monopoly, with more options available for smart players to get an edge by leveraging cards and trading. However, the computer players are appallingly stupid, even when - in the custom game - all are set to "Hard." As far as I can tell, they NEVER purchase cards, which are truly a shortcut to victory. They only use cards they pick up by chance. How many times have I seen a computer player land on taxes and have to shell out $100k or more, no matter how many times I scream, "Get an audit or movement card, dummy!" #Apparently, they don't listen well either ;-# SPOILER: After upgrading your vehicle a couple times, you can make mad money with the -50% purchase card on the most expensive trade item. In Paris, it's insanely unfair against opponents that don't do likewise. Before you know it, I've got one of every card, and I constantly use plus movement cards #even though they eventually cost me over $100k apiece# just to avoid paying $5k to an opponent, because I'm sitting on over $2 million. Every game I've played, whether campaign or custom, becomes so completely lopsided that it quickly loses any semblance of fun. If only the computer opponents were smarter, this game could be a blast and I'd return to it frequently, unlike other games I finish and never play again. SUGGESTION: If you purchase this game, after obliterating your foes a few times, you might decide to handicap yourself to make it more even #e.g., don't ever purchase cards, like the computer#. That's what I plan to do next time I play #IF I play again#.
August 31, 2012
The Apple logo is a trademark of Apple Computer, Inc.