Macabre Mysteries: Curse of the Nightingale
Explore the Nightingale Theater, which was ravaged by a devastating fire 40 years ago, and uncover a dark mystery! After receiving a letter and a golden ticket in the mail from your grandfather you are off to see an amazing ballet performance. With fantastic graphics and an incredibly mystery, Macabre Mysteries: Curse of the Nightingale will draw you in to a beautiful world. Explore Hidden Object scenes and more!
Amazing gameplay
Incredible excitement
For a more in depth experience, check out the Collector's Edition
Game System Requirements:
OS:

10.8/10.7/10.6/10.5

CPU:

1.0 GHz (INTEL ONLY)

RAM:

1024 MB

Hard Drive:

411 MB
Game Manager System Requirements:
Browser:

Safari 4.0 or later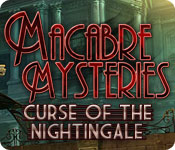 NEW299
The Big Fish Guarantee:
Quality tested and virus free.
No ads, no adware, no spyware.

Reviews at a Glance

Macabre Mysteries: Curse of the Nightingale
0
out of
5 (
0
Reviews
Review
)
Customer Reviews
Macabre Mysteries: Curse of the Nightingale
60
60
Another Winner From Blue Tea
Really well done game, as other reviewers have mentioned. I can't claim to be a huge proponent of fractured hidden object games, but I enjoyed the heck out of this one. Very interesting storyline with a bunch of characters and good voice acting throughout. Cutscenes are frequent and extremely well done, and the game looks fantastic. The journal is very helpful, as it includes a map that both tracks your progress and points out areas you may have missed. Backtracking is fairly minimal, and the amount of places in the game is actually pretty good considering it's just one cental location. The real winner to me, though, are the extra touches that elevate this above other hidden object games. The minigames are a bit awkward to figure out at first (hello, MCF) but that's a good thing. Once you figure them out, there isn't a great deal of variation on them once you see them again. The "vision" power your character has unlocks more traditional hidden object scenes, but they are the easiest part of the game. I did appreciate the detail of being able to speak to characters and examine items that are unimportant to the main storyline in these scenes; it reminded me of good old-fashioned adventure games in that respect. Fractured scenes are plentiful and somewhat challenging. There is an additional side quest of collecting morphing objects, which does help your hint meter fill quickly, though you'll likely not need it often. Minigames can be skipped with a minor penalty. Satisfying conclusion and a great twist on a familiar standard equals a winner for me.
December 21, 2011
Highly recommended!!!
I have never bothered to write a review before, but found this game so fantastic that I had to write a recommendation for others. I think the graphics were the most beautiful I have seen in any game. Pause and take a look at all the intricate background details and the colours and patterns on even the smallest of objects. The story was mysterious without being grim, the music pretty and the HO scenes had more of a purpose as you were looking for pieces of specific objects, rather than just checking off a list of random, pointless things that don't fit in the scene. It also was great value for money as it lasted a long time but remained addictive and engaging. More games similar to this one, please!
December 7, 2011
Great game
Intriguing, long game. Some puzzle instruction not very clear and puzzles not very difficult, but inventory placement object locations makes up for it. Requires quite some maneuvering between locations. Good storyline with not too much dialogue. Well worth playing!
November 21, 2011
Great game play!
I loved this one from the outstanding and beautiful graphics, to the mix of fragmented object and hidden object scenes, to the classic storyline, to the sneaky cursed objects appearing late in game play. Given the backdrop was a 1940s style burned out theater the melodrama in the music, cut-scenes, and storyline all worked together well, although I did find myself turning the music down. The mini-games were cute but easy, easy, easy which took away some of the fun. There was one min-game I hadn't seen before - I liked the novelty of being given a set of pictures to arrange in a specific order to complete a task. Kudos on the masterfully, hidden-in-plain-site fragmented object scenes. I found these challenging and laughed a few times after finding the nutty locations for items. On these I resorted to hints more than once. Also, it was not always obvious what to do next which was a nice challenge but I'd recommend a strategy guide. This one was a lot of fun to play.
February 21, 2012
Interesting gameplay & beautiful artwork
This is a lovely game with a beautiful musical score, clear graphics & wonderful artwork, it also has voiceovers. The scenes were widescreen & there is an option to change the game cursor. There is a map in the game so that you can find your way around the theatre in which the story is set; it is not interactive but it does display where you are & where an area of interest is. As you make your way around the scenes try clicking on everything as there are some lovely little touches, birds that fly away, a cat who hisses at you. Also whenever a glowing eye appears click on it as it will take you back in time & you will see how the theatre looked 40 years ago. In addition the map book contains an objective list with hints as to what to do next; there is also a list of the characters & facts about them are found through the game & are added to their profiles. This is a Fragmented Object Game & some of the objects are a little difficult to find but the hint button recharges in 30 seconds; there is an over clicking penalty. In addition the hint button can be used by dragging an item from your inventory over it to get a clue as to how to use the item. Some of the mini games seemed to be relatively easy but others were very hard & I have no idea how I solved them; more by luck than judgement. I am sorry to say however that there is no choice of game mode; there is only one choice & that is to play with sparkles & glints. What a shame there isn?t a hard mode to select. There are morphing objects to be found which are called 'macabre items, these are objects found in various locations, that change and morph into something else. They're difficult to spot but you can collect 20 of them; they boost up your hint system.
January 20, 2012
A MASTERPIECE
This game is 'Stunningly Beautiful'. It is somewhat difficult to describe in that it is different from the usual HOG, but not just because you are finding fragmented piece...you are finding art. I would just put this game...as well as most other games by Blue Tea, in a class above regular hidden object games. I don't know how many hours I played this...could have been 7 or 8....I never keep up. But I took my time and enjoyed every minute of it. The theatrical setting in itself allowed the developers to be creative beyond measure....and they were. It was a great story as well with a twist at the end that took me by surprise...gee, that's a first! All I can say is that if you like FROG's and have the patience to put together many, many beautiful items and figure out where all of them go...yes, with backtracking...that you will love this game as much as I did. The hint system was very helpful as well. Enjoy!
January 9, 2012
Macabre Mysteries: Curse of the Nightengale
I love all the games from Blue Tea Games, and this is no exception. This one really made me think (don't like to use the walkthroughs) so I was truly challenged to figure out what came next in a lot of the scenes. The maps and book don't help very much. You have to do a lot of backtracking and remembering where things are. The artistry is something special and very detailed. The hidden object games are fairly easy, especially if you've been to that area before. But the game was a pleasant diversion on a rainy day!
December 6, 2011
Macabre is the word!
An excellent game of the FROG genre with plenty of HO's to keep you occupied interspersed with puzzles. There is little information on how to play the puzzles but most of them are fairly simple and there is a skip facility. The music is unobtrusive. There is some dialogue but it is minimal and for the most part relevant. I found the map useful. The ability to put an inventory item on the help button to know where to use it I found helpful but it is optional if you want to play the hard way. Good value for money.
December 8, 2011
Game really kept my interest.
At first I didn't think I would like finding the fragments of the hidden objects, but once I got used to this style of gameplay, I found that I could find most without using the hint system. I found the story really kept me wanting to continue with the game to find out what had happened to the characters. I appreciate that there was a map to show the various areas, but it would have been an improvement if one could click on the map and go to a new location rather than having to backtrack through various scenes. I would have also like a "area cleared" comment since I sometimes spent more time than necessary looking for things that were in other locations. Overall, I really enjoyed this game and it took me probably six hours or more to finish. More experienced players would probably be able to finish quicker, but there were times when I just wanted to admire the scenery.
December 18, 2011
Fantastic Game!
Macabre Mysteries: Curse of the Nightingale is a very enjoyable fragmented hidden object game. The story revolves around an old theater, and the people that once lived and worked there. The graphics are just beautiful, and the voice acting was well-played. The storyline was interesting. There were a few hidden object scenes where you find the item by the drawing, and the rest were fragmented objects. The puzzles were fun, but a couple of kinds they used too many times for my taste. A minor complaint, as the game was so good overall. I like the morphing objects. There's twenty of them, and each one you find reduces the time for the hint button to charge. Which is very nice because some of those fragmented objects are very hard to find, indeed! The length was nice. It took me just over four hours to finish. I was very pleased with this game. If you like fragmented object games, this is a great one to try!
December 19, 2011
The Apple logo is a trademark of Apple Computer, Inc.
The Windows logo is a trademark of Microsoft, Inc.