Echoes of the Past: The Citadels of Time Collector's Edition
Exclusive
Travel from the Dark Middle Ages to the present to save the inhabitants of the Orion kingdom in Echoes of the Past - The Citadels of Time! The witch is back and is more powerful and inventive than ever! After trapping you in a time limbo, you must use your Hidden Object Puzzle Adventure talents to escape and save the day! The fate of the kingdom is in your hands in Echoes of the Past – The Citadels of Time!

This is a special Collector's Edition release full of exclusive extras you won't find in the standard version. As a bonus, Collector's Edition purchases count toward three stamps on your Monthly Game Club Punch Card!

The Collector's Edition includes:
Bonus gameplay
Integrated Strategy Guide
Amazing Wallpapers
Concept Art
Game System Requirements:
OS:

Windows XP/Windows Vista/Windows 7/8

CPU:

1.0 GHz

RAM:

768 MB

DirectX:

9.0

Hard Drive:

484 MB
Game Manager System Requirements:
Browser:

Internet Explorer 7 or later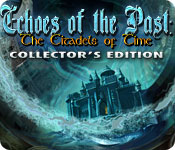 The Big Fish Guarantee:
Quality tested and virus free.
No ads, no adware, no spyware.

Reviews at a Glance

Echoes of the Past: The Citadels of Time Collector's Edition
0
out of
5 (
0
Reviews
Review
)
Customer Reviews
Echoes of the Past: The Citadels of Time Collector's Edition
32
32
Echoes of the Past Saga Continues with a Winner
The Citadels of Time is the third installment in the Echoes of The Past series (Royal House of Stone, Castle of Shadows) and by far the best. If you haven't played the first two installments, there's no need. The story is simple enough: A witch has it in for the House of Orion and has cursed them for centuries. Because of help you've given in the past, you have been cursed - exiled in time inside the museum where you go in and out of time warps meeting the other victims the witch has cursed. You must set time right, release the captives, collect the necessary clock pieces and escape. The graphics are very sharp, even in the HOS and they still have the best interactive HOS around. Voice overs are well done and suitable to the characters with the right amount of emotion. The ambient/background sound FX were done well, although used sparingly. The music could have been better - perhaps something more subdued and haunting rather than pounding and tense. I would be remiss, however, if I didn't mention that some of the HOS items are a bit "clicky picky". You either have to click the border and not the middle or the middle and not the border of some items. This installment has fewer HOS and more puzzles than previous games in the series. Orneon has always provided good mini-games in Echoes, but they outdid themselves here, giving a huge variety of puzzles with varying degrees of difficulty (some of them real easy, many of them difficult). (Note: You can replay some of the puzzles as one of the bonus extras.) Playing in Advanced mode, using no hints, no skips and no Strategy Guide, regular game play for me was 6.5 hours. The bonus chapter, which does not affect the ending of the regular game, added an additional 2 hours, making my total game time 8.5 hours. WOW! (Note: in Advanced mode, there are no highlighted areas, including HOS scenes, except in bonus chapter.) A truly beautiful, well-put together production. Everything about it is pleasing.
November 14, 2011
there all good
All of the echoes of the past are fun games. They have good HOS and puzzles. Good flow and keep you looking for items. Worth playing
May 8, 2013
Third time's the charm
I've played all of the existing Echoes of the Past games, and they are all wonderful. The latest installment is a worthy successor to the first two. The same witch continues to make trouble for the kingdom of Orion, dragging you into the past once more with the intention of trapping you between eras. You must find and repair five clocks in order to restore five former residents of Orion Castle to their proper lives; in return, they will supply you with the missing fragments of the great clock that keeps you stuck in limbo. The puzzles are excellent. Plenty of hidden object scenes, but not too many, and there are lots of other puzzles to solve. Make stained glass to repair a broken window, find and reassemble castle artifacts, break into the royal mausoleum, and even venture into the long-forgotten torture chamber. The story is compelling and woven beautifully with the challenges. All in all, another great addition to this series, and I can't wait for the next one!
November 16, 2011
Such a wonderful game!
Wow! I had so much fun playing this game! It was lengthy, had a great mixture of HOS and puzzles, the graphics are outstanding, the voice overs are perfect and the storyline is great! I would definitely recommend getting the CE, because there is no map and there are lots and lots of places to explore! There is a journal that is very helpful, but without the SG it would've taken me weeks to complete this game. Having no map, many eras, areas and rooms to explore, many, many inventory items scattered throughout several eras, rooms and areas, it would've been extremely difficult for me to remember where the inventory items, that I found much later in the game, were supposed to go in the areas/eras/rooms that I discovered much earlier in the game. Plus the SG offers bonus gameplay, wallpapers and minigames, which I absolutely love. Your adventure begins with a witch that has trapped you in a museum by taking pieces of a clock and hiding them throughout the museum and throughout different eras of time. And not only are you trying to free yourself and get back home, but you also must free several different people from different time periods, restore them and their era by repairing their clocks that the witch has also damaged. The others that you help hold the items that you need to repair your clock and get back home. Some of the HOS are quite unique. Some of them you have to add objects you've collected from other HOS back into a scene. I'll try to explain it a little better; you complete a HOS, then you come across another HOS and the objects that you found in the 1st scene have to be placed into their correct spots in the next HOS you come to. I've never seen this done in a game before and I really enjoyed the change from the norm. The HOS are crisp and clear and the objects are not terribly hard to find. The puzzles in this game are challenging, but not so much that I got frustrated. They were very workable, but quite a few of them did require some serious thought. There's one in particular that you have to make stained glass and on that one I ended up checking the SG to help me out. The music and sound effects weren't at all annoying to me, so this was one of the few games that I left all the sound on. All in all, it's a long, challenging and enjoyable game. It has a nice balance of HOS and puzzles and the story is easy to follow and kept me interested throughout the game. I would certainly recommend this game to all the Big Fishers that enjoy the HOS, adventure, puzzle games! :-D HAPPY GAMING!
January 4, 2012
Great Game, Different & Interesting Puzzles
This is the best of the series, so far. It's not just a HOG. There are so many different types of puzzles. Not at all the typical ones you find over and over. They presented a good challenge. The graphics are great, the music non-intrusive, and the story cohesive. There is some back and forth but not too bad. You don't have to go more than about three or four screens and there is no load time. You can choose which level you want out of three. I like a little help so I did the middle. It's a fairly long game which is so nice. The bonus chapter is as well done as the game its self. There was one puzzle in the bonus I actually skipped. None skipped in the game. I will definitely look for more games by this company. This was well worth the price for the Collector's Edition.
December 16, 2011
Super Great Game
This is the third in a series and everyone of them has been good. I purchased the CE because i got it during 1/2 price sale otherwise i would have just purchase the regular game. I enjoyed everything about this game. The HOG has a purpose not just filler. Then to figure out where to use it was great. Some easy some a little more difficult. I love the back and forth figuring out where to use things. Game was easy to follow. I played in Advanced mode had no sparkles so was a little more challenging but had no difficulties. Mini games were great.Only skipped on mini-game as it was a of a type i don't care for. Did not need the SG. The game was of good length. I found that the Bonus level you get extra is not worth the CE price if you have to buy it for the full price. Bonus was fun but would not be worth the extra price.
January 14, 2012
An excellent series of games
This is the third in the series and it definitely lives up to expectations. Each explores a variation on a theme but stands alone so you do not need to have played one to play another. However the way the theme is developed is excellent and the developers have in no way rested on their laurels. The portals to other times add interest and the relevance of the time period to the items in the HOs shows an attention to detail lacking in other games. There is a lot of detail to be had in the HO's, the use of inventory items, and the mini puzzles. The bonus game is of good length and the Strategy guide is easily accessible without leaving the game. This series is one of 3 all time favourites (the others being Dark Parables and the Awakening series).
January 23, 2012
lovely graphics and novel puzzles make this a "MUST have"!
in this hidden object puzzle fantasy, a witch has cursed Orion Castle, trapping its residents in time by damaging the great clock in the castle?s central hall. this is a very thorough witch; since you have assisted the House of Orion in the past, you also are cursed, trapped in the museum that is the former Orion Castle. but the witch may be thorough, but she?s not detail-oriented: she has forgotten that you can move through time. so you once again are helping the castle?s former residents and you are seeking pieces from the great clock that the witch has hidden in time. in this game, your goal is to restore five residents of Orion Castle to their proper lives by locating five clocks and repairing them. in return, these residents provide missing pieces to the great clock so you can restore Orion Castle (and the museum). graphics: the art is absolutely gorgeous; detailed, clear and crisp. hidden objects are generally not random items, and usually are period-appropriate. some hidden objects require additional interaction before they can be collected. an interesting twist is after you've found all the hidden objects on your search list, you then "earn" a final item -- which is added to your inventory. the game includes a nice blend of hidden objects scenes with lots of fun and thought-provoking mini-games and puzzles, some of which i've not seen before. (as an added bonus, completing the CE version unlocks unlimited play for most puzzles.) the cutscenes advance the story but the acting is so silly that it?s almost comical. music and sound effects: some scores from the soundtrack were nice to listen to, others... not so nice. good voiceovers during cutscenes. storyline: a witch has cast a spell on a castle and stopped all its clocks, which has trapped the residents in time. to set everything right, you must travel through time to collect missing clock pieces to restore the great clock. generally, i am not a big fan of time travel stories, but this game made it fun. gameplay: game hints tell you when there's nothing left to do in a particular scene. there is no overclick penalty and HO scene hints recharge reasonably fast. items in your inventory are used fairly quickly. HO scenes are often visited more than once, and there's a bit of back-and-forth, which can become confusing since there's no map. there is a journal, but i didn't think it was especially helpful since it only tells you what you've already done rather than providing any interesting insights into what you are trying to accomplish. puzzles, many of which are novel, can be skipped. the game has smooth scene transitions and cursor movement without any stutters or freezes. my interaction: one hour demo, casual mode. i?ve added this game to my ?must purchase? list. overall, i think this game rates almost 5 stars based on the quality of the graphics and artwork as well as the gameplay. i think this game is engaging enough -- and the puzzles especially are interesting enough -- that this game has good replay value. highly recommended!
June 20, 2012
My favorite so far!
This one, made me glad I became a member. We played this one for days. Everything was top notch from the graphics to the story.
March 22, 2012
Echoes of the Past: The Citadels of Time
Absolutely fantastic game. I liked the structure and the challenges of the mini games. I did not like the inventory bar at the top of the screen, I found I had to try several times to get it to hold. Otherwise I would highly recommend this one! Qbee
December 17, 2011
The Apple logo is a trademark of Apple Computer, Inc.