Macabre Mysteries: Curse of the Nightingale
Explore the Nightingale Theater, which was ravaged by a devastating fire 40 years ago, and uncover a dark mystery! After receiving a letter and a golden ticket in the mail from your grandfather you are off to see an amazing ballet performance. With fantastic graphics and an incredibly mystery, Macabre Mysteries: Curse of the Nightingale will draw you in to a beautiful world. Explore Hidden Object scenes and more!
Amazing gameplay
Incredible excitement
For a more in depth experience, check out the Collector's Edition
Game System Requirements:
OS:

Windows XP/Vista/8

CPU:

1.0 GHz

RAM:

512 MB

DirectX:

9.0

Hard Drive:

418 MB
Game Manager System Requirements:
Browser:

Internet Explorer 7 or later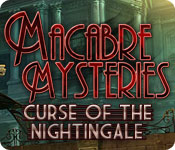 NEW299
The Big Fish Guarantee:
Quality tested and virus free.
No ads, no adware, no spyware.

Reviews at a Glance

Macabre Mysteries: Curse of the Nightingale
0
out of
5 (
0
Reviews
Review
)
Customer Reviews
Macabre Mysteries: Curse of the Nightingale
60
60
Loved it!
This game is one of my favorites from Blue Tea!. It has incredible graphics/colors and the music is wonderfully suited to the game.. The hints worked well and the objects were not too easy to find. The morphing objects are done perfectly. This is a great game!
December 1, 2011
Very good, but too many boring puzzles
The game is really GREAT for the gameplay and the story is awesome. Even the combination between the music-sound and the videos make this game excellent, really scary in some points. Anyway there is a thing that I didn't like: there are too too too too too many hidden-object puzzles and it makes the game a little bit frustrating because it doesn't always allow to enjoy the story, especially the extra-bonus gameplay.
November 28, 2011
very nice FROG
This is one of my favourite games, and I still like it after re-playing it several times. If you like BlueTeaGames, then you will like this one - it is a lot like the "Dark Parables"-Games, except that the story line doesn't refer to a fairy tale. The sound and the visuals in this game are very nice - the music supports the atmosphere without being annoying, and all of the scenes are beautifully drawn. The clarity of the scenes is not as good in the "visions" and video parts; however, the search scenes are all crystal clear and very good. You have to find LOTS of fragmented objects - you see how the fragment looks, and you have to track them down. They are well hidden in the scenes, and so it is a good level of challenge. The mini-games are a nice change from the usual mini games in these kinds of games - I enjoyed them, although there is a certain repetition factor. They can be skipped, though. You have unlimited hints, and the hint button recharges quickly. You also get a map - however, the map only indicated scenes in which you need to complete a FROG-scene, and doesn't indicate where you just need to pick up something or complete something. This is at times unfortunate and requires a good memory on behalf of the player. If you don't know what to do with an object, you can get through the hint button a vision - this is only limited helpful, though, because it can easily refer to a part of the theatre you didn't unlock yet. There are "cursed objects" you can find to get extra points. The only weakness in my opinion is that there is only one mode of difficulty. Great game - if you like fragmented object games, this is definitifely a go. Good length, too.
March 23, 2012
Had to Review this One!
I never review games but after just completing Curse of the Nightingale I had to put in my two cents worth. I am not a huge fan of HOGs as most of you are but I do enjoy looking for fragments to complete an object. I get tired of looking for 12 or so objects in a HOG only to really need one of those objects. With a FROG you feel like you're not wasting your time and the fragments in this game were stand out enough to see - I think I only resorted to the "hint" button twice. Nuff said about that. The game itself is wonderful, intriguing and very well made. Graphics were outstanding and the music low key enough to not grate on the nerves. I figured out right from the get go who the "crazy big guy" actually was but I must say the rest of the story had me guessing. Even though the story plays out in a way that pretty much tells you what happened there are some clues that I now look back on that should have pointed me in the right direction. Good ending - no cliffhanger or "what was that?!!" as in some games I've played. This is the first "object" game that I want to turn around and play again if only to find the 20 morphing objects. I didn't find my first one until well into the middle of the game and then drove myself crazy staring at the screen in each area I entered trying to see the other ones. I did succeed in finding 15 before the game ended so that's a big replayable factor for me. I will say that I cannot see having to look for "morphing" objects during an entire game instead of frags or objects as I hear is the case in Escape from Ravenhurst. Would probably have to put me in a loony bin before game was over - lol! To wrap it up, this was a great game, good replay if only to get all the morphing objects and not-too-hard puzzles, repetitive yes, but I'm not really into puzzles as some are so it was nice to play one that I didn't feel like I was pulling my hair out over. And I forgot to mention this game is LONG - at least 6+ hours of fairly continuous play over two days. There were several times I thought I was close to the end only to end up having more gameplay - very good length for your money. Also got this on BF's New Year sale for $4.99 and if it ever comes out as a DD for $2.99 grab it - it would be worth full price to me. If you haven't played "Curse" I highly recommend it - I don't think you'll be disappointed.
January 9, 2012
Beautiful artwork!
I really enjoyed the art and story-line of this game! FrOG's aren't my thing, but this was ok. The mini-games were simple but different from what we usually see. A couple of complaints: too many FrOG's, the map was helpful but not interactive, and if the building is condemned why do we keep running into these random people! For the most part, it was enjoyable!
January 22, 2012
Like delving into a movie.
Intriguing storyline, good characters, a murder mystery and revenge plot line plus beautiful artwork equals a game well worth owning. Instead of the usual HOG items you have to find parts of an object (personally i dont like these kind of HOGS so its a testament to the quality of this game that it still makes it fun to play.) The puzzles are of the same type and are only a few which is a shame as i like a lot of puzzles in my games, but it really is the story in this game that drives your desire to see it through to the end. There is some backtracking esp at the end but its simple enough to remember your way around. The hint button allows you to see how you use a particular item and the map tells you where you need to go so you never really get stuck. A beautiful game which is a decent length. Definitely a solid 4 stars.
December 26, 2012
Worst hint system I have ever seen
The map is useless. When you click on the hint system, it tells you to drag a item from your inventory to the hint button and then it will show you exactly how to use it. I don't want to know exactly what to do. I wanted a "hint". I hated it. I play these games to relax and just found this game annoying. If you really like to think and want a challenge, then this is the game for you.
December 16, 2012
Your grandfather is hitting on a young girl!
While I liked the game overall, the timeline in the plot had some problems that interfered with my enjoyment of the game. Supposedly your grandfather has been missing for 40 years. There is a picture of you and your grandfather in his office, so that makes you about 50! Also, he is a grandfather in the game and he is in love with a young ballerina who is about 20. That's just icky.
July 29, 2012
Beautiful Game, But Frustrating!
The graphics, sound, video cuts and storyline are all beautifully done. Video scenes can be skipped. There is a journal with a map and character profiles, but don't look to it for much help. The map will show where you are, and the area of interest or something to do. In theory, anyway. I only saw the green diamond for area of interest once. Hints recharge fairly fast in regular mode. The hint will help you find an object in HO scenes, or show you what a particular item will be used for. (and will disable the hint function for five minutes if you check it to see what an item is used for) If you are stuck in the game, and don't know what to do next, you WILL have to resort to checking a walk-through. There is ZERO help within the game. Also, be warned that you may have to go through the entire walk-through to find the one thing you missed in order to go forward. Certain things must be done to unlock other options and HOs/items. So even if you are at point X in the game, the action or option shown in the walk-through might not be available to you, if you didn't do something further back. I enjoyed the game, but there is a lot of senseless back and forth. It also became a bit predictable in that you must do an HO to get the item to unlock the ticket, then do another game to unlock the machine that takes the ticket to get into that part of the theater.
May 21, 2012
Long game, puzzle instructions could have been clearer
First of all the graphics are just brilliant. Lots of separate locations, great storyline, not too much back tracking, and the game lasts a long time. Some puzzles could have had clearer instructions, the hidden object scenes were pretty easy, and the whole thing was a joy to play from start to finish. Loved the music too.
April 8, 2012
The Apple logo is a trademark of Apple Computer, Inc.