Twisted Lands: Insomniac Collector's Edition
Exclusive
Help Angel figure out what is real and what is in her head as she attempts to escape from a Mental Hospital! Steeped in psychological horror, Twisted Lands: Insomniac follows the wife of the central character in the original game, as she attempts to escape the mental hospital in which she's imprisoned. Explore a haunting environment as you go on Angel's mystifying quest!

This is a special Collector's Edition release full of exclusive extras you won't find in the standard version. As a bonus, Collector's Edition purchases count toward three stamps on your Monthly Game Club Punch Card!

The Collector's Edition includes:
Bonus gameplay
Integrated Strategy Guide
Concept art
Game System Requirements:
OS:

10.5

CPU:

800 Mhz (INTEL ONLY)

RAM:

256 MB

Hard Drive:

686 MB
Game Manager System Requirements:
Browser:

Safari 4.0 or later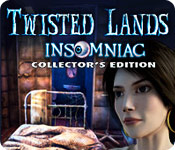 The Big Fish Guarantee:
Quality tested and virus free.
No ads, no adware, no spyware.

Reviews at a Glance

Twisted Lands: Insomniac Collector's Edition
0
out of
5 (
0
Reviews
Review
)
Customer Reviews
Twisted Lands: Insomniac Collector's Edition
29
29
Twisted lands-SUPER
Thumbs Up! This is one game I will play again, and maybe again, LOL. Superb graphics. HOs were easy although some puzzles had me scratching my head.Never went over board with one thing. Game seem to draw you in and was never boring, to the point you couldnt wait for the ending. EXCELLENT, good job to the creators. Keep em comin.
August 5, 2012
Not what I expected
I'm writing this weeks after playing since it is on sale for others today. I wanted this because I LOVED the first one, which I had played on my android. This was full of twists and turns and kept me entertained, interested and intrigued. Enough so, that it made my girlfriend jealous of my time- that's the danger of these kinds of games. If I had any complaints while playing them, they weren't enough for me to remember. I just wish I could play it again from the beginning WITHOUT having played it before (in other words, can't wait to see another one). This is a must play, must have game that rivals the original.
August 4, 2012
You might lose sleep over this game?
Good game play and a story that draws you in. It was definitely a decent length. There is a lot of back and forth -- taking notes is helpful just to remember where to use the inventory item you finally acquire. Puzzles are not difficult -- most solved by finding the right clue. There were 2 very clever, made you think moments that made the game more challenging than some others. The story is intriguing, but it references Twisted Lands Shadow Town quite a bit -- playing that one first would enhance your experience. Both are psycholgical thrillers meant to raise the hair on the back of your neck. After a while, though, that fades. But, the plot draws you in -- I was not bored with the adventure. I played the game from start to finish into the wee small hours. The bonus chapter is possibly another hour of play. It has entirely different characters, covers some island history and some different locations. The puzzles and tasks are almost too simple to feel satisfied, but it does add another dimension to the story of Twisted Lands. The other CE content is sparse -- The strategy guide: you won't need it for the puzzles, and the built in help takes you exactly where you need to go. The music cannot be saved. The concept art is from the bonus chapter. There are no wall papers. However, if you are caught up in the story, like the game play, and want more of all of that -- the CE would not disappoint.
January 13, 2012
better than shadow town
First off, I played Shadow Town before this. It completely befuddled me with its ending. Well, until I searched the web for someones' reasonable explanation, and even then I was thinking, "what?" This game, once you get into the swing of it, you do figure it out fairly quick- and I'm not going to mention anything else, because it would spoil it. I liked the graphics, the mini-games were good, and the music was okay, I guess. I found this to be a decent game, great compared to it's predecessor. I'd recommend it to the people who like the mind-twist games.
June 28, 2012
FUN TO PLAY WITHOUT BEING TAXING
NOT AS GOOD AS good as shadow town, but a very reasonable sequel, enjoyable, good graphics, a must for me, as ive eye sight problems. if you liked shadow town, then you'll enjoy this.
January 18, 2012
REALLY WEIRD STORY - EASY TO GET CONFUSED
SUMMARY: This is one very weird storyline. I felt confused and lost a few times ? I?d get used to a change in storyline, only to have it suddenly change again. I can only assume this was planned by the developers to mimic a horrible nightmare which, as you know, seldom makes much sense. Even the ending was a little confusing ? some of it was good but I wasn?t sure what it said about everything that happened. Okay, so the ending was a lot confusing. Though, if you?re not into the storyline too much, it?s a perfectly good adventure with lots to do, plenty of locations, good graphics, crisp and clear HOS and a fairly helpful hint system. Nice production values. LENGTH: A little over 4 hours. STORY: After a car crash, I am taken to a hospital where I see a lobotomy being done on my friend Angel. When I awaken, I think my and my doctor?s skin looks odd ? all splotchy with lesions. I am on Twisted Island, but at times I thought the story was twisted (i.e., seemed to get confused at times because suddenly I?m saving children, only to be ? well see Progressing the Game for the confused parts). PROGRESSING THE GAME: This is mostly an adventure game. After a short time, I noticed that the locations become drab and dilapidated and I didn?t recall whether that progression was natural or even happened. (How did I get there?) While in the old hospital, I suddenly find I?m trying to save 15 children. When I finally got used to the antiquated hospital, suddenly I was back in the newer one (which I think is where I started, but by then I was getting confused trying to follow the story). But the children were not all saved yet. What?s happening? Then I?m again suddenly in the decrepit hospital, continuing to save children. I do finally save all of them, but the ending said I had something to do with the tragedy. Now I?m really confused. You?re probably thinking I?m babbling, but if you can follow, you?ll see just how twisted this game is supposed to be. Talk about nothing seeming as it appeared. I encountered a few HOS, which are list-based (the words are in a rather small font). The HOS themselves are nicely done so that you can find things without much difficulty. There are also quite a few puzzles; I would say they were challenging (moderately to above average). It takes the skip button several minutes to charge. So I decided to just take a stab at the puzzles instead of staring at the screen, waiting for ability to skip. There was only one or two I had to skip, though, so I?m rather proud of myself. OTHER STUFF: The sounds (such as chirping birds) are quite nice. Music is relaxing and nonintrusive and is conducive to the theme of the story. The graphics also fit the locations ? from the more modern hospital to the old one. They were very well done. IMPROVEMENTS NEEDED: I didn?t include these in my ratings since they?re not deal-breakers ?merely annoyances. The HOS and puzzles, as well as printed matter you read (newspapers, notes, etc.) don?t automatically close when you?re done with them. They should. And printed matter shouldn?t keep giving you magnifying glasses to look more closely after you?ve already read the material unless you need it again. Wastes time trying to remember that you don?t have to click on those two pieces of paper again.
October 19, 2013
Great Game...But.
This was an awesome game.... but... There are 2 modes of play, casual and expert. Play on Expert. Even if you dont think you can play through this in that mode, Im telling you, you can. I chose casual, as I do with most games, because I consider myself an intermediate. On casual, this game literally held your hand through start to finish. There was no challenge at all. I changed modes within the hour. Integrated SG, but was not needed, not once, and Im the type of player that looks up the walkthrough at once in any game. Not this one. Graphics were cool, V/O were nice, not many HOs which I loved, but the only problem was that when I did play the HOs, they were sooooooooo easy that I completed within a minute. Seriously, a minute. The gamed seemed short although it wasnt. I believe it felt that way because like I said, the game held your hand throughout. This is a great game for beginners who are just learning. I recommend this game, but not for the experts.
August 16, 2012
Fun to Play
I started this game immediately after Twisted Lands: Shadow Town. It continued the tale of Shadow Town but some parts are still unclear to me. The ending in particular puzzled me. I liked how the puzzles were easier than Shadow Town. The "zoom-in" scenes were deactivated once you were done interacting with them - an improvement over the prequel. Less spooky than the first game too. I like this series so much, I'm going to play Twisted Lands:Origin after I write this review :)
September 21, 2012
Another great Twisted Lands!
This chapter in the series is very enjoyable. The story line kept me moving thru quickly. Graphics are great and puzzles a challenge, worth the CE price
August 21, 2012
Interesting Sequel
I enjoyed this game for the most part. The graphics are excellent and the HOS/mini games are fun. As you work through the game you find medical records, journals and newspaper clippings that expand the story, which is fun. You really need to play the first game (Shadow Town) before this game or you'll be really lost. You are the wife/girlfriend of the main character in the first game. You're in a mental hospital... maybe...or you're still on the island....maybe....or you're both places. I really enjoyed the game until the very end. i thought they were going one direction, but they went a totally different way. It was also a confusing and somewhat unsatisfying ending, although it was quite shocking. I imagine they are planning a third game and maybe they'll explain things more fully. The bonus chapter was not worth the price of the CE. It was okay and filled in more back story, but it was short and not that much fun, I recommend this game, but only if you've played Shadow Town and don't mind confusing endings. Also, I would purchase the SE not the CE.
August 5, 2012
The Apple logo is a trademark of Apple Computer, Inc.
The Windows logo is a trademark of Microsoft, Inc.