Grim Tales: The Bride
After your sister vanishes on her wedding day no one has any idea what happened to her, so it's up to you to find the truth! Some believe she drowned, but her body was never found. Return to the abandoned family mansion and search for clues in Grim Tales: The Bride. Explore your sister's memories to solve the mystery of her disappearance in this exciting Hidden Object Puzzle Adventure game!
Amazing gameplay
Fantastic storyline
For a more in depth experience, check out the Collector's Edition
Game System Requirements:
OS:

10.4

CPU:

2.5 GHz (INTEL ONLY)

RAM:

1024 MB

Hard Drive:

865 MB
Game Manager System Requirements:
Browser:

Safari 4.0 or later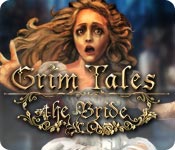 NEW299
The Big Fish Guarantee:
Quality tested and virus free.
No ads, no adware, no spyware.

Reviews at a Glance

Grim Tales: The Bride
0
out of
5 (
0
Reviews
Review
)
Customer Reviews
Grim Tales: The Bride
118
118
I LOVE THE FUN HIDDEN OJECTS GAMES THAT I PLAY WITH BIG FISH GAMES.
OVERALL I L;IKE THE GAME IT WAS VERY EXCITING TO PLAY.
January 21, 2012
great game!
This was a good game. beautifly done. The HO games were fun and clear. The game was long, which was a good thing. The only thing that was kind of crazy, was the ending. It was not very good. It stops quickly and abruptly.
December 31, 2011
Stick with it - it gets better
This review is based on a completed playthrough of the game. I tried playing it on the hardest difficulty, but after a good ten minutes of searching for an item I moved it down one notch. I'm not sure when this game came out, but fairly or not, I've got to rate it against the games coming out in 2014, because this is when you'll be deciding which games get your money. So here goes: THE GOOD: It's a long game. Depending on how long it takes you to go through the puzzles it can be a good four to six hours. It's got a good "creepy" ambiance going throughout the game - and just enough of 'not sure what's really go on' to keep you wondering. The game just 'happens' - there's not a lot of build up, maybe because this is the first in the series, but after a short series of events, you're thrown into the deep end of the pool. As people have said, not a lot of handholding. At the end, well, the game just ends. The CE may have something there, but it is 'complete' as it stands. It just happens quickly. I didn't feel cheated out of an ending as sometimes happens in a SE. A word about the locations: you end up 'revisiting' the same places multiple times during the game. So a 'lock' you find very early may still be locked when you 'leave', only to be unlocked when you come back later in the game. Each 'chapter' has unique locations as well. This is part of the 'getting better'. When you keep coming back to a place after you've learned more of the story, you see it in a different light, and the tension keeps building that way. The story unfolds slowly, and it takes a while to get revved up. I don't think a demo can give a fair picture of this game [I don't think they can in most games, which I why I don't review demos]. There are a couple of twists and turns, nothing completely out of left field, but not completely what you expect from the start, either. PUZZLES: I'm putting this between the good and the bad because they're both. I thought I was in trouble when a normally medium difficulty puzzle was made much easier by the objects 'clicking' into the correct place, rather than having you try various possibilites. A lot of the puzzles throughout the game were like that (tangrams, for example, become ridiculously easy this way). OTOH, you had some crazy difficult puzzles: reverse 'jump' mazes, a huge field of minesweeper, and some true 'medium' difficulty ones in there. Some were made more difficult by being 'larger' than typical. So the challenge level is all over the board. Generally, they got harder as the game went on. At my difficulty there was a skip button, and I did use it a few times. I may play the game again sometime with a big pad and pencil handy to really try and work out those difficult ones. THE BAD: The HOS are all ugly junkpiles. Mostly dark, shadowy junkpiles (in fact, one or two even had the tooltip label "junkpile"). I've got to compare it to what HOG are today and this game did not age well in this department. There was a hint button at my difficulty, and sometimes I didn't see the item even after the hint (fortunately, no clicking penalty). No map: I understand why they didn't put a map in the game - mainly it has to do with the revisiting locations thing. But the game has a LOT of backtracking. Sometimes going literally from one far end of the map to the other and all the way right back again. I really don't know how they could have solved this well though. A "normal" map would have ruined some parts of the story. Running all over the place got old though, so this goes in the BAD. No voiceovers: again, I've got to compare it to games today - there were scenes that really would have benefited from spoken dialog. Playing it today, it really stands out as something 'missing' from those scenes. THE UGLY: Two "rooms" in a row were blocked off by the same 'obstacle'. If only I hadn't immediately thrown away the item I used to get past the first one... At least once the hint button took me to the wrong place - a lock I didn't (and couldn't) have the key for yet, so they messed up the ordering there. Several of the puzzles needed a reset button. You had to 'finish' it wrong if you realized you made a mistake early in the process. Wasn't terribly bad, but enough to be annoying. BOTTOM LINE: So why four stars? Really I'd give it three and a half, but the game is better than just 'ok' so I rounded up. Despite it's flaws, if you stick with the game you feel rewarded for doing so (and not just because you 'put up' with stuff). The story does get better, and does pull you in, and you feel good when you finally 'succeed' in the end. You've got to be willing to put up with a bit of frustration and lack of 'modern' features, but the game is definitely worth playing. The plus is it doesn't hand you all the answers like some do now, either. If the Grim Tales get better from here, I'm really looking forward to the rest of this series.
January 21, 2014
Good Game but Story was not well developed.
The puzzles were very enjoyable. The graphics were wonderful. The story was kind of a let down though. Not to give anything away but, after completion of the last puzzle, I looked away a max of 20 seconds. When I looked back I was back at the menu. Bummer :( Plus the overall story started out really interesting, and then they lost me. Good game.
December 11, 2013
WONDERFUL GAME!!
I love grim tales games..I own everyone..I will purchase everyone that comes out w/o even playing the demo!!..Clean crisp HOS'S,great story line,hint is helpful and the lenght is just great!!...Hey Devs..Keep the grims coming~!!...Happy gaming fishies!!
February 7, 2013
Puzzles and visuals were good
You are off to save your twin sister from a sinister situation! Innovative puzzles plus gorgeous visuals and ambience (realistic rain and snow) drew me in to this one. Unfortunately in the end the threadbare storyline let it down, leaving me feeling a little hollow inside after finishing it. Too much use of keys & locks really dulled the gameplay, especially towards the end. There were moments of creative inventory item use which had me smiling, but these were rare in the second half of the game. Glitch alert -- quite a few of the puzzles had reset buttons which did not work properly. Admittedly however, I was hooked on this game and finished in hour-long spurts (total 4-5 hours). I also liked the big and colourful hidden object scenes ? no eye strain :) Hints also told you exactly what you needed to do. I?d recommend this game to puzzle-lovers, and you?ll enjoy it as long as you don?t take the story or game too seriously! Giving this 3.5 stars.
November 5, 2012
Good Game Deplorable Ending - Get the CE & save on frustration.
Overall this is not a bad game, but the ending was atrocious, the game simply stopped.......very frustrating. I understand the proper ending was included as the bonus in the CE version, which is disappointing - bonus means extra, not completion! As I said though overall, not a bad game. Nice visuals & sound, interesting puzzles. A bit of running back & forth, but not to badly. If the ending wasn't so bad, I would rate it higher.
January 29, 2012
Okay to try, but not to buy
Looked at the reviews and thought to give it a try. Enjoyed the story line and was good to find out that the scavenger hunt aspect of the game was actually pertinent to the story, however, there is too much running back and forth for my liking. The hidden object aspect of this game was an afterthought and lacking in my opinion. Some of the mini-games were challenging. The free trial offer was not an hour and did not convince me enough to buy this game.
December 3, 2011
Too much going back & forth between scenes
There is a lot going for this game; it is from Elephant Games, one of my favourites, there are stunningly beautiful graphics & 3 modes of gameplay. Easy with lots of sparkles, glints, a hint that recharges in about 15 seconds & a hint that tells you exactly what to do next to boot. Advanced mode, no sparkles anywhere & a fiendish Hardcore mode, no sparkles, no mini game skips & no hints. The mini-games were relatively easy & I love the cursor ? it turns into a beautifully slender & elegant hand on objects to pick up. The diary tells you the story of the game although it does little else, unfortunately no voiceovers but????.I have never had to go back & forth so many times in a game, there is no interactive map so you can?t jump to scenes; you just walk back again & again & again ad infinitum. I would buy at a sale price & keep for a rainy day when I have run out of games to play but this does not rock my world
January 7, 2012
Good storyline
Just finished this game. It was pretty long, nice graphics, good story. The HOS were clear however most of them were a junkpile. Lots of running back and forth. I usually don't mind that but seemed a lot in this game, once you get an item you need to go back where you just came from. The ending was horrible, it just ended and kind of left me hanging. Not too impressed with that
January 22, 2012
The Apple logo is a trademark of Apple Computer, Inc.
The Windows logo is a trademark of Microsoft, Inc.