Grim Tales: The Bride
After your sister vanishes on her wedding day no one has any idea what happened to her, so it's up to you to find the truth! Some believe she drowned, but her body was never found. Return to the abandoned family mansion and search for clues in Grim Tales: The Bride. Explore your sister's memories to solve the mystery of her disappearance in this exciting Hidden Object Puzzle Adventure game!
Amazing gameplay
Fantastic storyline
For a more in depth experience, check out the Collector's Edition
Game System Requirements:
OS:

Windows XP/Vista/8

CPU:

2.5 GHz

RAM:

1024 MB

DirectX:

9.0

Hard Drive:

732 MB
Game Manager System Requirements:
Browser:

Internet Explorer 7 or later
Alcohol Reference
Mild Violence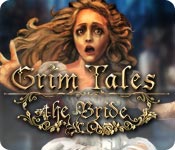 NEW299
The Big Fish Guarantee:
Quality tested and virus free.
No ads, no adware, no spyware.

Reviews at a Glance

Grim Tales: The Bride
0
out of
5 (
0
Reviews
Review
)
Customer Reviews
Grim Tales: The Bride
123
123
Okay to try, but not to buy
Looked at the reviews and thought to give it a try. Enjoyed the story line and was good to find out that the scavenger hunt aspect of the game was actually pertinent to the story, however, there is too much running back and forth for my liking. The hidden object aspect of this game was an afterthought and lacking in my opinion. Some of the mini-games were challenging. The free trial offer was not an hour and did not convince me enough to buy this game.
December 3, 2011
Too much going back & forth between scenes
There is a lot going for this game; it is from Elephant Games, one of my favourites, there are stunningly beautiful graphics & 3 modes of gameplay. Easy with lots of sparkles, glints, a hint that recharges in about 15 seconds & a hint that tells you exactly what to do next to boot. Advanced mode, no sparkles anywhere & a fiendish Hardcore mode, no sparkles, no mini game skips & no hints. The mini-games were relatively easy & I love the cursor ? it turns into a beautifully slender & elegant hand on objects to pick up. The diary tells you the story of the game although it does little else, unfortunately no voiceovers but????.I have never had to go back & forth so many times in a game, there is no interactive map so you can?t jump to scenes; you just walk back again & again & again ad infinitum. I would buy at a sale price & keep for a rainy day when I have run out of games to play but this does not rock my world
January 7, 2012
Good storyline
Just finished this game. It was pretty long, nice graphics, good story. The HOS were clear however most of them were a junkpile. Lots of running back and forth. I usually don't mind that but seemed a lot in this game, once you get an item you need to go back where you just came from. The ending was horrible, it just ended and kind of left me hanging. Not too impressed with that
January 22, 2012
No regrets
I enjoyed this game. The graphics were decent. The many puzzles were moderate to difficult but fairly typical. There is a skip option. It was a little heavy on the HOS. More than I prefer. However, they were not very time consuming and the other tasks kept it moving along. The Hint button informs you of your next move but does not assist with navigation. Unfortunately, there is not a map for reference. I am weak in this area. I get lost easily but I had no problems. You follow your sister's memories. When one memory is completed it opens a new location. The story was interesting but slow and under developed. I would have liked game play to be a little more involved with the plot. Other Grim Tales reviews led me to trying the first of this series. I imagine they only get better. No regrets. I look forward to the next one.
April 10, 2013
Instruction confusing
The HOS part was challenging, but the puzzles were confusing. The instructions for the puzzles were not clear so I ended up skipping many of them. Hated the ending!
December 27, 2011
An OK Game, but ending was 'So-So'
I thouroughly enjoyed this game, a couple of elements that I didn't like. The clown in the theatre was freaky, and the ending, I thought it ended rather abruptly, just you saved your sister, and she smiles, thats it, kind of boring. What happened with Grey and Luisa?
March 11, 2012
It's Okay I guess...
The Good: - Menacing villain, evil, well drawn, sinister sounds, truly scary - Flash-back theme works well - Interesting & varied locations - No punishments for missed clicks - Can skip puzzles - Tons of puzzles & HOS - Game is very long - Good graphics & sound - Many frequent cut scenes The Bad: - Lack of characters made for quite a lonesome experience - Almost every accomplishment leads to yet another HOS - Quite a bit of back tracking - Sometimes not knowing where to go next - Seldom more than 1 or 2 objects in inventory makes for a linear game - All the roaming & wandering prevented you from really getting into the full experience of the game - There was LITERALLY No Ending. You clicked for the last move & got a still frame ending. No story resolve, no wrap up, nothing more... The Bottom Line: Sure there were a ton of good puzzles, tons of HOS, some interesting locations & some mediocre object exchange, but overall it just seemed like a bunch of puzzles thrown into an okay storyline. I wish there were more characters to talk with. I also wish there was less backtracking, perhaps by providing more objects to choose from at the same time. This probably would have prevented that one-trick pony feeling. And an ending would really have been nice. The bottom line is there are far more better games out there (please see my other reviews) with more heart. And while this certainly is far from the worst I've played, I would recommend saving it for a rainy day.
August 25, 2012
Too short
I enjoyed the game - such as it was. Too short, and some of the hidden objects were almost impossible to find. Not much more than a 3 for me, but some may enjoy it.
January 19, 2012
"grim" indeed
I usually figure out 30 minutes in if I'm going to like a game. That being said, this one I knew in 15 that enough was enough, and it was just to....boring for me. Nonetheless, here I am to review what I did find on this gem. ~GRAPHICS were good, but dark....the cutscenes aren't really cutscenes as much as just (for all I saw in the time I played# either one character on a loop 'talking'...or a flash of pictures. ~MUSIC I either have gone deaf at parts of the game, my sound card is faulty #I hope not :I#, or the simpler is that either the music is so low you really don't hear it or there isn't any. The voices with the cutscenes I can't honestly tell you if they match because the character you see all the time has his mouth covered. #lol# ~the PLOT is okay that I've seen, but there's so much walking that you want to scream by the end of a *vision*. It's mostly collecting one specific item to get onto the next one- because you're trying the demo, I'll mention the first...you've got to get the diary to get to the next vision...where #is it John?# proposed to her. My decision to not buy was also based on the unresolved ending I've heard everyone complain about- something about you need to buy the CE to see the conflict resolved. All in all, I definitely say try before you buy with this game.
June 1, 2013
Grim Tales: the Bride
The game and the puzzles were pretty good. I didn't like how it ended though. I never understood why she died. And what happened to the fiancee. ????? Will there be a part 2 as a finisher? I'll stay tuned.
August 3, 2012
The Apple logo is a trademark of Apple Computer, Inc.