Grim Tales: The Bride
After your sister vanishes on her wedding day no one has any idea what happened to her, so it's up to you to find the truth! Some believe she drowned, but her body was never found. Return to the abandoned family mansion and search for clues in Grim Tales: The Bride. Explore your sister's memories to solve the mystery of her disappearance in this exciting Hidden Object Puzzle Adventure game!
Amazing gameplay
Fantastic storyline
For a more in depth experience, check out the Collector's Edition
Game System Requirements:
OS:

Windows XP/Vista/8

CPU:

2.5 GHz

RAM:

1024 MB

DirectX:

9.0

Hard Drive:

732 MB
Game Manager System Requirements:
Browser:

Internet Explorer 7 or later
Alcohol Reference
Mild Violence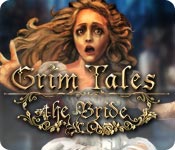 NEW299
The Big Fish Guarantee:
Quality tested and virus free.
No ads, no adware, no spyware.

Reviews at a Glance

Grim Tales: The Bride
0
out of
5 (
0
Reviews
Review
)
Customer Reviews
Grim Tales: The Bride
120
120
Missing Sister! Puzzles! Intensity! Deus ex machina???
As far as puzzle challenge, I really enjoyed the game. They were not too hard, but not too easy either. The art is fantastic, and I appreciate the attention to detail. I tend to play games for the story line, and this game wanted some serious explanation as to your mysterious guide and your family's past. The ending was quick and caught me by surprise since I thought more would be revealed. Good game, some plot holes.
February 18, 2012
If it would actually WORK, it'd be better....
Decided to give it a shot for the 1hr free trial.... A fun game until it decided to freeze up repeatedly and not work anymore. My Mac more than meets the minimum requirements. The game would be MUCH better if it actually worked for longer than 20 minutes.
November 26, 2011
Not 1 hr trial
Disappointed as I did not get to try this game for the full hour. Had only a short trial. Not going to buy if I can't get a decent trial first. Apart from that it seems to be a good HOS mystery game.
November 22, 2011
Grimm Tales-the Bride
I played this game again after a while, it lacks inspiration, clues are from one place to another and I feel I'm lost after a while. The puzzles aren't the best either.
December 15, 2013
An ok game, but....
I rated it 3 because it was ok. It's certainly worth playing, but I'm glad I got it on sale. The graphics are great, the HOS are fairly easy, the puzzles were a mix. Some required some thought others were easy. A few things kept this from being a great game: Number 1 is that there is no sound. No atmosphere noises, no voices, just noises when you click. I always turn off the music because it drives me crazy, so I can't speak to that. There is no map and a LOT of places to remember. If you find a place where you need an object, it will almost always be 8 clicks and turns away. I just hate that. Then storyline was week and the ending was very anticlimatic and abrupt. I always feel cheated when they do that. So, with all that, even though it has pretty graphics and it was nice and long, I can't see this as anything more than an average game.
October 27, 2013
Wow - not as good as I thought it would be
I really liked the story line, so I purchased the game. It has a lot of chapters, and it's a good length, but some things I didn't like: Way too many HOS. Every time you find an item and put it where it belongs, your reward is a HOS. There are tons of them. And they're standard HOS, not even mixed up (silhouettes, pieces of items, putting things back). They're all straight "find the object", words only. The ending is SUCH a letdown! I thought I'd at least see a nice wrap-up, but no. Right after solving the last game, it ended! Got the main menu suddenly. Really disappointing. So here's my opinion: If you love the standard HOS games, you'll love this If you like more adventure and mixed HOS games, you won't. If you like a good story line, you'll love this If you like a good story line that comes to a real conclusion, you won't.
September 26, 2013
I thought this game was awesome
Then I downloaded it an it just got stuck on the headstone mini game and won't move. Good thing I didn't but ,which I planned to after the trial, cuz I would've been PIISSED!!!!
July 2, 2013
Have to agree with those who say "Too many HOS!"
Hours and hours of hunting through junk piles to get one object to go back and use to get another HOS to get one object to go back and use to get another HOS . . . I give it 3 stars because the first third or so was really quite enjoyable; the middle third was not too bad; but the final third is just tedious and repetitious. I also had trouble figuring out what to do after awhile because the actions were not logical or coherent. One that stands out was gathering a bucket of snow for no apparent reason other than I had picked up a bucket and the snow was sparkling. Much later in the game, I found a fire with a hook that indicated that "something" could hang from the hook. So, I heated the bucket of snow on a fire, then took one mug of hot water out (that mug had been hanging around for awhile, too) and went back down a path that would have taken 15-20 minutes in reality, to use the "hot water" to thaw a cover that was frozen to a plate. A plate, I should note, that I had noted literally hours earlier. That cup of water would have been ice cold by the time I got there. Who in their right mind would not have taken the entire bucket? It might have stayed at least warm. And what did I find? A hunk of frozen meat that I had to take back to the lodge and put in the bucket of water hanging over the fire. If I'd taken the bucket with me in the first place . . . I'd recommend it, but just barely. The claim that the most difficult level allows you to play "like a real detective" made me laugh out loud. What "real detective" digs through junk piles for random objects that are in no way related to the case? What "real detective" starts out on a case without any tools or supplies of any kind? What "real detective," having found a general use tool such as a screwdriver or hammer, throws it away after using it once? I only kept playing because of my need to finish what I start. Eventually skipped most of the puzzles, which were the tedious kind that don't require skill or logic so much as perseverance. Just keep sliding those tiles or rotating those dials until they line up.
June 2, 2013
NO ending in SE
This is one of those games where you just want to strangle the developer. When it first came out, I loved this game and then it has one of the most abrupt endings ever and no info about what happens after that. People who bought the CE say the bonus chapter didn't really sum up anything for them either just had an intro that Luisa and her husband sell their house and get married and move on and since there are now other tales in this series, it makes more sense maybe to why the developers left the story so abrupt and open ended. When I played this game, I was so disappointed that I boycotted this entire series for years. Its only in the last couple months I have allowed myself to take a closer look at the next few games in this series, read reviews and I ended up getting them because they have closure. It was a REALLY big disappointment in this game because the rest of it was sooo good and sooo different for its time. Elephant games really dropped the ball on this game but I think they learned because since this offering (one of the first I believe) they have really come along as a company and I support and love most all of their games. Its a necessary game for the series but don't expect any closure. Luckily for you, the other sequels are already out so you can keep the story going. For us that bought this when it first came out, it was despair and WHY?
April 1, 2013
The game felt thrown together
I found myself wanting to just finish the game. It could be the mood I was in but I am tired of these games that make no sense. I just had sissors and cut some tape and I walk upstairs and there is more tape but I don't have the sissors anymore since I threw them away and there is no possible way for a person all by themselves to get past police tape. How I long for one of these games that makes sense. Where a short fence doesn't stop me and I don't need a hammer to open a crate when I have a crowbar. A game where I don't throw away useful objects once I use them and am forced to find something new when I should be able to just go back and get that sissors, hammer, screwdriver where ever I threw it away. Too many weird keys. Too much backtracking. It seemed that the item I needed was always in the farthest place. Objects I could have smashed or pried open I was forced to get a key for - although this is standard gameplay in these types of games. The HOS were just junk piles. Why would I open a piano and find a pile of junk and some of it perishable. Sometimes junk piles are ok but the whole game was a junk pile of illogical objects. It barely mattered what the location of the pile was, the junk was the usual fare of objects. Maybe I missed some of the journal or story but I have no idea what the villian was trying to do. The last part where I opened the villian's journal and picked up the item the journal immediatly closed and I never had a chance to read what the master plan was. The storyline was minimal and half-done. On the plus side, there were some interesting puzzles I have never seen before. Counter to that, some of the puzzles were just following instructions, once you figured them out. And several of them I never understood what you were supposed to do so I just skipped them. As I stated before, maybe it was my mood and I have played too many of these games but there was nothing here that really stood out and too much that made me want the game to end.
January 8, 2013
The Apple logo is a trademark of Apple Computer, Inc.