Grim Tales: The Bride
After your sister vanishes on her wedding day no one has any idea what happened to her, so it's up to you to find the truth! Some believe she drowned, but her body was never found. Return to the abandoned family mansion and search for clues in Grim Tales: The Bride. Explore your sister's memories to solve the mystery of her disappearance in this exciting Hidden Object Puzzle Adventure game!
Amazing gameplay
Fantastic storyline
For a more in depth experience, check out the Collector's Edition
Game System Requirements:
OS:

Windows XP/Vista/8

CPU:

2.5 GHz

RAM:

1024 MB

DirectX:

9.0

Hard Drive:

732 MB
Game Manager System Requirements:
Browser:

Internet Explorer 7 or later
Alcohol Reference
Mild Violence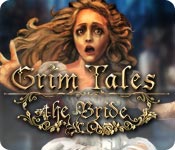 NEW299
The Big Fish Guarantee:
Quality tested and virus free.
No ads, no adware, no spyware.

Reviews at a Glance

Grim Tales: The Bride
0
out of
5 (
0
Reviews
Review
)
Customer Reviews
Grim Tales: The Bride
120
120
Mayzy's Reviews - Grim Tales: The Bride
I just finished this game and I'm still scratching my head. The ending was so abrupt that it ruined what may have been a decent game. Perhaps the CE would explain better? I don't know and I'm certainly not about to pay to find out. The graphics are lovely and the music is not bad. The plot has some huge gaping holes but otherwise is pretty predictable. There are a lot of HO scenes and they're nice in that they make sense. Call me crazy but I appreciate when there's actually music related stuff in the piano HO scene rather than... pickles and old fish. Altogether it was a decent play up until the end and worth a look, but only if you've got a discount.
December 2, 2012
Only worth a Daily Deal
Storyline: Your sister, who recently married, has disappeared. Time to head to the ancestral mansion to find out what happened. Did her husband murder her? A mysterious figure leads you through your sister's memories to unravel the enigma. What seems to be a promising storyline is utterly ruined by the abrupt, unfinished ending. I have no quibble with offering both CE and SE versions of a game, but you shouldn't have to purchase the CE to receive a logical ending to the game! I won't spoil it by saying what happened to the sister. I'll only say that no logical reason is given for the actions of the perpetrator, leaving the player feeling disappointed and ripped off. Graphics: I rated this poorly for four reasons. First, in almost every HO scene, there was more than one item that fit a description on the list. For example, when "bat" appeared on the list, there was both a fruit bat and a baseball bat in the scene. Annoying. Second, the items that were line drawings required you to click on the outline, which was sometimes quite thin, leading you to think you hadn't found the correct item. Third, items necessary to progress repeated ad nauseum: keys, medallions, and bas reliefs ran rampant through this game. Fourth, what animation existed was on extremely short loops, creating an almost comical effect. Music: Neither noticeable nor bothersome. Gameplay: Linear, with one main area and several separate "memory" areas to explore and solve. Quite a bit of backtracking. There's a journal, which I found unnecessary as I never used it. The hints recharge quickly. There are loads of HO scenes and quite a few puzzles, most of which we've seen before. Summary: To be honest, I found myself rather bored with this one when I usually take my time and enjoy the experience, submersing myself in storyline, graphics, and music. This one just didn't grab me at all. I uninstalled it as soon as I finished.
November 2, 2012
Dissapointed.
The first HoS game i played was made after this one but was also in the "Grim Tales" family. I then bought this one thinking it would be as good. I liked the interface, scene loading speed and general graphics but felt really let down with the abrupt ending. I dont think the story line was that gripping and I felt myself playing it to finish it rather than playing because I wanted to find out what happened next. It also didnt seem as long as some other I think i completed this in a few hours. Overall it was ok but I regret paying full price... if your thinking of buying this but have not already played "Grim Tales - The Legacy" I'd deffinately suggest buying that one instead.
July 14, 2012
Started out good, but
Followed it ok but then the objects found had indication where they went. Just a bunch of mumbo jombo chasing back and forth between scenes trying to use them. Whatever happened to the good ol games that followed a story line? I think they are putting out games too fast with no thought behind them.
July 19, 2012
not the greatest
at the start i thought it was awesome and as i got futher on in the game it started getting really boring. i was extremley unhappy with the ending.
May 11, 2012
Not what I expected
I found myself mostly frustrated through game play and disappointed with the ending.
February 17, 2012
zero new
short trial period allowed so this review is only based on that but the HObj scenes were very junkpile and there was no interaction making them both boring and tedious. The puzzles were skipped because I try to get into the game further during the trial...but then the trial was short, so I'll probably go back and play them ...they were somewhat interesting but the game had a dreariness that dragged me to the conclusion that I would not buy this game even at the two nine nine price. Kind of sad because it could have been so much more. I am tired of the missing gear that when found has to be fitted into the box with the other gears, and zero new about having to get a medallion or three off some various statues or get some dead person to open their hands. There is a pile of leaves and of course one has to find the rake...all pretty old hat...or am I just getting jaded? Well try it for yourself and let me know what you think.
January 12, 2014
It could have been a 5 star game
I had to agree with those who game 2 stars before me. Lots of same old same old items to collect, way too much backtracking (especially at the end ). Good visual but once again..... could the developers stick with the time period? Found hidden many "modern" objects in a game that was set (once again what a surprise(!) in the Victorian times. Beginning started real good, but by the third segment it started to be a bit too repetitive. Pretty good twist at the end, but the finish was weak like a fly November. Sound effects were familiar at first and if you are fan of the Ravenhurst series you will know why. Only way I recommend to buy this game if it a special offer or like me, got it in a dual pack at the stores. Otherwise..... not really worth it.
May 30, 2013
An explosion of HOGs.
I never understood when someone gave a game a bad review because of "too many HOGs". I figured, it's a HOG game, what did you expect? Now I understand. First let me say that I really, really like HOGs...until about 4 hours into the 7 hour mark. OK, technically good graphics, unobtrusive music and fast reloading hint even in the "challenging" mode. Storyline... barely remember what it was about because there were SO MANY HOGs!!! I mean EVERY SINGLE scene, and some with more than one. There was absolutely no adventure, it was all HOGs and mini games. The mini games were definitely a good variety but some made so little sense I either just kept hitting buttons til something happened or skipped all together. What little actual action there was consisted of going clear cross town to a new scene, seeing that you needed to find 3 more objects (almost ALWAYS a key of some form), then backtracking across town to find it. OK, find one object, back across town, place object, opens new puzzle needing one more new object, back across down, find one object, back across town, etc., etc. A little bit of action, HOG... a new scene, HOG. SCREECH!!! Should tell you something that as I'm typing this and remembering, I changed my rating from 2 to 1 stars... talk about post traumatic stress!!!
June 29, 2012
It's long alright, and that's all that can be said for it.
If you like a game that is half HOGs and half mini games, grab it. If you like a game where you feel as if you're trying to stare past a light bulb to find objects much of the time, this is for you. If you enjoy casuals in which some of the games are ridiculously easy...put the red thing on the red spot, put the blue thing on the blue spot...and some require a masters in mathematics, no question you'll want this one. There is a story, of sorts, but it shouldn't get in anyone's way since it's so thin and trivial. And there is a very helpful hint system - which you'll need since you'll seldom have any idea of what you're supposed to do next without it. If you're ready for a game where you're just as grim as the bride by the time you're 3/4 of the way through and doggedly plugging away just to have it over, by all means, buy this one.
January 23, 2012
The Apple logo is a trademark of Apple Computer, Inc.