Magic Farm 2: Fairy Lands
Go on a new adventure with Iris and Robin and help them win the Magical Tournament in Magic Farm 2: Fairy Lands! With help from new and old friends, new improvements to the land, and unique upgrades, this Time Management game will have you occupied for hours! Grow and gather flowers and fulfill unusual quests to succeed!
Awesome gameplay
Fantastic action
Win the Magical Tournament!
Game System Requirements:
OS:

Windows XP/Windows Vista/Windows 7/8

CPU:

1.0 GHz

RAM:

512 MB

DirectX:

9.0

Hard Drive:

152 MB
Game Manager System Requirements:
Browser:

Internet Explorer 7 or later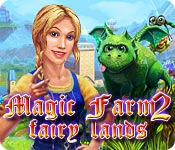 NEW299
The Big Fish Guarantee:
Quality tested and virus free.
No ads, no adware, no spyware.

Reviews at a Glance

Magic Farm 2: Fairy Lands
0
out of
5 (
0
Reviews
Review
)
Customer Reviews
Magic Farm 2: Fairy Lands
50
50
Cute, relaxing game
If you are looking for a relaxing game that is nice to play with no challenge, then this one is for you. The first magic farm had more cities, but the graphics are nicer in this one. It is very short, but you can continue to play after the story is finished to add upgrades to your farm if you want. I enjoyed it and would buy the next one if it comes out.
March 29, 2012
Good game for beginners and seasoned players
I'm useless at TM games so look for casual mode or TM games that don't throw me out of levels, so I picked this up as a DD. When I initially played it I didn't think it was going to be that good, not many beds and it did take a while to get into the game but once you do, coupled with the achievements I did end up enjoying it and it's very addicting. There are two levels casual or hardcore (I played casual.) and there is a tutorial. Initially you are taken into a farm and with money you earn from the flowers you grow you can upgrade your farm. There is also a global shop which you can buy things from which does help you. There are also requests but what's good about them (for me) is that they aren't timed you can take as long as you want in doing them. Also it gives the game some story which I thought was good. You can also manually save your game as well as the autosave which I thought was great but only found that out too late as I made a mistake with the second farm (bought water before plant and couldn't make any more of that type of money) so I had to start again from the beginning. At the beginning there are a couple of HOS but I don't think there was more than 3. Over time a new farm will open up and then a third one. You have a dragon as your helper and over time his abilities will improve as well as yours so you get quicker at doing things - collecting items that creatures drop and fighting these creatures that try and destroy your flowers. You also make money at the end of each day by making bouquets. Each farm has completely different type of flowers and landscape and thought some flowers were pure fun in farm 2 and 3. You do have to remember to go to the map and go to all farms and cities in them to see quests and to make sure you haven't missed any. This is the longest game I think I've played as I was playing for all achievements but it could also be that it took me ages as I am not very good. I'm giving it 3 out of 5 as it did take a while to get into it and compared to fiona finch and other type games which had more variety of growing and making things it's lacking in that area. But I loved the achievements but if you're not interested in that I think there are better games but still enjoyed it and was addicting. Good bargain for a DD.
December 14, 2012
Compared to the first...
Compared to the first game, this one was incredibly short, which was pretty anticlimatic. It was really fun and the new upgrades, new areas, new quests and new bouquets were fun, but I finished the game in two or three hours. That having been said, I would still recommend it because it's fun, but only buy it on sale, it's not worth the full price.
March 7, 2012
More implied?
I loved Magic Farm, the Ultimate Flower. Replayed it too many times to count. So I was beside myself excited when I saw there was a Magic Farm 2 coming out. I didn't hesitate to use my game credit. But the game isn't finished? I know many have complained about how short it is, and I agree, but some of the shop items are to power up a character that isn't in the game. That implies it is not a finished game. I am still hoping the developers will finish it and that BFG will then have a more complete copy.
December 9, 2011
I loved the 1st one but...
...this one was WAY shorter! Lame. I still liked it though.
March 15, 2012
Not worth the price
I like the game, but it was so short. You can only visit 2 places and your done. You don't even finish the trophies or the skill levels and you are done. I don't know if it's a glitch or what, but this is rediculous. The graphics, great, the story if it kept going would have been good, but I think the developers came up short. My recommendation is: Don't buy it, it's not worth it!!!!!
February 21, 2013
Great Game But Not Worth A Game Credit
Love both Magic Farm 1 & 2, they are both excellent games. But this sequel is VERY short, no sooner do you start playing it then it's over. Definitely not worth using a game credit on!
January 19, 2012
A good start
The game starts off exciting. The story line is fun to follow. It could be considered too easy for some people but just right for others. But the only thing really holding this game back is the play time is not long. I dont regret buying it, but do wish it had a little more.
December 6, 2011
I Preferred the first Magic Farm - The Ultimate Flower
I was so looking forward to the release of this game, but was very disappointed after playing it. I demoed it but thought it would get better. After all... I LOVED the first one so much. I wouldn't waste your time or money on this one, BUT I highly recommend Ultimate Flower!
November 21, 2011
Not very nice game.
The graphics were good and that 's it. A very easy game and so short that I couldn't believe it! The first game I regret buying it.
December 2, 2011