Sacra Terra: Angelic Night
The demons of the Seven Deadly Sins have broken free of their fiery prison and taken up residence in Sacra Terra! Use your cunning to defeat each demon and rescue humanity from destruction! As you explore a decaying hospital, unlock the secrets of a medieval abbey, and search eerie catacombs, you'll receive help from a pure spirit known only as Angel. Survive a harrowing adventure in Sacra Terra: Angelic Nights!
Incredible gameplay
Fantastic storyline
Defeat the demons!
For a more in depth experience, check out the Collector's Edition
Game System Requirements:
OS:

Windows XP/Vista/8

CPU:

1.6 GHz

RAM:

512 MB

DirectX:

9.0

Hard Drive:

364 MB
Game Manager System Requirements:
Browser:

Internet Explorer 7 or later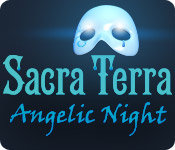 NEW299
The Big Fish Guarantee:
Quality tested and virus free.
No ads, no adware, no spyware.

Reviews at a Glance

Sacra Terra: Angelic Night
0
out of
5 (
0
Reviews
Review
)
Customer Reviews
Sacra Terra: Angelic Night
53
53
FUN Creepy hidden object adventure!
I had so much fun playing this game! I really enjoyed the story, the HOS and the puzzles and the game is pretty long, which I really enjoyed. The story is based around the 7 deadly sins, the storyline "flowed" well and held my attention. You wake up in, what you discover, is a hospital with no memory of how you got there and no idea what's going on. You discover the hospital is a huge complex with a cathedral, medieval devices and cult-like followings and practices. There's a nice balance of HOS and puzzles, so I didn't get bored with either. There are 2 modes of gameplay, casual and expert. It says that in casual mode the hint button recharges in 1 minute and sparkles indicate areas of interest, however, the hint button recharges almost immediately. I always check out everything, like hint button recharge, excessive clicking penalties, etc. and that's when I noticed the hint button recharged almost immediately. Also, there is no penalty for excessive clicking. The hint button doesn't tell you exactly what to do, but it does point you in the right direction. There is a journal and a map. The journal is detailed and tells the story well. Morbile Hospital is a very large place with many rooms, buildings and areas to explore, so the map is definitely helpful. The map shows your current location and areas of interest. The more places you discover and explore, the more the map fills in, so you won't see the entire place in the beginning. The HOS are not "junky", they're interactive and objects are not extremely hard to find. As far as the puzzles go, I found that some of them were easy for me, but there were also some that were very challenging. They weren't so hard that I got frustrated and skipped them, but they did require a lot of thought. The graphics in this game are absolutey beautiful, detailed and very impressive! The developers' attention to detail is amazing to me. :-) I would definitely suggest clicking on everything you see! I found that this really added to the story. By clicking on everything from statues and flowers to light fixtures and little grates in the floors, a "dialogue" came up on the top of the screen and added to the story and atmosphere! There are 42 morphing/beyond objects to find throughout the game. I'm one of the gamers that enjoys the morphing/beyond objects, so it was added fun for me to try and find them all. :-D The cursor turns to a hand when it goes over a morphing/beyond objects. When you put the cursor over areas where inventory items are to be used, a circle in the middle of the cursor rotates. It will turn to a magnifying glass over areas where you need to take a closer look. I ended up muting the music, it got annoying to me, but I left the ambient and sounds turned up and feel that they added to the gaming experience for me. I tried to include all the information in my review that I like reading in reviews before I download a demo of a game. I hope that this review helps other gamers decide! I would certainly recommend this game and I hope other gamers enjoy this game as much as I did! HAPPY GAMING!! :-D
January 5, 2012
This is an excellent game!
I really enjoyed playing this game. It was challenging and held my interest. I thought the story line was good, and the hint button is really all i needed to get through when i was stuck. I do however usually play the casual level, which is what i did in this game. If you like long games you won't be disappointed with this one. the artwork is very nice and the music doesn't get on your nerves if you have sound on. the HOs and puzzles were great as well. I give this game a two thumbs up!
February 5, 2012
One of The Most Pleasant Hidden Object Games
The graphics were superb, the music soothing, and the game play interesting. The mini-games were easy but not run of the mill. I was disappointed when it ended. I could have played this for hours more. The story was interesting and I didn't get bored at all. My only criticism was that the map was not interactive but it did tell you where there was something to be done and the morphing objects were easy to find. If you didn't see them morph, all you had to do was run the cursor over the screen and wait until a hand appeared. The item was either a morphing item or something to go in inventory. All in all a most pleasant gaming experience.
January 5, 2012
Wow!
Just finished playing. This game is quite long (I can't say exactly how long, because I made some coffee breaks#, I think about 5-6 hours #in advance mode). A mix of IHOGs and adventure. Not too easy, not too hard. There is a very useful map, otherwise you easily get lost... The story is nice. The graphics are very crisp. It's not too dark. This is exactly the kind of games that I like!
December 5, 2011
I wish I could give more stars.
I loved everything about this game! The graphics, the varied locations and especially having the map option as well as using the ability to use Hint button to go back to where I need to be. The Hint button also recharges within seconds and That feature is AWESOME along with immediately being able to use Skip option in puzzles versus w-a-i-t-i-n-g for it to recharge when you know you're not interested in attempting certain puzzles.. That is EXACTLY how it should be for those of us wanting to play in casual mode. The programmers are finally getting it right, make Casual mode both challenging as well as fun and relaxing. And even with the options to skip puzzles and fast recharge of Hint the game took hours and I was so hooked I played it to the end. Please, please, puhlease make more in this format. I'm an IT tech and remote into people's PCs everyday to resolve PC issues and at the end of the day my brain is fried. To have a game and a play mode where there's fun challenge but not scenarios that just result in stressing me out further is the perfect game. I LOVE IT!!! Will defnitely be watching for more Sacra Terra games (all ready searched in case there were others LOL) just please don't change anything unless it's to make the game last even longer! Thank you guys, you're awesome!
December 23, 2011
Best I've ever played.
Simply the best adventure game I have ever played! I played the demo ages ago, and was sorting out games to delete or retry. I retried this, and thought it worth a credit. It is worth 3 credits! A really in depth, visually stunning, and captivating game.... I really hope they make a follow up as good as this one. Trust me, get it, it's amazing!
December 6, 2011
Another Great Game
The very first HOG I ever played was The Treasures of Mystery Island: Ghost Ship by this same group. It's been a long time since I played that, though, so I had forgotten how great this group's games are until I started to play this one. The graphics are amazing, the gameplay is always interesting and the music and ambient sounds are awesome. The cutaway scenes are also really well done, almost seeming cinemagraphic at times. I loved the fact that there were so many different locations and rooms to explore which meant that the game was by no means short (probably 4.5-5 hours). The only criticism#and it's a little one at best# is that I didn't think there twas much complexity in terms of figuring out what to do with the various inventory objects #e.g., not a lot of contemplating what to do next required). In the end, it is definitely worth the money.
February 10, 2012
A 10 in My Book
This is a really enjoyable game. There is a lot of back and forth but solving each dilema was fun. Would like to see more of these types of games. My only con was that at times the screen is too dark.
December 6, 2011
Excellent game!
The graphics are stunning, the cutscenes are very well done, the music and sound effects are good as well, and the storyline is good-defeat the demons of the seven deadly sins. Sadly there were no voice-overs, but no one talked to you at all. There are two modes of play, casual & expert. There is also a map which shows where you are and areas that need action if you choose to use it. The HOs were not messy junkpiles, but were effectively challenging with interactive play and at least one or two items that were more difficult to find; however, all are findable. The puzzles were unfortunately a little easy and doable. There are also morph items to find which I feel adds another degree of play if you want to collect them all. This game was above average length for me and I felt has an excellent degree of difficulty and fun.
January 26, 2012
nice challenge in a lengthy game
this was a great game, and I don't bestow that honor often. I played this over a course of three days, and enjoyed every minute of play. the puzzles were not difficult or unique, but broke up the hidden object scenes and adventure pretty well. I wish I had realized there was a map before I got the seventh rune in place, but it was helpful from that point on, especially in showing where you still had something to do. the hidden object scenes were not taxing on the eyes, though there was usually one or two items that took a minute to find, and an interactive item to locate as well. will definitely put this in my "replay" file!
January 19, 2012