Sacra Terra: Angelic Night
The demons of the Seven Deadly Sins have broken free of their fiery prison and taken up residence in Sacra Terra! Use your cunning to defeat each demon and rescue humanity from destruction! As you explore a decaying hospital, unlock the secrets of a medieval abbey, and search eerie catacombs, you'll receive help from a pure spirit known only as Angel. Survive a harrowing adventure in Sacra Terra: Angelic Nights!
Incredible gameplay
Fantastic storyline
Defeat the demons!
For a more in depth experience, check out the Collector's Edition
Game System Requirements:
OS:

Windows XP/Vista/8

CPU:

1.6 GHz

RAM:

512 MB

DirectX:

9.0

Hard Drive:

364 MB
Game Manager System Requirements:
Browser:

Internet Explorer 7 or later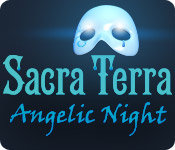 NEW299
The Big Fish Guarantee:
Quality tested and virus free.
No ads, no adware, no spyware.

Reviews at a Glance

Sacra Terra: Angelic Night
0
out of
5 (
0
Reviews
Review
)
Customer Reviews
Sacra Terra: Angelic Night
53
53
WOW...BRAVO....
What a fantastic game. You need to find 14 runes, each gives up an object to help kill the 7 deadly. You also find 42 morphing objects. The map shows you places of interest, but you must go there yourself. Some of the objects in the HO's are well hidden. The ambiance & cut scenes will keep you wanting more. game on gamers....
July 27, 2013
Don't play this late at night!
This game had everything I love in a game! The graphics were beautiful, the music fit the game, HO areas had items in the same size perspective, just the right game time length, puzzles were challenging but not too hard and an element of creepiness. When moving from scene to scene there would sometimes be a figure spying on me among the trees or out a window that actually was creepy. My only regret is that I didn't spring for the CE version with extra game play. Loved it!
September 22, 2012
Sacra Terra: Angelic Night
Another game which I've put in my top 5 favourites! STORY LINE: A game with a proper storyline and something which combined a bit of being lost in a hospital, a bit of ghostly goings on and adventure. You have special 'runes' to collect and 'baddies' to get rid of throughout the game which I think adds some fun. Nice happy ending too. GAMEPLAY/GRAPHICS: Gameplay was good. Quick movement between screens and when clicking on items, etc. Graphics I also liked. Not too cartoony and a mixture of light and dark scenes. MUSIC/VOICEOVERS: Music I always have switched off, but the voiceovers were better than some I've heard. Not overly dramatic or forced. There's not much talking in the game anyway because it's just you alone in the hospital area. HOS/PUZZLES: HO scenes I really liked in this game. Clear and items were well hidden, but not too hidden that you needed a hint at any time. They were also interactive so some items you had to complete an extra step to get them. Again, I like this added feature as HO scenes can get tedious in time. There's also not too many of them, and they're equally distributed throughout the game. Also another plus in my book! Puzzles however were fairly easy. I didn't use any hints or skips in puzzles and usually completed them quite quickly. CHALLENGE: There are two modes of difficulty; casual and expert. I played on expert but to be honest, this was quite easy so I dread to think that casual would be like. WHAT DO YOU GET?: You get your usual notebook and also have a map. The map was good as it let you know exactly where you were and also told you in which location an action was available in case you get stuck on where to go next. There are also beyond objects that you need to collect 42 of, and you get a little bonus at the end if you collect all of them. Then you also get your usual hint and skip buttons if needed. LENGTH OF GAME: Very good length for a SE game. I finished in just short of 4 hours. Highly recommended game.
June 10, 2012
A great game
Since many others have already reviewed this game (not just this but the CE version) this ins't going to go into great detail but just say some of the reasons I think it's a great game. Ok it starts in a way many other games do : you wake up (in a hospital) not knowing how you got there. Mysteriously you are freed from the straps which tie you to your bed and then it's up to you to find out where you are, what's going on, and what you should do about it. So... * graphically it's good. I particularly liked the way the demons are portrayed, not just the way they're drawn but also the various things associated with them (so, the demon of Sloth just lies on a couch with fast food trash round him watching TV). * the story works. It shouldn't really, and sometimes it is a bit confusing (as other reviewers have said), but it kind of makes sense and carries you along. * there's a good balance between finding objects in various places and in the HO scenes. * the map. This doesn't move you from place to place but shows you where you are and is beautifully drawn -- I have to say I still turned left when I should have turned right quite a few times * the ending. There may be more in the CE version but there is a very satisfactory ending for the SE one. A few negatives: * you go back to the HO scenes rather a lot * I wish you could keep some of the useful objects all through the game (but I always wish that!). All in all, I really enjoyed playing Sacra Terra and defeating the demons -- would that the real sins of pride, greed, sloth etc could be defeated so easily!
April 1, 2012
What an Adventure!!
Really an excellent game! The HO scenes were challenging yet fun! Lots of To-and-fro between scenes to complete tasks. We really enjoy that type of format! Good story line which followed nicely throughout. And to top it off, an ending that didn't leave you wondering "what just happened?". Overall an excellent game! Highly recommended!
January 5, 2012
HOG 5 Stars
5 stars game. contains everything i loved in a game: ho, puzzle, adventure. very good graphic!
November 9, 2012
LONG TERRIFIC GAME WORTH FULL PRICE
Based on entire game. Very, very lengthy. So much to do. You get a map with the journal which will help you remain orientated, because there is a lot of travel. There are spooky cutscenes which you can re-watch after completing the game, provided you find all 42 morphing objects (there is one in every scene). There are 14 runes to find throughout the game; you should them in the cathedral as soon as you find them because you will get something needed to go further in the game. HOS were typical junk piles with some small objects but not as small as in a lot of other games. Mini-games were varied in type and difficulty. You make potions and perform a interesting rituals to rid the world of the 7 deadly sins. It?s cool when they are defeated. You can rewatch their defeat when you get the cut scene reward. Hints recharge quickly. If stuck outside of the HOS, you can just go back through the rooms and you?ll run into a HOS and see what scenes still need some action and easily figure out what to do. Hints work in and outside of the HOS. Music: sound anxious; not my cup of tea. Graphics: terrific ? crisp and clear. Animation : also terrific, especially when it contributes to the haunting atmosphere. Ending: beautiful.
July 13, 2012
One of The Best!
This is one of the best games I have ever played! It is interesting, challenging and lasts forever. First game I have ever submitted a review for as I think is that good. I love games that challenge me and keep me on my toes and this is one of the best! Enjoy!
January 29, 2012
Bangin' graphics!
Rates in my top 10! Creepy characters with lots of moving around from building to building and room to room. Not overboard on the HOGs. Wish it was longer!
January 25, 2012
Excellwnt Game
Loved this HOG games. Puzzles just complicated enough for me. Lovely graphics. Pleasant background music (I usually have to turn off because it becomes so irritating).
January 19, 2012