Haunted Domains
As the manager of Haunted Domains, you're in charge of tending to the needs of an assortment of amusing creatures of the night. Guide Sheila Sullivan as she checks in guests, serves dinner, cleans rooms, and performs special tasks in an effort to keep her ghoulish guests happy. Purchase magical upgrades that make Sheila work faster, decorate your hotels to suit the macabre tastes of your guests, and enlist the help of Igor when things get out of hand in this fun Time Management game!
Hilarious gameplay
Exciting action
Manage a haunted hotel!
Game System Requirements:
OS:

Windows XP/Vista/8

CPU:

1.4 GHz

RAM:

256 MB

DirectX:

8.0

Hard Drive:

51 MB
Game Manager System Requirements:
Browser:

Internet Explorer 7 or later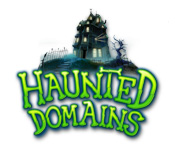 NEW299
The Big Fish Guarantee:
Quality tested and virus free.
No ads, no adware, no spyware.

Reviews at a Glance

Haunted Domains
0
out of
5 (
0
Reviews
Review
)
Customer Reviews
Great fun and change of pace for HOG fiends.
Im a HOG gal, but i played the demo for Haunted Domains and immediately got the full version. Its fun!! Basically you earn points to upgrade your horror hotels to accomodate guests such as the invisible man, Dracula, zombies, vampires, mad scientists, elvis werewolves, Hardy ghosts (minus Laurel) and witches; you have a magic dog/chest equilivilent of Rincewinds luggage to help you store items such as food, wine, charm balls, potions, black roses and laundry. There 4 main hotels to refurbish and 50 levels to get through and it will pose a good challenge while you work out the best way to earn the points needed to pass each level. A lovely break from HOG and well worth a purchase. Enjoy! I hope they make another one with the Mummy :0)
January 24, 2012
Great Game! A+
It has werewolves, zombies, vampires, etc - loved, loved, the Halloween/goth theme. Cute character graphics, the hotel graphics were really nice, and character sounds were less annoying compared to other games. Typical "time management" game, 5 different hotels, 10 levels each, each needing their own upgrades, etc. Each different type of guest always needs the same things before they check out which is helpful. I see small bonus points for getting items quickly or color matching but whether your character leaves with 1 heart or 5 hearts, I think it's the same amount earned on checkout + tip. I earned "expert" around 60%-70% of the time on first play of each level. The "Endless Shift" game play is pretty hardcore. I have yet been able to get past level 2 - which is OK, it gives me something to do despite already finishing the game. It's pretty much exactly what I expected when I purchased. I'm sure any "Time Management Addict" would enjoy it.
November 13, 2011
hotel dash for witches, zombies and ghosts
in this time management strategy game, you are Sheila Sullivan, the newly-hired manager of the hotel, Haunted Domains. your responsibilities are to meet the needs of a spooky cast of characters: checking in, serving dinner, cleaning rooms, and other strange and quirky special tasks. graphics: adorable ghosts, vampires, witches, zombies, invisible people and more. music and sound effects: appropriate for the theme, and sound effects are okay, but nothing exceptional. storyline: absolutely silly. the strength of this game lies not in story, but in figuring out how to complete one level and progress to the next. gameplay: there are two modes of play, and a variety of characters with different "personalities" and habits that affect your strategy. starts out easy, but after level 18 or so, gameplay become much more challenging. fortunately, you can queue tasks. when you complete a level, you can purchase a variety of upgrades that allow you to work faster. other upgrades include decorations for the place and special items that will please your guests (and earn you more points). if you beat this game easily, there is the truly hardcore "endless shift" mode that you can play, too. this game does have excellent replay potential. this game is identical to another time management game, hotel dash. if you own that game, as i do, then don't bother purchasing this one, unless this game's graphics are something you can't live without. that said, this game is spooky-themed fun for the entire family.
June 18, 2012
One of my favorite rush type games!
Lots of really great quirky characters in this one. I love horror, but the lighter side of it like this is fun for me as well. The story is cute and fun along with the game. Hospital Haste is similar to this game, but in my opinion not quite as good since Haunted Domains has so much character to it. But it's a good game to pick up if you want more of this type of gameplay.
November 25, 2011
The Best From the Hotel Dash Makers Yet!
What a fun game! I can tell from how I feel when I play a game how great it is. If I can't wait til it ends (only because I have this thing about getting my money's worth) and wanting it to end as soon as possible compared to completing all of the levels including expert mode, but wanting to play the game all over again and not wanting it to end, the latter is how I felt about this game. I've loved the Hotel Dash series and this was an adaptation from the game perhaps made for the Halloween season, however it was much better in some ways. I loved the diversity of the number and quality of the characters and each of the levels was progressively challenging to use more strategy than just a regular time management game. I liked how the game challenges and rewards you to use memory and strategy skills in the order of which you complete tasks. The main Dracula adds a bit of challenge due to his requests and level of impatience, however I figure out ways to get it all completed and keep everyone happy. I really enjoyed playing the Hotel Dash series and Hospital Haste, but this one has to be the best yet. I highly recommend it!
December 19, 2011
Grrrrreat Dash Ever !!
Sometimes my hands got tired while playing the Dash games..although it's still fun..!! And here... We have the new type of Dash and it's just Excellent...!! Great theme, sound, picture and not having any problems played in your lappy... After some upgrades, it moves so....fast... like it !!!
March 4, 2012
Great game
lots of fun. cute characters. great graphics. great music. Just loved it
December 16, 2011
Loved It - Hope there's a sequel
This was really fun - loved it! Original concept with beautiful graphics. Cute & interesting guests. Great storyline too. Lots of different upgrades to choose. Strategy is required vs just clicking. Good replay. Have played this game 3 times already! Just loved it. Hope another one is coming! Great job guys!
December 26, 2012
It was Ok.
Resembles Hotel Dash Sweet Success - Diner Dash series, in everything from the hotel, upgrades, rooms and strategy. The guests are different though. It's fun. Give it a try.
April 15, 2012
I like it to a point
It's a great game as long as you don't have to restart at any point as it takes away your points and what you have bought if you do. I mean there are times when you really have to stop and go back. It should cost you everything you've earned. However, it is better than some of the time management games Big Fish has come up with. Especially, since most of their member stay members because of the time management games.
February 11, 2012
The Apple logo is a trademark of Apple Computer, Inc.