Hidden World
An evil wizard has attacked the Hidden World, a kingdom of beauty and enchantment, leaving a path of destruction in his wake! Your mission: Gather the forces of good and repair the broken land one village at a time! As you collect the resources you need, you must also fend off the wizard's followers, employ powerups that give your workers a boost, and complete the renovations before time runs out. The citizens of Hidden World are counting on you, so don't delay!
Incredible gameplay
Fantastic storyline
Restore a broken land!
Game System Requirements:
OS:

Windows XP/Vista/8

CPU:

1.2 GHz

RAM:

512 MB

DirectX:

9.0

Hard Drive:

155 MB
Game Manager System Requirements:
Browser:

Internet Explorer 7 or later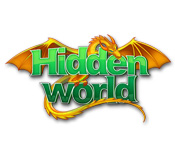 NEW299
The Big Fish Guarantee:
Quality tested and virus free.
No ads, no adware, no spyware.

Reviews at a Glance

Hidden World
0
out of
5 (
0
Reviews
Review
)
Customer Reviews
exciting game!
An excellent game , very beautiful graphics, nice story. A very interesting game that I highly recommend to time management game lovers. One of the best I have ever played.
November 16, 2011
Excellent time management game!
I absolutely loved this game! I have beat it several times and when im bored it is the game I go for.
December 21, 2011
FINALLY! A developer that understands "relaxed time management"!
This was a most welcome diversion from normal time management games! I am not very good at them mainly because of the speed needed in most TM games. I was disconcerted when I saw that playing in relaxed mode was also timed but the times are so generous (like an hour or close to it on some), it provides plenty of time to complete all the goals and also watch the action (something I never seem to be able to do in most TMs). I also had time to upgrade each building to its maximum level even if it was not required to complete the goals. Although I did have to restart several levels because of poor strategy, it wasn't one of those games that I had to keep repeating and repeating to get a gold. Most levels I was able to get the golden lantern on the first try. Graphics are beautiful, bright and colorful and the animations are cute. I would have liked to be able to save a picture of each level after completion since I just love the color palette and graphics. I thoroughly enjoyed playing Hidden Worlds even if it is a click-fest. It's one that I will definitely play again... something I cannot say for most TM games. Usually if I manage to finish them, I'm so glad to be done with them that I never want to play again. Hoping for a sequel!
November 4, 2012
Fun game
visuals great, could work at better sound effects. Overall fun game with challenges.
November 12, 2011
Love it!!!!
I absolutely LOVE this game!!! There should be more like this!! Not only that, when I did get stuck, there was actually help in the Forum!!! I've been getting $2.99 games that are older and it seems hard to get any help. This game, the help was there and I enjoyed every bit of it! I extremely enjoyed it and it was challenging. You could go back to the map and replay a level to get a trophy, even in relaxed mode. GREAT GAME!!!! I will be playing this over. Even better than Tribal games which I love a lot!! You can't go wrong on this one! LOVED it!
June 22, 2013
Speedy
Great story line. Puzzles are easy just a lot of clicking.
October 25, 2013
Hidden World become my favorite
This game make me addictive to it. The story line and the challenge ate exellents. I trully recommend the game to everybody.
April 28, 2012
Fun Game
This game is kind of a cross between Aztec Tribe and Royal Envoy. It is fast paced and full of building communities. I wish there was a bit more variety in the tasks but it's okay. I don't listen to sound so I can't comment on that but the graphics are cute and highly recognizable. One of the things I like is the fact that one can play in a relaxed mode with plenty of time to accomplish your goals. I played the first time through in relaxed mode and the second time through in serious mode. Not something I will play over and over but was good for several hours of entertainment.
March 17, 2012
More fun than it should be
At first glance this is yet another "road building" TM in the vein of MKftP (My Kingdom for the Princess) or Roads of Rome. However, there is the addition of an action/arcade element that is literally a game changer. Each level has some primary objective(s) to accomplish; usually clearing obstacles, building bridges or other structures, or destroying a wizard portal. These can be done simply by clicking on target obstacle/building site and having enough workers and resources to complete the task. You can also construct and upgrade buildings that generate resources (wood, food, coins) or give you extra workers. All of this is the same as MKftP and other games in the genre. In those games the challenge is in determining what order to collect the resources and the order in which to construct and/or upgrade buildings so as to complete the objectives in as little time as possible (usually there is a time limit for an expert score). Where this game is different is in the heavy action/arcade element that rewards fast and accurate clicking and shifts the emphasis from strategy/planning to real-time reaction. Clicking on workers when they are performing a task makes them work much, much faster. Your buildings generate resources automatically, and if you don't click on the resource within a certain time, it disappears. Dragons intermittently appear flying across your screen carrying parts of artifacts (when you get all of the parts from a collection, you get a game bonus like generating food more quickly) or coins and you have to click on them several times to defeat them. On later levels, they fly quite fast. On levels with wizard portals, "wizard clones" appear that shoot freezing snowballs at your buildings that will halt their resource generation. You have to click several times to defrost a frozen building, but you can also destroy a snowball by clicking on it, and stop the clone himself by clicking on him. You get the picture; there is a lot of clicking. :P But I thought this made the game a lot of fun! It can get a bit hectic when you are dealing with two clones shooting snowballs while trying to collect all of your resources before they expire AND directing your workers to do something at the same time. On the downside, if you play with this style, you will complete the primary AND bonus tasks for each level with plenty of time to spare and there isn't really any challenge. On the other hand, if you choose not to engage in the clickfest, it probably plays more like MkftP and I think you'd probably still be able to finish the levels in a longer amount of time (I think you may be allowed to continue to the next level even if time runs out, you just wouldn't get the "magic lamp" bonus). The graphics are fun, colourful (perhaps a bit TOO colourful) and cartoony in a fantastic setting. It's fun to collect the artifacts from the dragons and to get special decorations from completing bonus tasks. If you'd enjoy a MKftP-style game with action/arcade elements, definitely check this out. It's not as fun without those, but still pretty decent.
August 23, 2012
Enjoyable and Challenging
I enjoyed this game very much despite the massive amount of clicking involved which is not my favorite thing to do. However, I took breaks between levels and found that helped to keep my hand from going numb. With 48 levels plus 4 bonus levels, the game was well worth the money as far as game time. It was challenging and got harder as the levels progressed. I think it is worth the money for those of you that enjoy this type of game. Try it while you are waiting for the latest MKFTP or similar. I think you will enjoy it, I did.
January 17, 2012