Redemption Cemetery: Children's Plight
Exclusive
A warlocks curse has trapped you in an otherworldly cemetery! Explore gorgeous Hidden Object scenes and save the children that the warlock has taken. Learn the history of the evil warlock and find a way to stop him before it is too late! Help other spirits find peace as they help you find useful items and overcome challenging obstacles in Redemption Cemetery: Childrens Plight!
Incredible gameplay
Fantastic graphics
For a more in depth experience, check out the Collector's Edition
Game System Requirements:
OS:

Windows XP/Vista/8

CPU:

1.4 GHz

RAM:

1280 MB

DirectX:

9.0

Hard Drive:

678 MB
Game Manager System Requirements:
Browser:

Internet Explorer 7 or later
Alcohol Reference
Tobacco Reference
Fantasy Violence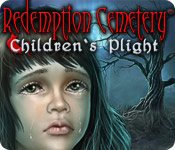 NEW299
The Big Fish Guarantee:
Quality tested and virus free.
No ads, no adware, no spyware.

Reviews at a Glance

Redemption Cemetery: Children's Plight
0
out of
5 (
0
Reviews
Review
)
Customer Reviews
Redemption Cemetery: Children's Plight
50
50
Fairly good sequel
The graphics are very good, the voice overs are barely ok, the music is okay, not intrusive. The storyline is made up of 3 vignettes in which you have to save the child so the spirit can rest, and thus defeat the warlock. The HOs were good with some interactive play. The puzzles were also good, a little easy and all doable. There are 2 modes, casual and advanced. The difficulty was probably a little less than average, very linear play even within the individual stories. The length was a little short having finished in less than my average time per game. I feel the first game was better than this, but still not a bad game.
January 25, 2012
Beautiful artwork - spooky story
As ever ERS have produced a game with stunning graphics & artwork; their work is never less than beautiful. This is the usual tale of kidnapped children & ghosts who cannot rest until they are rescued, this time from an evil warlock. There are voiceovers which were ok but rather slowwwwww for me; however I would hate to see the game without. The music & the background noises were perfect, very spooky. The hidden object scenes have interactive items; always a plus & the mini puzzles just need some thought although there is a skip button if you get impatient. The hint button recharges in one minute for both easy & hard mode. There are sparkles for H0 scenes & objects of interest for the casual mode but only the H0 scenes are indicated in the other; developers please note that it would be really good to have NO sparkles at all in the harder mode. You get a notebook which covers the story so far & has the usual clues that you find during play for use in later scenes. There is no map so you will need to move back & forth to find items required to open doors, locks, etc. Given the subject matter some people might find some of the scenes disturbing.
December 26, 2011
AN AFTERLIFE
Played entire game. The Good: Storyline, including the ending. Play was straightforward. It was easy to figure out what needed to be done next since only 1 of 3 children was being saved at a time. Sometimes, it was more challenging to find the necessary tools to complete tasks. Plenty of HOGS, with objects large enough to be seen. Puzzles were not very difficult. No excessive back and forth between locations. The Not-So-Good: Conversations are spoken and written. Since reading is much faster than listening to someone talking, it was annoying that the conversations couldn?t be sped up. There was a long time lag when entering new or revisited scenes and to enter and back out of the HOGS so it lowered my fun factor. I looked at reviews and no one mentioned it, so it may be my computer (although I don?t experience that delay with other games). The Confusing: There was a stone puzzle in front of the house (to the left) which wanted whatever belongs to it returned. Completed the game, but never had to solve that puzzle.
May 29, 2012
Competent but not stunning
The artwork is nice but there is sometimes room for improvement in the animation (it can be really obvious that it is basic manipulation of pieces of flat artwork), which sometimes makes the game seem a little shabbier than it is (the final scene particularly). The later parts of the game seem a bit rougher around the edges than the earlier parts. The mini-games are not challenging enough. The hidden object sections are fine but not spectacular. They do, however suffer on occasion from having to find the 'sweet spot' on a graphic - I remember in particular a seal that took about ten clicks before it selected - and a couple of times there was an item of the same kind in the background which always makes me grumble. If i am asked to find a squirrel, say, there should not be innocent bystander squirrels in the background that cannot be clicked on. All in all: I preferred the last one and to be honest this has not advanced the franchise at all. It is fine: it is just that there are better games out there. I would give it three-and-a-half stars.
March 10, 2012
good but not great
I loved the first game so I got this one too expecting to be better than the first one. Well, it was not. Still, I'm not saying it was a bad game, it just didn't reach my expectations. The story doesn't have anything special and doesn't seem related to the last one. In the first game you save the souls and leave, and when you start this one you're back in the graveyard like you never left. How's that possible? But leaving that aside, the game offers the same thing as in its predecesor. The souls are not at rest, because children dear to them are in danger kidnapped by a demon. You have to save the children and defeat the demon. The storyline is pretty random, the game area is not big. It includes the graveyard, a village, a cave, a little town and a creppy amusement park. The HOG and puzzles are same as the usual, the very crowded scenes are present again, still I didn't have much fuss with them cause I playd the game in 2 with my husband, which made it way more easier. The puzzles pretty easy as well. You have a little bit of animation. The graphics didn't change much, they are as beautiful as in the first one. I think this is the strong point of this game. If you like creepy graphics and sounds then go for it. I didn't care much about the soundtrack, but the ambient sounds were pretty cool. I love the creepy noises out of nowhere, it makes the game entertaining. One thing I didn't like was the children's voices. They were made by adults and it sounded so fake. Overall it was a nice game, I don't know when I would play it again, but a one time experience wasn't bad. I gave it 4 stars instead of 3 because of the way it presents itself. I will play the 3rd one as well
August 10, 2012
Better than average HOG, but not exceptional
This is a well-made HOG with nice graphics, very good animations and cut scenes, good gameplay design and pretty good puzzles. This is generally true of games by this developer. The first game in this series happens to be the only game by this developer that I don't like, and I'm pleased to report that what I disliked about the first game isn't a problem in this one. My issue had been that the three stories were disconnected and in uninteresting settings. In this game, the three stories are connected and even take place in the same realm, making for a more cohesive story as well as one goal that drives the action. In fact, with the running theme of having to rescue children from perilous situations, it seemed more like a sequel to Haunted Halls: Fears From Childhood (also by the same developer), which is a good thing as that was a very good game. Nothing truly original as far as the puzzles go, but some interesting twists on the recurring puzzles for this genre. Graphics are nice, but of the junk pile style. (I have no issues with these, but I know some people don't like them.)
July 15, 2012
Nice Easy Short HOG
I like this one it wasn't difficult and you didn't end up with a bunch of items that you didn't know what to do with. HOGs were not grainy and easy to get through.
February 25, 2012
Very good, but short...
This was a very entertaining game but it just didn't last long at all...... Good storyline, great graphics. Puzzles not too challenging. Overall a good game.
December 17, 2011
Redemption Cemetery: Children's Plight had some redeeming qualities
I played the entire SE version and I have to write, though there was no map, there were notes and/or a journal that you could follow and a hint button, which was helpful. I didn't use it that much but when the need arose it came in handy. Yes, you go back n' forth, but what game haven't you? I really want to give this game 4-1/2 stars because of the flow, and the many puzzles and HOS which were pretty good. You're on a mission to save three children (3 separate stories with the same warlock) from the snares of the Warlock. It was quite fun and I loved the ending because often times you'll go through 5 to 7 hours defeating the enemy to have him/her reappear! Once you get rid of them, they should be gone. Bye!! Begone forever!! At least for this SE version, the ending was good. I say, have a new villain for the sequels, or trilogy. I have no idea what the collector's edition offered as far as extras, but this SE version was very good and quite enjoyable. What it boils down to is having a balance of HOS, puzzles, strategies, adventure, graphics, music. The voiceovers, along with the text, was good. For inventory items, at times you needed a second object to collect to complete its task, but again, no big deal as everything fell into place. I chose regular mode, which was actually challenging enough as many of the puzzles/activities were pretty tricky. Aesthetically, the artwork/graphics were good not excellent, but in the HOS/junk pile, the items were easy enough to find except for that last one or two--you really had to search. One item was a disk but something told me to search for a CD. But that's what makes it fun, if you're in the mood, that is. I would highly recommend this game. Enjoy!
June 12, 2013
REALLY COOL AND LOTS OF FUN
I loved this game. The story line kept me involved, the music was gorgeous and added to the drama of the game, and the graphics were beautiful. This game takes you in from the beginning and (if you wear headphones like I do) will make you feel as if you are transported into its world. Lots of HOGS, which are pretty easy, that give you needed objects to use in nearby locales. Very little going back and forth except to take three specific objects to an easily remembered spot. The reasons I didn't give this a five are: it's a little short and it's a little too easy. But I'm nit picking at that. Loved it. Wish the game went on for days. Will buy all of the Redemption series.
May 9, 2013
The Apple logo is a trademark of Apple Computer, Inc.