TV Farm
Become the hero of the hit reality show TV Farm! Grow plants, sell products, and improve your farm in this fun Time Management game! Become a TV star and a cult hero to farmers all around the world. Learn new skills and try you hardest to find success. Can you run your very own farm as millions of people watch on? Find out in TV Farm!
Unique gameplay
Amazing moments
Run a TV Farm!
Game System Requirements:
OS:

Windows XP/Vista/8

CPU:

1.0 GHz

RAM:

512 MB

DirectX:

9.0

Hard Drive:

153 MB
Game Manager System Requirements:
Browser:

Internet Explorer 7 or later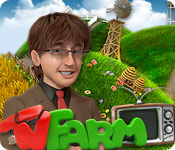 NEW299
The Big Fish Guarantee:
Quality tested and virus free.
No ads, no adware, no spyware.

Reviews at a Glance

TV Farm
0
out of
5 (
0
Reviews
Review
)
Customer Reviews
Fun TM game with lots of strategy involved
Some TM games can become boring after a while, but this one held my interest all the way to the end. The different products needed to grow, develop, and sell kept the game from getting stale, as well as coming up with the best strategy to get gold on all of the levels. For instance, sometimes it was better to purchase products already manufactured than it was to make them. When it comes to TM games, I like the ones where you are not on a set timer, which tend to stress me out. You can play the level as fast or as slow as you want--longer times only mean you won't get gold or silver. This allows you to go back and play those levels in order to improve your times. Also, getting gold was not an impossible feat, as some TM games are set up. Overall, this game is worth the money and a lot of fun to play.
January 29, 2012
The best parts of Farm Frenzy, minus the annoying parts
This is a cute little time management game where you get to grow crops, build factories/production buildings to process them into more valuable commodities like milk, flour, sugar or - with the addition of imported goods - yet more valuable products like candy and ice cream. Then you can sell these products for a tidy profit. Even thought the basic gameplay is the same throughout the game, it kept my interest the whole way because you kept getting new crops and/or production buildings and were always making different goods. You have a few set goals per level, either producing a certain quantity of a product or earning enough gold, but you have a lot of freedom as to how to achieve them. You get to decide what crops to plant, as well as if/when to upgrade your buildings in order to process more products at the same time. In order to achieve the gold time for each level (past the introductory ones) you generally do have to do a little bit of planning so that you can figure out which upgrades are worth getting, what you should plant first, etc. (Or you can be like me and just play the level without much thought, then adjust on the second attempt to get gold :P) If you've played Farm Frenzy before, this game is VERY similar. To me, it's even better for a couple of reasons. The biggest one is NO MEAN ANIMALS that come and eat your chickens or grass, etc. There was an annoying random element where they could fall on your chicken and there's nothing you could do about it but replay the level (to get a gold time). The other is that you don't get to choose upgrades. At first this may seem like a negative for TV Farm, but in Farm Frenzy if you chose the wrong upgrade, it made it difficult to get a gold score and I don't think you could reverse your choices. In TV Farm, your upgrades are automatically picked for you, so the game is balanced for that and you know gold scores will be possible. Story/premise was pretty funny. You're supposedly the star of a reality TV show and being obviously exploited by the hosts. (Although it does end well for you!)
June 3, 2012
Very fun!
This a very fun time management game with a fun story and brilliant graphics! It is quite unique in it's set up. You have a way or buying and selling products, plus a little farm to grow crops plus numerous buildings to produce other items but unlike most games on here, it's set up like an actual farm on screen so it's is just buildings lined up at the edge, it's spread out and has roads and a river too. Very lovely to play. It's also bundles of fun and others great challenges towards the end!
January 11, 2012
my favourite time management game!
I love this game so much i rearly play anyother game now! i love replaying each level differently to get the best time. i also like the different products that you have to make and sell. this gives much varriety to the game play. when i have finnished the whole game i just start again, no two games are ever the same.
April 14, 2012
The bad?
The good, would be from the start screen till you exit out. The story line is neat, the functions of the game is very similar to all the other farm games, so you go right into it smoothly.
December 6, 2011
Beautiful graphics!
I really enjoyed playing this - it was over too soon! Not much to do with a TV which turned out to be a plus! Just a great farming-strategy game!
November 28, 2011
Wanted to Like This Game
I love farming games and thought I would try this one. I liked it enough to buy after the demo, and the challenge is there if you want the gold, but there are too many things I didn't care for. One was the fact that you didn't choose the upgrades and the game did it for you. Another is that the rewards are useless decor and not things that will enhance the game. Buying completed items rather than producing them to win the level was a turn off for me. One good thing is that you can go on to complete the level after the gold, silver, and bronze times expired.
January 31, 2013
Loads of fun
I really enjoyed this game. It had a lot of levels. I found the side story amusing. The challenges got harder and I often had to take a couple runs to get a gold time. I'm giving it a break but will happily start back at the beginning and play through again.
November 4, 2012
Love this game!!!
I had been having a hard time finding a game after finishing all of the "Dash" games, but no games have came close until now!!!! This game is fun, exciting, and challenging. I only have 4 levels left and I wish I had another one to play. I will repeat all levels of this game like I have all the "Dash" games:)
October 21, 2012
This is rated highly-BECAUSE NO ONE HAS RATED IT!
If you buy this game for Mac, just remember: option, command, esc to force quit. You'll be doing it a lot because this game freezes up ON EVERY LEVEL. Besides that, what do I think of this game: 1. It has that annoying "translated" English, where everything is phrased awkwardly. I hate that. 2. It really seems like the programmer went: what do Americans like? Farm games and reality tv. Let's put those together! We aren't quite that shallow, really. Especially when the two things don't make sense together. 3. The story line is just goofy. The characters are very odd. 4. It is a challenge, basically because you have to figure out the exact combination of things created/bought/sold to reach the desired level quotient at the right time. So, basically if you can play a game without caring about whether it makes sense, and you don't mind restarting it every twenty minutes, this game is for you. If you play the free hour, please rate this, so no one else buys it because it is "highly rated". I should have known better.
September 17, 2012
The Apple logo is a trademark of Apple Computer, Inc.