Hidden Mysteries: The Forbidden City
In Hidden Mysteries: The Forbidden City take on the role of Evelyn Tao, a bright young professor, who is in town grieving over the death of her father. While exploring her old home she stumbles upon some work left by her father right before he died. After analyzing her father's journal she realizes that he discovered hidden treasure!
Ancient Chinese Puzzles
25 Authentic Locations!
Hidden Object Gameplay!
Check out ourBlog Walkthrough
Game System Requirements:
OS:

Windows XP/Vista/8

CPU:

600 Mhz

RAM:

128 MB

DirectX:

6.0

Hard Drive:

257 MB
Game Manager System Requirements:
Browser:

Internet Explorer 7 or later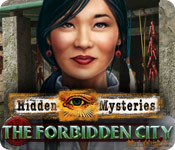 NEW299
The Big Fish Guarantee:
Quality tested and virus free.
No ads, no adware, no spyware.

Reviews at a Glance

Hidden Mysteries: The Forbidden City
0
out of
5 (
0
Reviews
Review
)
Customer Reviews
Hidden Mysteries: The Forbidden City
22
22
Fun Hidden Object Game!!!
I love this hidden game so much!
January 28, 2012
Not a hard game
This game is a mix of Hidden Object & Fragmented Object from GameMill & Gunnar Games; it is set in China & has a local heroine which is a pleasant change. Her father has passed away & she is looking for clues to hidden treasure. No dark & eerie here; there are lovely clear & bright graphics & very nice, well drawn artwork. There is only one mode of play & sparkles abound; the music is pleasant enough, there are no voiceovers but you can click through the character dialogue & there are no ambient background sounds. There is no misclick penalty but every time you click incorrectly there is a loud clunk which soon becomes tiresome. The hint recharges at one minute & sometimes that feels like forever as some of the FR0Gs are well hidden The mini games are Chinese themed & some are a bit of a challenge. All in all a nice solid game that is not too difficult (depress the right click button & all areas of interest/action are shown).
December 26, 2011
Beautiful graphics
In this game, you have to find parts of several objects. You're given an outline of the shape. This could be difficult, but it's fairly easy to find most of the parts. Sometimes, it's not clear whether you just need to look more for a part or whether you have to do something (usually find an object in another scene# in order to uncover the part. Otherwise, you search four or five scenes in each part, going back and forth as you gather items that belong in each scene. The graphics are excellent and the scenes are beautiful and well-lit. The storyline is formulaic, but it moves quickly - you don't have to sit through long transition scenes. I did not notice any 'bad English' problems - the programmers put a lot of care into this game. There is no time limit. Mini-games are somewhat unique - one is based on the 'Go' game and others are based on traditional games with an Oriental flavour. They can be skipped after a short 'trial' period, and each game has both instructions and hints about solving the puzzle. There is a traditional 'find everything on the list' HOG scene in each part. The game is about average length. I never had to use the hints to find an object or figure out what I needed to do next, so it's fairly relaxing.
February 25, 2012
Fun game, good time passer
Good Hidden Object Game -- interesting to find which item goes in each room and a little challenge when some items are locked in others. However, the challenge is light compared to many. Most clues are figured out through a process of elimination. A good introduction to HO Adventures. The story is straight-forward. Graphics are fine until the "animation" part - then they are just silly and choppy. Short game - but a nice afternoon time killer.
December 21, 2011
not long enough
I liked this game but i found it was too short
December 28, 2011
Good Game With An Oriental Motif
I enjoyed this game mainly because of the Oriental theme it presented. The music, which was played on what I believe is a "Guqin" (7-string zither), provided a realistic atmosphere to the scenes of ancient China. The storyline, while not especially innovative, was entertaining and lively. The puzzles could have been somewhat more challenging, but I enjoyed the way the game presented the hidden object quests, as pieces of a whole to be put together. Games like this relieve stress and provide an escape from the tempo of day-to-day living. Thank you Big Fish, Game Mill, and Gunnar Games - and keep them coming....
July 8, 2012
FROG your way to hidden treasure!
You get a message that your father has gone missing after finding what could be the 12 pieces of a mythical artifact in China. Your mother knows he's disappeared but doesn't know what to do. So, you, the daughter, go off in search of your father. This is not a very complicated game. In each "level" you must find several objects that are fragmented into pieces (I usually hate those types of games), then you place the completed items into their appropriate places which are silhouetted in the scene on the screen. Sometimes, however, you may have to go to a different area to either find a fragmented item to use in another room OR place a completed item in a different room. There is also 1 itemized list HOG which is easy to complete. The graphics are good, the sound - well, the background music was soooooo soothing it tactual made a type of game I dislike (frogs) very enjoyable. Sound effects in the HOGs when you mis-click on an item is an annoying "thunk". No penalty for over clicking. The hint button annoyed me because it never really pointed to a item but showed the general area. And it seemed to take forever and a day to recharge the fire-breathing dragon that is the hint button. There is a journal that you MUST read - if not for facts and clues than for a great story told by the father. I was immensely surprised how much I really liked this game. Not a 5 star loved it but definitely a strong 4 rating. I definitely encourage EVERYONE to try this game - the demo is free and it's only an hour of your time, which goes by swiftly. Happy Gaming!
July 3, 2014
First of the Hidden Mystery Games I've Played
I enjoyed this game very much. It's very easy so I would recommend it to a beginner. The scenery and music are great. The story is a girl searching for her father who has been searching for some hidden treasure. This is a little different from other HOGs in that there aren't many standard HOS but each scene has FOGS (fragmented object game scenes). You must find the fragmented parts to form a whole and then it goes into your inventory where you can use it in the current scene or another near by. The area is outlined where to use an object from inventory. The hint button shows where objects are or ,if the scene is complete, it tells you there is nothing left to see here. The hint button recharges a little slower than I like, but not too bad. There are several puzzles, unfortunately I skipped most of them, but the instructions are pretty clear and it doesn't take long for the skip button to recharge. I'm definitely going to try the many other Hidden Mystery games. Try this one and I think you too will be curious about the other. I can't find any flaws with this game.
February 18, 2014
good but too short
It was a good game. I liked that you had to find objects for different scenes all over the place, but it was too short and not very challenging. Salem secrets and Titanic are much more fun and involved than this one.
February 28, 2012
No information on what you are looking at in the Forbidden City
I purchased Forbidden City because of my previous experience with playing Hidden Mystery's Buckingham Palace. I enjoyed learning the abundance of information about the palace as I played that game--a clever idea it seemed to me for those who learn best while having fun. So I eagerly anticipated another enjoyable learning experience with the areas and rooms of the Forbidden City, which is why I purchased the game. However, nothing is said in the game about any of the rooms or places visited, so I learned nothing. For me that was a big disappointment. That said, I otherwise agree with what the others have said about Forbidden City. In fact, I've replayed it several times. If you just want to play a relaxing game and don't mind that it's not very challenging, I do recommend it. However, I am not recommending it for anyone who wanted more of the Buckingham Palace type of game.
February 11, 2013