Farm Frenzy: Viking Heroes
Drop your axe and pick up your plow because there's farming to be done! Take the role of an 8th century Viking who'd rather run a farm than raid and pillage foreign lands. You'll work up a sweat as you raise ye olde animals, produce ye olde goods, and beat ye olde clock during tons of challenging Time Management levels. Packed with more thrills than a horn of honey beer, Farm Frenzy: Viking Heroes offers a fresh experience that will delight longtime fans and newcomers alike!
Fantastic levels
Incredible upgrades
Raise ye olde animals!
Game System Requirements:
OS:

Windows XP/Vista/8

CPU:

1.0 GHz

RAM:

1024 MB

DirectX:

9.0

Hard Drive:

276 MB
Game Manager System Requirements:
Browser:

Internet Explorer 7 or later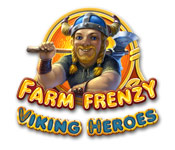 NEW299
The Big Fish Guarantee:
Quality tested and virus free.
No ads, no adware, no spyware.

Reviews at a Glance

Farm Frenzy: Viking Heroes
0
out of
5 (
0
Reviews
Review
)
Customer Reviews
Farm Frenzy: Viking Heroes
22
22
It's a shame first impressions have hurt the reputation of this game...
When I first played the demo, I had the same problem many others have complained about: the load screens were excrutiatingly slow. But I bought it anyway, because I got it with a coupon for cheap, and despite the slow screens I had enjoyed the novelty of making swords and spears instead of cakes and dresses. (It probably didn't hurt to have the Norse/Viking theme to attract me to it#. Anyway, whatever the problem was with the loading screens, it seems to have disappeared between the time I played the demo and the time I bought it, because it doesn't load slowly anymore. In fact, it now loads faster than the typical Farm Frenzy game does, for me at least. So now I'm playing it #I haven't finished it yet, and I seem to be pretty far from finishing - there's no map to show your progress#, and it's actually become my favorite Farm Frenzy game. A couple of little things I like that are improvements over some of the earlier Farm Frenzy games: you can click on the warehouse to see its exact contents, even when your vehicle is away, and the buildings display the number of products it will produce #1-5# without having to hover with your mouse. I also like that on some levels, you can upgrade your animals to make them unaffected by predators and produce more product #you can only upgrade your animals on levels where they give you a 'training hut' to turn them into 'battle' animals#. I'm finding that it's been just a little bit easier on this game for me to achieve silver and gold #not too easy though# than on other Farm Frenzys. But whether that's because the game is actually slightly easier, or just because I'm getting better at these games the more I play them, I'm not sure. I know the levels I played in the demo didn't strike me as all that easy, so maybe it's the latter. I love the graphics in this game and there are some fun surprises in later levels that I won't spoil. But don't let the low ratings and reviews about its 'unplayability' - formerly accurate - deter you. I think they fixed the problem, and now the game is as good as any other Farm Frenzy game - maybe even better, depending on your taste. If you like Farm Frenzy games, at least give this one a chance, play the demo. Sorry for the long-winded review but I really wanted to defend this one because I think it's a great game.
November 12, 2012
Fun game
I have a very different opinion than most. I really liked this game. Different from the other FF games but just as entertaining. The only real problem I had was playing on the ipad or mini. Objects so small that many times they didn't react to touch. No problems on PC with mouse. As some have stated there are impossible levels with little time and easy levels with a lot of time but it still was a fun and challenging FF game.
September 17, 2013
Time management in the Frenzy series
While following the same basic format as the other Frenzy games, I found this one lacking a bit. Takes longer to load each game and it's harder to replay a segment. Still, these are my favourite games and if you like the Frenzy series, worth buying.
December 5, 2011
Getting better
It now only takes bicycle ballooner one trip across. Sound quality is fine but the actual sounds are very annoying. Pay attention to details or you will have to try again! Use the trial and decide for your self.
November 25, 2011
Pass this one over
I love Farm Frenzy! They are the best games I've found in a long time. I can hardly wait for another. But this version is awful! Not at all interesting. It's just not what I think farming should be about. Thank goodness I did not buy it but sampled it for free. Glad BigFish lets us do that.
November 19, 2013
Unplayable
Thanking my lucky stars I got this with a Game Credit. just to be clear I am a Farm Frenzy addict. I have every version and have played them numerous times. Love love love this series. I have been waiting and waiting for a new one and was sooooo psyched to see this. This game is not finished, technically speaking. I absolutely could not play it. Like others have noted, the load time between screens is ridiculous. They need to just pull this one right now, fix it, and get back to us. Otherwise, it seemed ok. Not great, not bad. They have changed the clicking sounds and I found they grated on my nerves, plus the screen seems a lot more cramped. Otherwise it seemed like a good ol' Farm Frenzy I would have wanted to play. Can't say much else because I refused to play anymore with what I considered an unfinished game. I would definately say do not buy this until they fix the problems!
November 17, 2011
Terrible Game!
I own all of the Farm Frenzy games, usually I find them entertaining. This one however, was not! It started off with some guy riding a bicycle type balloon thing to "load" the game, however, every time you click on a next button, this little bicycle riding guy rides across the screen, I went through this FOUR times just to start the game, every new screen, every next level, this guy has to ride across the screen, it's very slow and annoying. Next, the game play was ok, but then it got very slow, like it overheated my computer and I finally just quit playing. I didn't get past even 10 levels because of the slow play.
November 12, 2011
trial
way to slow; it takes more time for the timer "man" to cross the screen than it takes to download the game
November 23, 2011
Awful! Get back to previous in the series!
What a disappointment! I've been a faithful Farm Frenzy fan, and "Viking Heroes" completely disappointed me after a long wait. As others noted, it's way too slow. We hardcore TM players like FAST pace and very challenging games. Some levels are impossible, others are stupidly easy. That's nothing new in this series, but I mean impossible is impossible. Previous ones were totally worth the time to get a gold in every level, but this one is definitely not.
March 16, 2012
Slooooooow
I, too, had to stop playing because the game slowed to a crawl and it would take several seconds to register one second of game time. The load between screens is pretty much excruciating, and it got to the point where I just couldn't take it anymore. Which is too bad because I'm a big fan of the Farm Frenzy series, and was really looking forward to this game.
January 30, 2012