Voodoo Chronicles: The First Sign Collector's Edition
Help out James Voodoo as he investigates a mysterious attack and goes on an incredible adventure in Voodoo Chronicles: The First Sign! Explore the forsaken hamlet of Ravenhill, then travel the world's wealthiest city, Richtown, and uncover the secret of a lost tribe in this challenging Hidden Object Puzzle Adventure game. Can you save the city from the terrifying monster? Find out in Voodoo Chronicles: The First Sign!

This is a special Collector's Edition release full of exclusive extras you won't find in the standard version. As a bonus, Collector's Edition purchases count toward three stamps on your Monthly Game Club Punch Card!

The Collector's Edition includes:
Bonus gameplay
Integrated Strategy Guide
Wonderful Wallpapers
Game System Requirements:
OS:

Windows XP/Windows Vista/Windows 7/8

CPU:

1.4 GHz

RAM:

512 MB

DirectX:

9.0

Hard Drive:

899 MB
Game Manager System Requirements:
Browser:

Internet Explorer 7 or later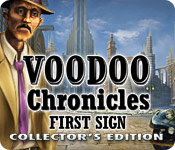 The Big Fish Guarantee:
Quality tested and virus free.
No ads, no adware, no spyware.

Reviews at a Glance

Voodoo Chronicles: The First Sign Collector's Edition
0
out of
5 (
0
Reviews
Review
)
Customer Reviews
Voodoo Chronicles: The First Sign Collector's Edition
10
10
Work of Genius for Collectors!
What fun to enter such creative gameplay. Like stepping into a "Who Framed Roger Rabbit" animated-type movie. An old Curse rendered by a Shaman for revenge against senseless greed is unfolding. The much-sought English (of course!) Detective James Voodoo is hired to solve and interacts with others! Gotta Love it! Puzzles, HO's, are fun--not mind bending. Played Hard Level. Waiting for 2nd credit to purchase CE. I consider other over-inflated entertainment costs and how much wiser and safer an investment to add another "gem" to my BFG forever collection. Looking forward to sequel. Thank you BFG!
January 22, 2012
"Who Do Voodoo!"
"Give a round of applause," to the developers of this game. You have been nominated by the Academy for 'Best Screen Play', yes! it's true. Oh, you say it's not a movie, well you could have fooled me. The scenes are magnificant and the animation is outstanding. "Superb!" "Bravo!"
February 10, 2012
What a noir mystery!
I love the characters in this but really do need the "collectors edition" as sometimes I am not exactly sure where to go - but it is fun with great graphics. It is like an old fashioned detective novel but you participate. As an avid mystery buff this was right up my alley.
April 2, 2012
Good hidden object
Good balance hidden obj/puzzle
April 23, 2012
Better Than I Expected, But Not Worth CE
I never buy CEs, and when I bought this by mistake I was quite cross. I didn't think I'd like this much from the trial, so I was doubly doubtful. Then I was surprised how much I enjoyed it. Set in the era of speakeasies and flappers, it is very much a period piece in style, right down to the music and the way people talk. The actor who plays Voodoo is great, he's a real ham, but it suits the game's era to a tee. I also like the fact that he fed his cat before leaving for his big assignment. :) This game, despite the name, is not really about voodoo, that's just the guy's name. But it does involve magical and sinister beings - who are wonderfully creepy. But in a light-hearted way The graphics are excellent and the gameplay good. Plenty of HO scenes, usually visited twice. They are pretty static, and occasionally some objects are given strange names, but none of that interferes with the fun factor. Not much in the way of puzzles. The ending was cool, and satisfying. Then, being a CE, there followed extra gameplay. This really didn't do much for me, and THAT ending was really annoying, it just... stopped. I certainly was disappointed with the CE, I think the story played better without it. But having the strategy guide was very helpful. Basically, I think it a better than average game that was far more enjoyable than I expected, but I see no reason for buying the CE.
January 24, 2012
A HOAG with many qualities and one major flaw: too many HOS
What a shame! This game has so many qualites: - beautiful graphics, coming right out of artfully drawn comics - I especially like the art deco scenes. - beautiful soundtracks: orchestra and big band jazz - a funny storyline with commentaries and VO's that come right out of an old marlowe-style detective movie - hints that you have to earn by finding "spies" and by succesfully succeeding puzzles And then, everything must be spoiled by one HOS after another. Time and time again, you find yourself mindlessly clicking away in the same scene - yes, every HOS is repeated twice - to find an object that you need. It seems that the dev's spent all their inspiration on the good stuff in the game and that none was left to develop the adventure and puzzle side of it... what a shame! And last but not least, the bonus game of the CE doesn't mount up to much. Just a few scenes with some actions to perform and once again, a lot of HOS, which the game really not worth the price of a CE. Still, I will recommend the game for its qualities... but those among you who don't like HOS, please be forwarned. And if you buy it, buy the SE.
July 13, 2012
Ho Hum
I played the trial, and decided to buy the game. As the game progressed, I found it to be tedious, and there were too many HOS to play where things were hard to click on. The mini games were ok,, but the story line was not very interesting. The occasional appearance of the mystery woman was annoying, as were some of the flashes of light in the scenes. The ending was not very climactic, and I was left with saying "Is that it?" when the story ended. I don't use sound so I can.t judge it, but I can only imagine that the voice overs would be annoying. One of the few games I really regret buying!
July 5, 2012
from 2006
Well, it's different. At first I thought it felt as if it were done by a small team with limited resources, but when I checked the dates in the file properties, I found that it was copyrighted in 2006. So, it's really just old. I got the CE version half off member price and am glad I didn't pay full price for it. I would recommend using a free coupon or a sale for the non-CE and finding the walkthrough. Even with all the HO-adventures I've played, there were nearly a dozen spots that I had no clue what to do next and had to open the SG. Also, the bonus game play was relatively short and not so interesting as to be worth the price of a CE. The beginning is better than the rest of it, so you can't make a good call just from the demo. Graphics are clear and crisp, but nothing special. The music and sounds are a mixed bag; I liked the jazz that played in his office, but some of the rest was annoying and I turned it off. Most of the voice-overs were well done. Hints come from capturing "spies" (little floating balls of light that fade in and out sort of like morphing objects) and from completing mini games. If you pay attention and don't use too many, there are plenty to finish the game. Hints don't work anywhere but in the HOS so far as I could tell. HOS are clear, with some objects quite well hidden. This is either good or bad, depending on your view-point. Some objects in every scene are partly off the edges of the screen or partly behind the diary or hint generator. There is click penalty, but only if you go too fast. There was limited checking for translation to U.S. English: in one HOS, it wanted a small bird, a titmouse, and called for it by its British nickname which is "tit." They could have used the whole name, but maybe they don't know what that means in the U.S. Mini games are not bad, but nothing truly challenging or unusual, and not many of them. There are places where they could easily have put a mini game, but did not. For instance, you are in an airship in a storm. A panel falls off a bulkhead, and there are loose, sparking electrical wires behind it. Do you have to fix the wires with tape or a mini-game? No, all you have to do is bolt the cover back on. You only need a wrench; the bolts are magically already in place. The story premise is not bad, but the execution is somewhat disjointed. Sometimes it's hard to tell what to do to finish up an area. Sometimes you do something and suddenly there's a marquee and you are off to another area. Once you leave an area, there's no going back. There is a minimum of programming and scene generation. The same HOS are used at least twice each. Also, there are very few zooms. For example, if you need a key for a door, you get a message about it, but no zoom of the lock, even when you put the key in. In one scene I got same notice of trouble in town & general's radio 4 times by coming back to this scene before taking next action. That's poor error checking to me. However, I didn't notice any other glitches. All in all, it's not the worst one I've ever played, but it is most certainly not the best. If you are a die-hard HOA fan, give it a shot ? for 2006 it was probably pretty good ? but if you are short on time, cash or free-game credits, don't bother.
September 13, 2013
First game I really regretted buying
Well, if you like B-rated SF movies, this fits you. But I am not a fan, so I do not like this game's storyline at all, and too many HOGs, I mean, too many enough to annoy me. I've played many games and I have some likes/dislikes, but I do not usually regret the purchases, but.... sorry. this is just not for me. This is first game I deleted without playing Bonus chapter........
November 2, 2013
Poorly Executed Glorified HOG
I thought i might like this game.. cannot Believe the Raving Reviews Here!! First of all this is a HOG It barely Resembles an Adventure Game as the HOS are basically what this game is While the Artwork is Good the Story is ALL OVER THE PLACE Nothing makes sense.. the story the accents the time period so this is set in America in 1920s or so okay but then the outfits change to medieval in one later scene with the guards guarding the balloon in kracken scene.. then the accents not one person spoke american english.. most spoke british one spoke french and the mafia fellows spoke italian? i did NOT get the feeling i was in usa i got the feeling i was in UK and since when Ever have americans used the word Whilst? many details in the story and visuals were just so messed up very little research put into this story then the game had issues for instance many of the items were not properly labeled drops for water droplets.. car something or other for a vase with a top on it.. some crazy name of a flower for a blue flower and so on... also often it was near impossible for the game to recognize i am clicking on an object i clicked on the broom in the HOS at the beginning like 60 times before it said okay you got it.. i located the bonus material but did not locate the bonus game i wanted to play it to review it but frankly since i couldnt locate it i am Relieved as this game is just all kinds of Horrible
October 28, 2014