Twisted Lands: Insomniac
Help Angel figure out what is real and what is in her head as she attempts to escape from a Mental Hospital! Steeped in psychological horror, Twisted Lands: Insomniac follows the wife of the central character in the original game, as she attempts to escape the mental hospital in which she's imprisoned. Explore a haunting environment as you go on Angel's mystifying quest!
Spooky atmosphere
Fantastic gameplay
For a more in depth experience, check out the Collector's Edition
Game System Requirements:
OS:

Windows XP/Vista/8

CPU:

1.4 GHz

RAM:

1024 MB

DirectX:

9.0

Hard Drive:

545 MB
Game Manager System Requirements:
Browser:

Internet Explorer 7 or later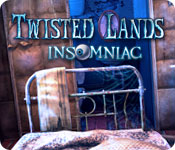 NEW299
The Big Fish Guarantee:
Quality tested and virus free.
No ads, no adware, no spyware.

Reviews at a Glance

Twisted Lands: Insomniac
0
out of
5 (
0
Reviews
Review
)
Customer Reviews
Twisted Lands: Insomniac
40
40
Excellent game
In Twisted Lands: Shadow Town a girl, Angel, was trapped on an island & had to be rescued by her boyfriend, this time, in Insomniac she has to escape a hospital & Mark is trying to save her yet again. It is pretty confusing as she keeps escaping only to be caught, drugged & ending up back in the hospital & you cannot always be sure which are real scenes & which are part of her dreams. This game can be played in easy mode with sparkles everywhere or expert where the only sparkles mark the H0 scenes. The graphics are excellently suited to the setting of the game & the artwork is gritty. I found that having the Full Screen option ticked & at the same time, un-ticking the Aspect Ratio gave me widescreen views. There are voiceovers & you can skip through the dialogue if you prefer, I liked them. In addition the music was splendid & the background sounds suited the story. You are given a diary which gives clues as to what to do next & a task list slightly hidden behind it ? just click on the white piece of paper sticking out of the top of the diary. The hint recharges in 40 seconds & if you get stuck it will point you to where to go next. There is no map but I didn?t find it too hard to work out the layout of the scenes. The hidden object scenes were well drawn & the mini games not too difficult, there is a skip button. I love it as I have always been a fan of films where people don?t know what is happening or where they are & this is in the same vein.
December 19, 2011
High quality game with an unsettling atmosphere
Beautiful graphics and excellent cut scenes combine for an unsettling atmosphere. You're a psychiatric patient trying to escape from a hospital, but you keep seeing monsters and start slipping into a disturbing nightmare realm--or is that reality and the hospital the illusion? I was intrigued and kept playing to find out what was going on, but ultimately many of the questions weren't answered. I did still enjoy the mystery though and the gameplay was fun independent of the story. Hidden object scenes and puzzles were fun and are of average difficulty for this genre.
December 6, 2011
A Nice Follow Up
This is a nice follow up to the first Twisted Lands, however, it interconnects with the first game so much that I recommend you play them back to back to get the full effect. The characters are a little awkward looking but the rest of the graphics are pretty great. The story can get a little confusing but it does offer a nice little twist at the end.
November 17, 2011
This game turned me into the Insomniac!
This game is awesome! It's the sequel to Twisted Lands: Shadow Town, which you really should play prior to playing this game. The graphics are wonderful, the voiceovers are appropriate and well-done, and the music is in the background - suspenseful but not irritating. The help system is a good one - clicking on it tells you which direction to go in and if you are already at the correct location, points you right to what you need to do. It doesn't tell you what to do, which I like. The story is spell-binding and keeps you on the edge of your seat. And there's a surprise ending? just when you thought you had it all figured out! It's a long game and well worth the $$. Way to go BFG!
December 11, 2011
AMAZING SEQUEL.....Hope a third is on it's way!!
I reviewed the first game (Twisted Lands: Shadow Town) and recently replayed it before I delved into this sequel. No, it's not necessary but personally I would HIGHLY recommend playing them in order as it's like a good book that continues. I saw a number of people found it confusing but perhaps INSOMNIAC will answer a lot of questions. One thing I found enjoyable was reading the ...........of people, which pulled 'it' altogether in many ways. Great graphics and all the other positive things people said in their reviews so I won't repeat all that. Despite having no map, the 'hints' .......arrows will quide you when lost. I have NO sense of direction so that was great. I highly recommend this game (and....if I'm allowed to .......Recommend playing the first "Shadow Town" Sure hope there's another in the making!!???
March 25, 2012
ESCAPING A MENTAL WARD-NOT CHILDREN FRIENDLY!
Goal is to escape Dr. Torpse's clutches from his mental ward and solve the Island's mystery. Scary sights and flashbacks. Appropriate soft, eerie background music with an occasional drill sound. Yikes! Hidden objects appropriate and can locate. To Do List" was straightforward and kept me on course--too much-- as it would spell out the answers. Would not need the CE for Strategy Guide. Certainly not childrend friendly as there are some distrubing scenes.
December 26, 2011
Can't wait for the next one!
I love this game. I was first introduced to Twisted Lands: Shadow Town, and loved it. It is an easy game with many clues. The thing I like about both of these games is you don't have to think hard to get through it. There are many clues, and you can skip the puzzles, if you chose to. I always go with the casual, no timed mode of hidden object games. I play this for pleasure, and don't want to have to get the brain working too hard. This game was enjoyable, and isn't too short, or too long. I'm hoping another version of Twisted Lands is in the works.
January 7, 2012
Make sure you've played the first game!
I played this, was intrigued, and then bought it. Playing it through I uncovered a problem, mainly with the storyline. It is a good game unless you haven't played the first game and are a bit confused of what is occuring. The first game adds much of the storyline and this is an extra, or it felt like just an extra you buy with a CE. Make sure you know what you're getting into or it could be a mistake. Still, I would reccomend this game.
April 9, 2012
One of my favorites!
Great story line. Game moves along at a good pace/it doesn't drag by with too much back and forth or excessive hidden object scenes. Good graphics and sound. Good length of gameplay. And most importantly, FUN!
January 20, 2012
Completes what the First Game Started
When I finished the first Twisted Lands game, my head immediately started rewriting the ending. It was so wrong! Well, this game completes the story and supplies the answers and the ending the gamer needed after playing that first game. You'll recognize some of the scenes from the first Twisted Lands game, but don't think you'll be playing the same game. It's as if you were stuck in the dreamscape with the character, and things are familiar, but never quite the same. The old nightmare sneaks through at times, but is quickly overwhelmed by the new nightmare that has hold of Angel this time. The ending is right, and unexpected, though it still may have you wondering whether she truly escaped... The actual gameplay is all it should be. The puzzles never were overly challenging for me, but they were always original and interesting. Solving a scene sometimes required remembering a task for an extended time, and always the mix of one reality and another left you wondering whether they were actually one and the same - as confused as Angel. I found this game as captivating as a novel, a very interactive novel. It has all the ingredients of a HOG, puzzles, adventures, characters to care for, or to fear, story line, voices and cut scenes that may be skipped (though you won't want to) and anything else you can think of. I highly recommend it.
January 23, 2012
The Apple logo is a trademark of Apple Computer, Inc.