Twisted Lands: Insomniac
Help Angel figure out what is real and what is in her head as she attempts to escape from a Mental Hospital! Steeped in psychological horror, Twisted Lands: Insomniac follows the wife of the central character in the original game, as she attempts to escape the mental hospital in which she's imprisoned. Explore a haunting environment as you go on Angel's mystifying quest!
Spooky atmosphere
Fantastic gameplay
For a more in depth experience, check out the Collector's Edition
Game System Requirements:
OS:

Windows XP/Vista/8

CPU:

1.4 GHz

RAM:

1024 MB

DirectX:

9.0

Hard Drive:

545 MB
Game Manager System Requirements:
Browser:

Internet Explorer 7 or later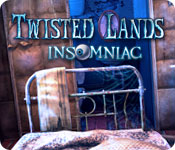 NEW299
The Big Fish Guarantee:
Quality tested and virus free.
No ads, no adware, no spyware.

Reviews at a Glance

Twisted Lands: Insomniac
0
out of
5 (
0
Reviews
Review
)
Customer Reviews
Twisted Lands: Insomniac
40
40
What the ****?
This is a review of the entire completed game. This game is a mind trip if there ever was one. Half the time you are in her hallucinations and the other time you are not in dream world. There is no actual ending to this game except a lot of questions and WHAT THE HECK HAPPENED? However, I did like it. It is a necessity to play the first one or you will be so confused and its already confusing so make sure you play twisted lands-shadow town... Since there is a prequel to all of this, Im hoping it will explain things a little better but I liked the puzzles and gameplay. Since this is an older game, there are no interactive hidden object scenes but there aren't so many hidden object scenes that its annoying. This game took me approx 5 hours to play BUT I read EVERYTHING. The journals explain a lot and without them, I wouldn't have understand anything. Since in the last game you were Mark and in this game you are Angel, it really flowed well. It was interesting being in her mind. There's still a lot of things I don't understand but I almost think that is the point of this game. Hopefully Origins will wrap it up nicely. I do recommend but only if you've played the first one.
March 23, 2013
One of My Favorites
Light on the HOS, which I like, pretty easy and fun. Picks up where Shadow Town left off. Great game!
March 16, 2013
Insomniac will keep you on the edge of your seat...
TITLE?Twisted Lands: Insomniac VERSION?Standard Edition (full game) DEVELOPER?Alawar GENRE?Hidden Object Puzzle Adventure (supernatural) STORYLINE?This time you play as Angel, who awakens in an insane asylum with scattered memories of Shadow Town. Threatened by an impending lobotomy, you must escape. But time, your shattered memories, and the ghosts of the past keep playing tricks on your perception of reality. OVERVIEW?Insomniac continues the storyline from Shadow Town, and is a simultaneously fragmented and coherent story that completely messes with your mind. To be honest, I'll need to play it again to fully grasp the twists. GAMEPLAY?Standard adventure interspersed with HO scenes and puzzles. INTERFACE?Journal: Yes, and there's a task list as well. Map: No, and there's backtracking, though not as much as is Shadow Town. Hints: Available in both HO scenes?where they show you an object on the list?and in adventure mode?where they guide you in the right direction. Specials: Collect photos of children to complete an album you'll need later. Strategy Guide: N/A. TECHNICAL?No issues. GRAPHICS?Painterly, but nicely clear in the HO scenes. The background scenes are appropriately moody in color. CUTSCENES?Stillframe series style, but they work to convey to you what you need to know. MUSIC?This time, I didn't notice it (so at least it's not annoying). SOUND?Ambient and game sounds appropriate. Period sounds of children laughing and someone weeping added to the overall creepiness. VOICEOVER?None. SUMMARY?An effective sequel to Shadow Town, although it asked as many questions as it answered, IMO. Perhaps they were answered in the CE's Bonus Play, but I can't speak to that. Overall, I feel Insomniac was worth my time and money, but you really do need to play both games?Shadow Town and Insomniac?for full effect. I recommend both. Off to play Origins!
March 12, 2013
Twin Peaks as HOG?
This game had as much sense and story line as Twin Peaks did. Confusing,jumping from one point of view to an other. Who was the second character? How much time lapsed between the two? It had wholes so big you could drive a school bus through it. Visual is ok. Not overly jumbled and clear. The puzzles won't wrack you brain either. I only recommend this game if you have nothing better
February 11, 2013
Outstanding
This game is truly a mindbender. The graphics, cutscenes, minigames etc are amazing . The story keeps you going and often I wondered, hmmm have I not just been there? You get so involved in the story it is just amazing. Like previous gamers mentioned, you need to play the prequel Shadow Town first. Please do, this will tie everything together. I swear, there are scenes in that game, that I am playing here, just different. Amazing imagination, by the devs. Many times I went.....huh?.....It throws you into different scenes, you can be playing the game and all of a sudden it throws you back into the hospital and you think, oh no, I have to start all over? Insomnia....... Make sure you read everything, so it makes sense. It is a goosebump game. Love it It is fantastic. I wish there were more games like this.
January 3, 2013
Based on Completed SE Game
Let me start off by saying that I generally don't award 5 stars for a game that doesn't have anything to collect, no achievements, no extras, morphing objects, or the option to play another game in lieu of HO - I LOVE that. But TLI still gets 5 stars. Pros: - The game is complete. I haven't played the CE but based on the SE I don't know why you'd spring for the extra money. Everything wraps up neatly. - I LOVE the back and forth between the storylines! You're in a mental hospital, trying to escape, and then *boom* you're back in the mansion again. At first it was confusing, but once I caught on, it was fun. Neutral: - Voiceovers sometimes a bit off Cons: - I did refer to a walkthrough at one point, and I used the hint button quite a bit (but I'm a beginner, so factor that in)
November 5, 2012
Creepy, intriguing game
I've already played the other Twisted Lands games and enjoyed them, so I tried this one. Had a lot of trouble getting it to run, but thanks to some excellent support from BFG I eventually got it going. I'm glad I persevered because it was well worth it if you like this sort of thing. Some scenes are rather unpleasant - so not suitable for children - but the graphics are very well drawn, and the melancholy music adds to the bleak atmosphere. Lots of objects have to be discovered and deployed in other areas of the game, so you have to remember where it was that you needed the pliers/crowbar/ornate key etc.etc. so when you find it you can go back - quite challenging if you only play the game in short snatches after a day's work. On the other hand, the puzzles are pretty easy. Like many similar games the storyline is a bit silly, but I don't think that matters - it's just a framework for the scenery of the game.
September 18, 2012
Nice game
I really enjoyed playing this game, it was my first Twisted Land but it won't be my last, I really enjoyed the story and the graphics are decent. the game didnt drag, it went along nicely. Just wish it had lasted a little longer.
September 10, 2012
twisted lands: insomniac
this game was BRILLIANT though i only played half of it. the story line was perfect and the Puzzles are challenging and all HOG lovers even if you havent played the first one, you can still play it because i did , and i got it straight away.
August 19, 2012
excellent game
excellent game play. I liked it better than shadow town.
August 13, 2012
The Apple logo is a trademark of Apple Computer, Inc.