Urban Legends: The Maze
During the finale of The Maze, an incredibly popular reality show, the transmission is mysteriously stopped. Now you've been hired by the families of the missing contestants and it's up to you to find them! Discover what really happened during the taping as you explore the incredible set and use your Hidden Object talents to proceed in Urban Legends: The Maze.
Spooky storyline
Incredible locations
Find the missing contestants!
Game System Requirements:
OS:

Windows XP/Vista/Win7/8

CPU:

2.0 GHz

RAM:

512 MB

DirectX:

9.0

Hard Drive:

990 MB
Game Manager System Requirements:
Browser:

Internet Explorer 7 or later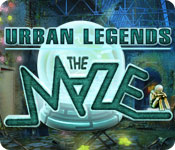 NEW299
The Big Fish Guarantee:
Quality tested and virus free.
No ads, no adware, no spyware.

Reviews at a Glance

Urban Legends: The Maze
0
out of
5 (
0
Reviews
Review
)
Customer Reviews
Urban Legends: The Maze
95
95
Not one of the best, but pretty good
It's fun, it's fairly long and it has a good storyline and pretty good characters. usually I'd say more, but I feel like that says it all lol. I'd say it's worth it.
November 25, 2011
Are you sure this is an Elephant game?
The reason I like Elephant games is because of a captivating storyline, characters we root for, and adorable helpers. This has none of that. Even the HOGS are nothing special. None of the clever twists. Just one puzzle after the other. The chapters are self contained, which is good, does not force you to remember to much. But it is not a game that I will play again and again.
May 1, 2013
It was ok
I only played the demo but beat it in under an hour. The graphics are really good, but the cut scenes moved so quickly that it blurred a lot. (Maybe it's my computer??). I felt like I was going back and forth a lot instead of moving forward and discovering new areas. The game was okay though, the demo entertained me for about 40 minutes. I won't buy though.
September 29, 2012
Not for me but I'm in the minority
Normally I love Elephant Games but this time I'm going to go against the grain of the most of the reviews. I was underwhelmed. The graphics were grainy although the artwork was well done; when the cut scenes played they whooshed in & out so fast it made me nauseous. The interactive map is excellent & the hint recharges in 30 seconds & is useful if you get stuck as it lets you know what to do next. I thought the H0 signs were a bit of a junkpile but not too difficult to find objects. There is no choice of mode to play so expect sparkles & glints for areas of interest. Sadly not a game for me but as so many people loved it I will recommend as you should try the demo for yourself.
December 19, 2011
Couldn't wait for the end
Oh, the irony! Urban Maze was an incredibly lo-o-o-ong game, which normally would have been a big plus. But I found the visuals so poorly rendered and the overall plot / characters so distasteful that I couldn't wait to get to the end. The characters were wooden, 2-D and idiotic or just plain "creepy" without any depth. On the plus side was the game map which really helped show not just where you were located but also where you still had tasks to accomplish. And many of the games were very fun. What killed it for me were the horrible flat graphics and just the overall nastiness of the whole endeavor. Ugh.
March 2, 2012
I finished the game, but...
... but bored. I skipped over what I could. I do not know exactly why. Maybe logic of game, too many subjects at the beginning of each location (run here, run there, run back, everything sparkles - why not turn off sparkles!?), unclear assignment. Subjects often did not work predictably: I sometimes use hint unnecessarily. Part of the puzzles was weird, I did not understand control (my english is not perfect and functions are not intuitive). Disappointment.
March 8, 2014
Fun shortly
Good time to start mini game and hidden objects but then short time the mini is so dang hard for me. I lost my fun. Hidden objects are okay. Images and sound seem so-so. I like fun but not too difficult mini game.
December 12, 2011
I barely survived all the plot holes...
I am honestly surprised that this game has such good reviews. I sadly spent my free credit on this game and this is the second game I have ever yearned to be finished. Since so much has been covered by other reviews on length (4 hours for me) and graphics and such, I am just going to focus on the absurd storyline. You apparently are a detective, bent on discovering why all the reality stars of a current hit series have disappeared on set. The entire game takes place on the winding set of the show, and it is absolutely decrepit and molded and overgrown?how was a current show being filmed there? Where are all of the hundreds of film staff? Why is a villain able to make a film set his abode? How have some of the stars been held and tortured for days out in the open when it is a current, active film set? Just?what? What?? I loved the idea of the storyline when I read the description of the game. And it could have worked. If they hadn't tried to force feed the creepy by sacrificing all logic in creating this game. The graphics were less than sub-par. No original games. Normal journal, map, hint refill. Nothing worth paying money for this game and less than stellar storyline makes even a free credit too much. Absolutely baffling that this made it to a game. Please please try the demo before you take trust fall on this one. It will not catch you. Happy gaming, Big Fishies!
January 20, 2014
Worst game EVER!!!
I did finally learn to "try before I buy" and wow am I glad I did! So this review is based on the 1 hour trial but had I purchased it I would never, ever have finished it. PROS: Nada CONS: --Sounds and music so loud and annoying even at their lowest setting I finally just turned them off. (And I'm someone who generally has no trouble tuning them out!) --HO's everywhere and while I really like clever challenges, these were mostly just junk piles thrown together. --Constant to-ing and fro-ing. About 5 rooms with many, many MULTIPLE things to do in each...find this in room 1, run it to room 5, that gives you this, run it to room 3 which gives you this for room 2, etc., etc., etc. --And finally, the THINGS TO DO. You could not go anywhere, advance in anyway in any room without "finding something first." OK, 3, 4, 5 sparkles? Click, oops you need a key, click, oops you need a lever, click, oops you need...there was SOOOO much to do in EVERY SINGLE ROOM there was no way to keep it straight. The hint button does tell you where you need to go and what to do, but what's the fun in that??? If a game is too "busybusybusy" to be able to keep anything straight in my own head, there's no point in playing. These games should be a challenge that makes me think, not an impossibility that just ticks me off.
October 14, 2012
Could not finish the game
I'm going to have to do the trial period for all games here on out. I bought this one solely based on the reviews and I truly don't understand where all the four and five star reviews are coming from. The graphics were poor, the storyline not engaging and I couldn't wait for the game to end. There was a a lot of back and forth, which I don't mind if there is a purpose but in this case, the repetition seemed totally pointless. In fact, I got so tired of playing and hoping I was near the end that I finally pulled the plug myself.
February 5, 2014
The Apple logo is a trademark of Apple Computer, Inc.