World Riddles: Secrets of the Ages
Travel through the ages from the time of the Roman gladiators all the way to the Aztec pyramids. Solve riddles and brain teasers in order to collect Civilization Points that can be used to rebuild civilization. Restore all of the civilizations, collect all seven pieces of the Medallion and become the Bearer of the Secrets of the Ages in this exciting Puzzle game!
Perplexing gameplay
Fantastic fun
Recover the Medallion!
Game System Requirements:
OS:

Windows XP/Vista/8

CPU:

1.0 GHz

RAM:

1024 MB

DirectX:

9.0

Hard Drive:

63 MB
Game Manager System Requirements:
Browser:

Internet Explorer 7 or later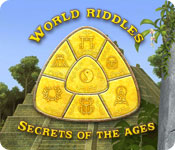 NEW299
The Big Fish Guarantee:
Quality tested and virus free.
No ads, no adware, no spyware.

Reviews at a Glance

World Riddles: Secrets of the Ages
0
out of
5 (
0
Reviews
Review
)
Customer Reviews
World Riddles: Secrets of the Ages
25
25
World Riddles: Secrets of the Ages
After I achieved the initial riddles to purchase all the items on screen, I thought I would be going onward to the next challenge. In fact, I was on a continuous "solve the riddle" mill. A little variation would be in order.
November 22, 2011
It's OK, but there are better out there
BASED ON COMPLETION OF THE JAPAN Location - The first Picross game I played was "Arizona Rose and the Pirate's Riddles", and I think that might have spoiled me toward similar games. I have tried a number including "World Riddles" and they are not on the same par. This game does offer nice, crisp artwork and graphics, a trot around the world solving riddles and collecting awards. However, the presentation of the riddles and interface are lacking. For example - The tiles are large, the colors bland with no texture, and lots of easy to miss black tiles. The completed designs, at least in the Japan level, were simple without much imagination or interest. I could find no feature that allowed a group of tiles to be selected, then turned all at once, so there was some tedium in being able to only turn one tile at a time - even if there were 10 or 15 at one time. There was also a sea-sick effect created when selecting a tile. Not content to just flip over, each tile twirls a few times before settling down. Several tiles turned in rapid succession result in distraction from all the flapping and flipping. Dimensions are not provided with each grid, so it's up to the gamer to eyeball the count while the clock is ticking. Maybe that is a feature to add difficulty, but I would prefer having the dimensions. In order to retain "gold" status at each level and receive all the prizes and awards, each grid must be completed within "expert" time, no hints, and no errors. The player can replay each level as many times as desired. For beautiful artwork and graphics along with many hours of great game play, "Arizona Rose...." sets the standard. -Check it out and see how it compares. Despite misgivings about the way game play is implemented I do recommend it. Taken in doses, there is enough fun factor and challenge to make it worthwhile.
March 15, 2013
Love this type of game
I do love - really love - this sort of game and the World series meets that criteria. Too bad about the all the problems.
December 12, 2011
Could be much better
I like this type of game, but this series has some basic flaws that make gameplay much harder and more frustrating than it has to be. For one thing, the pictures you're creating don't have much relation to the subject you're supposedly studying (in this case, ancient cultures). In fact, you often can't tell what the picture is supposed to represent -- they may even be abstract patterns for all I can tell, and they don't even give you a title. Secondly, the "hints" are almost no help at all; each one lets you click on a specific tile to reveal whether it's part of the picture or not. When the board is 25x25, that's not much help. In short, the World Riddles games are far too frustrating to be much fun. Try the World Mosaic series if you want to see a better way.
January 18, 2012
Playing through a 3rd time!
I love this game! I've played it through twice, and I can't get enough. I love the challenge. There are achievements to earn and restore points let you learn a little bit about the history of the civilizations you are playing. The only problem I can think of is that I'm no good at it until after my first cup of coffee soaks in. I prefer this to the other games in the series, only because the tiles are better.
February 19, 2013
great puzzler!
I found the game to be excellent. It keeps me thinking and I play until my poor brain burns out, and come back for more later! I have just a couple complaints about the game. I did not like the hint system. It is really no different than just taking a guess and risking a mistake, in that the hint only reveals one tile, and the hint tells nothing about the logic you'd use to figure out how that tile should have gone. My other complaint is that some of the puzzles seemed to have no single logical deductions you could use to figure out any more tiles, at which point I had to use "what if" deductions, imagining that a certain tile was either blank or filled, and then trying to finish the puzzle based on that guess (without actually marking the tiles because that would cause mistakes!!) and unfortunately the game gives no way to use "what if" deductions. Basically you'd either have to try and do it all in your head, or write down the puzzle on paper to try and deduce that way. Fortunately I've only encountered a small handful of those puzzles so far, and I'm only currently a third of the way through the game. All in all though, the game is a great value, and I'm very pleased I decided to pick it up!
December 15, 2012
Too Many Colors on Graphs
I bought World Riddles 7 Wonders and really enjoy it but unfortunately this one is not fun at all and I didn't even complete the free demo. As you reveal the squares, you'll see that instead of being a uniform color, various blocks are different colors which makes it extremely difficult to figure out where you've left off and sometimes the colors blend into the actual background of the game. This aspect was a deal breaker for me. One last thing: I absolutely hate custom cursors most of the time and this game didn't allow me to change to a regular cursor which was also annoying to me. Unfortunately not a keeper but if you like this type of games then try World Riddles 7 Wonders. It has a nice mix of difficult and easy. I've spent hours playing it so worth the purchase to me.
July 8, 2012
addicting
I usually play hog/adventure games but i was hooked by this game from the moment I got to play the Beta test version. I hope they release a ''sequel'' soon!
January 14, 2012
EARN MONIES WITHOUT RESTARTING THE WHOLE GAME
A gamer does NOT have to replay the entire game under a new profile and NOT finish the entire game 20 levels BEFORE restoring the entire collection of artifacts. I had completed all 20 levels of a certain location WITHOUT restoring the entire collection of artifacts and ascertained that despite the lack of display of increased monies when replaying silver levels within those 20 levels -- your money is SLOWLY increasing to allow you to restore whatever number of artifacts is left. The score DID show me that I completed one of the REPLAYED levels with NO HINTS having been used and UNDER the expert's time (though it did claim that I also had 1 error which I was surprised at as I thought that I'd also completed the level with NO errors) so I am NOT sure if having accomplished 2 of the 3 goals is important or not. I found this particular game MORE challenging that the other World RIddles and World Mosaics games (or maybe my memory is just short-term...hmmm) from the onset but very entertaining and fun and educational.
March 27, 2012
Cant get enough
i love this game and i cant get enough.. playing it..Its to bad they only give you 60 minutes to make up your mine and cut you off when your right in the middle of something good..That makes me so mad,,,To order it is on my list of games to get...
January 24, 2012
The Apple logo is a trademark of Apple Computer, Inc.