Mystery of the Ancients: Lockwood Manor Collector's Edition
Exclusive
There's a terrible secret hidden deep within Lockwood Manor. Uncover the truth in order to save your best friend, and yourself, in this thrilling hidden object adventure game!

This is a special Collector's Edition release full of exclusive extras you won't find in the standard version. As a bonus, Collector's Edition purchases count toward three stamps on your Monthly Game Club Punch Card!

The Collector's Edition includes:
Bonus gameplay
Integrated strategy guide
Music
Concept art
Game System Requirements:
OS:

Windows XP/Vista/8

CPU:

1.0 GHz

RAM:

512 MB

DirectX:

9.0

Hard Drive:

538 MB
Game Manager System Requirements:
Browser:

Internet Explorer 7 or later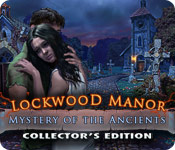 The Big Fish Guarantee:
Quality tested and virus free.
No ads, no adware, no spyware.

Reviews at a Glance

Mystery of the Ancients: Lockwood Manor Collector's Edition
0
out of
5 (
0
Reviews
Review
)
Customer Reviews
Mystery of the Ancients: Lockwood Manor Collector's Edition
38
38
Outstanding Hidden Object Game
Mystery of the Ancients: Lockwood Manor is definitely one for the "dark and eerie" side. As a warning, those who are offended by demons, possession, dark arts, etc., will want to avoid this one (don't even demo). The story is one of a friend disappearing. She turns up in a run-down mansion with a history of the owner family practicing the "dark arts". It is soon learned from exploration and diary pages that she is being held captive by her boyfriend, who seems quite intent on using her in his next dark ritual and as more than just an on-looker, if you get my drift. The graphics are excellent, crisp, dark and brooding, as befitting the atmosphere. I loved the musical score and found it mesmerizing (if not hypnotic) and very befitting the mood and atmosphere. The game play itself is very smooth with no delay between scenes. The cut scenes play seamlessly, without delay or jerkiness. The HOS scenes are junk pile style, without an over abundance of junk. At first the puzzles are on the easy side, but they are done with freshness and there are some unique ones in the mix. As you get further into the game, many of the puzzles are more difficult, but still doable. Plus, I didn't feel bored at all, probably because of some very well placed "jump outta 'da chair moments". The sound track is so amazing - for the first time I think I'm gonna download a soundtrack from a game. If Edgar Allan Poe composed music, this is probably what it would sound like - not funeral dirge depressing, but at times suspenseful, sometimes mournful, then maybe threatening, now racing...you get the idea. I listened to it all the way through the game and I still wanna hear some more. The bonus chapter is an extended ending, sort of a "just how strong is this demon" kind of thing, so it's not necessary to enjoy the game on its own, but it is really good. It takes place mostly in the upstairs of the house and it is not something that the developer just slapped together to get a bonus chapter done. It was given as much thought as the rest of the game and has good puzzles and objectives - so it is a very solid piece of work. (Kudos to the developer for that!) All in all, I found this game most enjoyable. It's a dark and eerie iHOG, which isn't something I clamor for, but it's extremely well done. I think the storyline is well-developed (what a treat!), it's technically superior to many games coming to market and I didn't get the feeling I was doing a lot of running around just to stretch the game. Total play time for me, in Advanced mode, using no hints, no skips and no strategy guide (and getting all the achievements) was 5.5 hours, PLUS 1.75 hours of bonus time for a total of 7.25 hours.
November 14, 2011
Lockwood Manor: A Must Try
I Loved this game. I even got a few unexpected jumps while moving from one room to the other. It was like watching a scary movie or more so, like participating in the movie. I was so into this game, I got through it in less than 8 hours. The sound effects, the graphics and the finishing on the manor were excellent, oh and that Demon, cool. What I like most about games like this one is, not only hidden objects to find, but pieces that need to be found through out the game to put some tool together that you need to move forward, not to forget to mention some of the challenging puzzles. Also something new, to me anyways, was the rewards or merits you achieve during the game and are able to see your trophies(Nice statues) describing your achievements, one for example, getting through the game in less than 8 hours adds another trophy, pretty cool and kind of flattering. If a child plays this game without getting a jump at least once, he/she has a heart of steel. In my opinion, this is more an adult game. Well thanks again for the great game Big Fish.
November 18, 2011
WOW
I usually steer clear of this type of game... and in all honesty my initial impression based on the description and cover art, I perceived it would be another hokey and probably run of the mill thriller. Man, was I wrong! This is A FANTASTIC GAME... I would say on the very top of the spooky game list. H0G with a strong adventure feel to it. A MUST PLAY!!!! The graphics, sound track, challenge, originality, length, EVERYTHING was TOP NOTCH in this game.... I strongly recommend anyone that wants a little chill and thrill some dark stormy night, turn off the lights and check this one out. It's the only game where I actually jumped... not just once but twice while playing. HIGHLY RECOMMEND!!!
December 26, 2011
What a great game!!
I normally don't buy the collectors editions because they usually aren't worth the extra price, but this one was WELL worth the extra money! Great graphics and a gripping story line. I didn't have to use the hint button until the extra game. For the first time I actually left the music on, I normally turn it down. The bonus trophies you get for the HOS (not using hint button, speed in finding items, etc) made the game MUCH more interesting and challenging. Not too hard yet not and easy game.
March 11, 2012
One of My Favorites!
I've played this twice I love it so much! You'll even earn trophies for not cheating or completing multiple puzzles without using the hint button. Everything about this game is wonderful i.e. graphics, puzzles, storyline. One of my favorites!
March 30, 2012
Loved it. 4.5 Stars
I bought the S/E version of this game several months ago, and didn't play it until today. The story line is built around a series of diary pages spread around the mansion, and at first I though 'Oh No!", not another flimsy story unsuported by the game play, and to a certain extent this turned out to be true. but this did not detract from the game at all. It's a long and a very entertaining game which did at the end leave an entre into the Bonus Chapter for the C/E version, which has now tempted me to buy the C/E version. A great game that maybe should not be judged on the 1 hour demo, as the does'nt even begin to indicate how good this game becomes.
June 5, 2012
Great Game - Mystery of the Ancients: Lockwood Manor CE
This game, took me to a place of pleasure, that I haven't experienced in a long time, with a HOG!!! First of all, I am a "Wussy", when it comes to dark, evil, stuff, I tend to not want to watch these kinds of movies or play these type of games, either. BOY ... Was I every surprised!!! This game is awesome!!! Two themes were combined, to "spark" my interest, completely. First theme ... A mystery! I love it when a game, has a mystery, to it. Second Theme ... Finding how to "kill" the bad, evil demon, in the story. The graphics were outstanding and not that, "scary." I was worried, since, I am a complete "Wuss" ... But, I was surprised how the bad, evil demon was made with some wonderful computer graphics programming, so that, I wasn't "scared." The music was just right, for the game. Suspenseful enough, without being spooky or corny. I also, like that the music didn't play loud, at times, so I wasn't startled out my seat. Yes, I was startled several times, during the game. However, I was never frightened or scared silly, just a "fun" startle. I have finally gotten use to HOGs, being just more than HO Scenes. When, "collecting' items, to advance the game, first started, several years ago ... I wasn't too happy. I have now, gotten use to them and actually, look forward to playing the "new" HOGs. About the only Mini-Games that I detest, are the Sudoku type games or any Mini-Games that deals with math. Never have liked those and never will. I just "skip" over them and move on. Thankfully, there are only one or two of those type, in this game. For those who may be a "Wuss", like me ... I would suggest trialing this game, first. I did it that way and learned that the game was NOT "scary", at all. In fact, I purchased the CE version, of this game and loved it. Sometimes, the going back and forward, can be frustrating, to me. If, the advancement isn't that bad, meaning, that you only go back a couple of clicks or forward with a couple of clicks, that I can handle. I don't like when the clicking is about 10 clicks, to get to where you need to be, to finish the goal. Must admit, it wasn't bad, in this game. There were a couple of times, when the clicking forward or backwards, was annoying, but, mostly it was just a click or two or three. I have already played the second game, Black Water Curse and am getting ready to play the third game ... Three Guardians. I am looking forward to it, too. I do recommend this game. It is a great game to play, not that "scary", wonderful graphics and good music. Oh, before I forget ... The Voice Overs were just right. The voices matched the character, very well. I like it, when there are Voice Overs, but, not to many, just enough to keep the story going.
May 11, 2014
Mystery of the Ancients: Lockwood Manor Collector's Edition
Writing my first review. I enjoyed this game! Graphics were nice and clear. It has a lot of HOS, which is just fine with me, afterall, this is a hidden object game. The puzzels were not difficult, skipped some, not my favorite thing. Used guide very little because the game has been planned well and the hint button is a plus in this game. All in all, was very relaxing, not frustrating as some games can be. For me this is really a plus because I go to my games for relaxation and entertainment, not frustration. I'm glad I purchased it and recommend this game.
June 8, 2012
A++++
What great fun!!! HOG's are not too messy, puzzles are unique (for the most part), and you know what you need to accomplish. Played casual and advanced... could play this one over and over. Music was GREAT! CE bonus play was really well done. It's definitely one of my new favorites!!!
June 8, 2012
better hidden object/quest game
Loved this game - good storyline(like "supernatual"). Graphics are superb - especially the Collectors edition.
November 23, 2011
The Apple logo is a trademark of Apple Computer, Inc.