Lara Gates: The Lost Talisman
Pieces of an ancient talisman have been separated, and now it's up to you bring them back together before it is too late! Protect Banderville College and figure out who is behind this dastardly plan. Help Lara with your Hidden Object skills and get to the bottom of this intriguing mystery in Lara Gates: The Lost Talisman!
Fantastic scenes
Amazing graphics
Find an ancient talisman!
Check out our Blog Walkthrough
Game System Requirements:
OS:

10.4

CPU:

800 Mhz (INTEL ONLY)

RAM:

512 MB

Hard Drive:

154 MB
Game Manager System Requirements:
Browser:

Safari 4.0 or later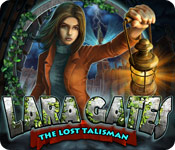 NEW299
The Big Fish Guarantee:
Quality tested and virus free.
No ads, no adware, no spyware.

Reviews at a Glance

Lara Gates: The Lost Talisman
0
out of
5 (
0
Reviews
Review
)
Customer Reviews
Lara Gates: The Lost Talisman
20
20
Fun anddid not want it to end
When I started to play this game, I found out that it takes place at a college. The graphics and sound are good. The people look like people. It is not that hard. I had to use the hint button. After I did something I was able to figure out what to do next. I did not want the game to end. I would recommend this game.
August 18, 2012
Looking forward to the sequel!
For those who really didn't like this game, I suspect they are seasoned HOG fans and enjoy the more involved games. Although I play a lot of HOGs, I do like an easy one once in awhile and this one fit the bill! I did use the hints on occasion and found them for the most part helpful. I especially liked the "open door" concept that tells which areas to search and eliminates a LOT of frustration and useless backtracking. I considered the graphics to be mostly excellent and one of the reasons I bought the game. I found the perspectives to be an interesting change and although the hidden object scenes were junk pile, I consider them "nice" junk because the sizes and locations were mostly correct and believable. One drawback (and it is in a lot of games these days) is items that are not physical objects, i.e., stencils or drawings. If I was searching somewhere and could not pick something up, logically to me it is not an "item" that should be searchable. Although there were no voice-overs, there are ghostly sounds in the music room for sure and may have been in other rooms as someone else mentioned. When I entered the music room I thought, "sure am glad I'm not playing this game in the dark!" The only issue I had with the actual game play is that there was a brief hesitation when the last item in a hidden object scene was selected. Other than that the game ran fine for me on my Windows XP. I liked that the mouse was not hard-coded for right-handed people (easy for us lefties) and that there were two modes of game play: regular & expert. Also, I was able to play in windowed mode which I much prefer. And although the game does have a pop-up inventory (much prefer stationary), it was relatively benign as far as popping up at the wrong time. Hoping to see the sequel out soon since it's been a year since this one came out!
July 30, 2012
TEST FOR YOUR EYES
I played this game under the Expert mode. This game had a lot of HOS but a lot of the objects were incredibly small. There was some back and forth between locations that annoys me but the hint button was a quick way to find out where to go next. The game did freeze up on me a couple of times. Overall an enjoyable game, though somewhat short. Would like to see the sequel.
November 28, 2013
Entertaining
Looks lige other seek and find criminal challenge, but is a fine one.
November 19, 2011
Nice relaxed HOG
This is an easy relaxed game. The HOS are mixed up with fun puzzles, not too hard, nor too easy. The storyline is fun, and the fact that you can only enter rooms at some times and not others makes it interesting. It is pretty to look at. A nice fun game.
July 10, 2014
Definitely Different
I read the reviews but tried the demo anyway. Well I liked it to me it's a game to chill out with, not to hard on the brain.You have to locate 8 talismans and bring them together. The HOS scenes were good as some of the items were a little tricky to find but not impossible. The puzzles I encountered were not to easy I think just right for this game. Also if you really stuck and not sure where to go the hint button will give you an idea where to go next. This game would be great for a beginner. Try the demo any way you might be surprised I was. Enjoy
August 18, 2012
A nice relaxing game
I already have this game, but didn't quite remember it, so i played it again. I like it. It's not going to be anyone's all time favorite, but it's a nice break from some of those where you absolutely need a walkthrough. If you don't know what to do next, just look for an unlocked door, or click on the hint button and it will tell you. I like games with that feature. It should be a requirement. The music was nice but the "ghostly" noises were totally unnecessary. There is no voice over, but you don't have anyone to talk to anyway. At the end there is a statement leading us to believe there will be a sequel. Perhaps that's why it's on DD now. It's a straight forward HOG with a few puzzles thrown in. Nothing that will challenge an expert HOG player. I played the regular version and it ran about 3.5 to 4 hours. Well worth the money especially when you feel like playing a game that doesn't over tax your brain. ;) :thumbup: It's a buy and i recommend it.
August 18, 2012
Not the best game out there...
So I got this game, probably like many others, through the purchase special offer of $3.99. I was attracted to this game because of the quality of graphics and how well the drawings looked, which was a good selling point aside from the special offer. It was not tremendously fun since the puzzles were rather easy to do. They were really made easy for people that are new to this kind of genre of gaming. The storyline lacked something and it was as if the developers were trying to play off of another game with a character with a similar sounding name. I will let you guess who. It lacked the excitement and interesting feel that other games have of this genre that I have played. Since it was so easy to play it was rather short to play too. It took me about an hour or so to play it since I got bored and went to do other things around the house at the same time. I was rather disappointed at some of the grammatical errors that I noticed in the game. Like Lara asks, "Who a there?" instead of "Who is there?" Also, there was a weird glitch in the game that gave me several of the Sphinx looking talismans that suddenly appeared when I unlocked the Chemistry room. I got a bit confused as to why I suddenly got 2 more of the same talisman that I just put away in the tower. Then I realized that the game had a glitch in it that still needed to be repaired. Overall, it was ok. I don't recommend this game if you are familiar with this kind of gaming genre since it would be way too easy to play and the amount of errors in the game takes away from it being fun.
April 3, 2012
Loved the artwork in the basic Hidden Object Game
You need to find 8 talismans & bring them together in this basic hidden object game. The graphics are clear & bright & the artwork is reminiscent of impressionist painters such as Edvard Munch (The Scream); rounded & sort of melting. It is unusual & very different to the photo-real artwork one sees in some games, I enjoyed it very much. The scenes filled my widescreen monitor & I really liked the custom cursor; there are limited options to change the cursor & the screen size. There is piano music in the background which was sort of tinkling & unassuming; loved the background noises; voices, footsteps ? all pretty creepy. The hidden object scenes are nicely designed & some of the items are very hard to find as they are well blended or, due to the artwork style, don?t quite look like you expect. There is an over-clicking penalty & the cursor does the loop de loop across the screen. The hint recharge is very slow at around 2 minutes, however when you try to go to an area you do get a warning ?nothing to do right now? which I like in a game; I played on the hard mode & there were no sparkles. You are given a book in which you collect schematics for the various puzzles, such as putting together fuses but I did find them rather obscure. I ended up figuring out the puzzles on my own as I really did not understand the drawings. BTW it is very easy to drop out of a puzzle scene at the bottom, if you click anywhere in the bottom inch or so you are back to the prior scene. This happened to me quite a lot & I got really annoyed during the butterfly puzzle. It is rather a short game & the ending seemed to leave room for a sequel.
February 6, 2012
Good Story Line
This is your basic Hidden Object Game. You hunt for objects...and then use certain ones in another setting to move on. I really like the story line, but I think it needed more of an introduction and build-up. The end of the game came up quickly and ended with the possibility of a sequal. I hope it is longer then this one. One helpful hint: When you come upon a locked door, don't bother hunting for the key. When you complete certain areas, the locked rooms will open for you to search.
February 12, 2012
The Apple logo is a trademark of Apple Computer, Inc.
The Windows logo is a trademark of Microsoft, Inc.