4 Elements II
Misfortune has befallen the magic kingdom again! A careless charm made the formerly wondrous ancient world overcast, beset with darkness and despair. Four fairies of the elements were deprived of their magic power. Be the hero the kingdom seeks: set the fairies of earth, air, fire and water free, and restore the book of magic in the sequel to the renowned puzzle game!
64 unique match-3 levels
Tons of brain-teasers
Set the fairies free!
Game System Requirements:
OS:

Windows XP/Windows Vista/Windows 7/8

CPU:

1.6 GHz

RAM:

1024 MB

DirectX:

8.0

Hard Drive:

214 MB
Game Manager System Requirements:
Browser:

Internet Explorer 7 or later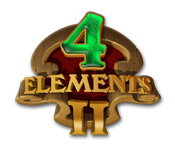 NEW299
The Big Fish Guarantee:
Quality tested and virus free.
No ads, no adware, no spyware.

Reviews at a Glance

4 Elements II
0
out of
5 (
0
Reviews
Review
)
Customer Reviews
Too short
Loved this game but it didn't last long enough for me. I really wish it was longer. I started with the timer but ended up playing in relaxed mode instead. This is pretty addicting. I also felt like the game arrow - the one that directs you on which way to go - went too fast. Sometimes I just wanted to keep matching three and stay in one area until all the blocks were cleared but that darn arrow kept urging me along. There's probably a way to turn it off but I haven't looked yet. Anyway, loved the game. Glad I bought it.
March 26, 2013
Impressive visuals, fun gameplay
Let me start by saying this is the very first `big fish game` I've ever purchased, and originally I was just looking at the demo but was so impressed that I had to buy it. $2.99 is a very low price for a game of this quality. There are clearly some very good artists working on the visuals. I was impressed with the visuals right off the bat, which clearly go above and beyond what is minimally necessary with a lot of extra detail, animation, layers and beautifully colorful pixel art. Within the game there are also a number of extra visual elements which are nothing to do with the gameplay but which add extra atmosphere and are even animated in most cases. I almost got stuck in the game a couple of times on some of the extra non match-3 challenges, but got past it. After about halfway through the game I felt that the match 3 component (which is the main game) became a little tedious and repetitive... by that point the game had shown pretty much all new experiences, except for the bonus games which are pleasant and easy to play. So at times it became a bit of a chore waiting for the magic stuff to work its way around obstacles and having to clear various blocks to get to where I had enough special powers to progress further, so it was actually when the game rested on its match 3 laurels that it became a little less fun, but still challenging because it's always possible to make progress one way or another. I never really figured out if there were supposed to be multiple paths through a level, it only seemed obvious to go in one direction even though a map is provided. I think I probably skipped any alternate routes and just followed the arrow. I thought the story was pretty good. The music is sweet and pleasant. Things have come a long way since the `old days` of basic match 3 games. I think I'm probably not quite this game's intended target audience because it was a little `too casual` for me, but that didn't stop me enjoying almost all of it. To be honest, once the final level was completed, after clicking though over 35,000 tiles, I was disappointed with the ending not being a bigger fanfare - it was a bit deflated considering all the time I put in, but I guess maybe it fits in with the casual style if you only play the game for short periods of time with little commitment. I happened to play the whole game across only 3 or 4 sessions, for hours at a time, which is a testament to the game's addictive qualities, but I would've liked a bigger ending to reflect that. Overall though I'd recommend this game to anyone looking for some good casual fun, beautiful graphics, quality animation and music. It was an eye-opening experience.
December 17, 2012
Match 3 game
Nice game. A little difficulter then 4 elements 1. The story is easy to understand and the help is working good. This game is a good one for children to overview quickly their opportunities.
November 15, 2011
What? No SCORE!!!
Both my wife and I loved the original 4 Elements game, because we could compete against each other. This new version does not have a scoring feature...a major disappointment.
November 19, 2011
A lot of waiting and watching
Another beautiful game from Playrix. But I played this after Hello Venice, and I find there?s very little matching, and a lot of waiting and watching as ?power? slowly flows around tiles. I was surprised there were no "tools" available, like in Hello Venice or other matching games, to help you out if you wanted to blow up obstacles or reshuffle tiles. I also didn?t like having to attach water pipes at some levels. I'm terrible at that. I was able to do it at the lower levels that fell within the hour trial, but know I wouldn?t have been able to do more complicated ones, and I saw no option to skip that part. The fairies look interesting in the introduction to the game, but unfortunately, they kind of disappeared after that. Maybe they show up later in the game. Overall, I thought the game moved too slowly and was kind of boring.
February 24, 2012
Good for a beginner
I am doing reviews on all of my purchases and this one I purchased back in 2009, so I can say in all honestly that this is ok for a beginner. You would not want to do this if you are at a expert level its just a wast of your time. I will recommend this as it did have its challenges for the times, I think that a new player would really enjoy it, the story is sweet and cute and the picture, sound, and quality are all good so play away new players.
February 16, 2012
match 3
tried the demo because of all the good reviews. cute, but would buy only if on sale and only to finish the game . music is ok. graphics are nice, but after awhile, it got boring because there wasn't enough of a challenge. just a lot of waiting and watching the flow.
August 26, 2012
Exquisite Detail ...
Great Game, Beautiful Graphics and enchanting Music. The Timer is not very generous however and I had to replay a few levels. An Untimed option would have been much appreciated, and if it wasn't for this I would have given it 5 Stars.
August 9, 2012
Nothing special
4 Elements was okay. It was a good time killer. There is little challenge to it. Was kinda boring. Good games for kids who are just starting.
February 6, 2012
Bored...
I really like interesting M3 games but this one fell flat for me in a lot of ways. I never played the first in this series so I can't compare. I liked the fact you are just trying to get the water wave stuff to the gem at the end, a little different than trying to get all the blocks to turn one color like other ones. I liked the chain concept in the beginning yet it got tiring after a few levels. I liked how it was a mix of fragmented hidden object, spot the difference, match 3 and other puzzles but I found there wasn't much selection of different puzzles, just the same always repeated. There are 16 chapters each with 5 levels within. 4 of the levels are match 3 boards and the last is a puzzle of sorts. Within each match 3 board are a combo of the pipe puzzles and move the blocks. Sometimes there are other roads you can go to avoid these puzzles but you do get achievements for doing them. At first I liked this concept but as time went on, I grew wary of doing the same type puzzles over and over again. I became tired of the game too as its just the same repetition over and over. There are no points but it does count at the end how many chips total you have destroyed. There are lots of achievements, I didn't get them all because I got bored. I really just wanted this game to end. Its timed and untimed but timed I couldn't finish the levels as the water wave stuff doesn't move fast enough so I played untimed and it just wasn't very interesting. I really could have lived without this game. The levels were interesting enough, at least it was different than just square boards but the most intriguing puzzle was the last one. I wish there had been more like the last one but there wasn't much to my disappointment. This is a take it or leave it game for me. I recommend it to people who want a different aspect of Match 3 games but I just didn't find it too exciting or enjoyable. Some may though. My favorite Match 3 game is Carribean Hideaway or Lost in NIght....
May 3, 2013