Roads of Rome III
Stop the invading barbarian forces and restore the settlements and broken roads in Roads of Rome 3, a fun Strategy game! Julia and Victorius are absolutely happy awaiting the birth of their first child. However, one day a messenger arrives in Rome spreading the bad news about Barbarians that are destroying the Roman provinces. Help Victorius and his army resist the enemy and protect Rome from the forthcoming disaster!
Fantastic gameplay
Exciting action
Restore the settlements!
Game System Requirements:
OS:

Windows XP/Vista/8

CPU:

1.2 GHz

RAM:

512 MB

DirectX:

9.0

Hard Drive:

99 MB
Game Manager System Requirements:
Browser:

Internet Explorer 7 or later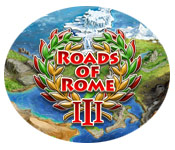 NEW299
The Big Fish Guarantee:
Quality tested and virus free.
No ads, no adware, no spyware.

Reviews at a Glance

Roads of Rome III
0
out of
5 (
0
Reviews
Review
)
Customer Reviews
Help
I am currently playing Roads of Rome III and cannot get past episode 3 level 1 as it asks me to clear the road, destroy the totem and build a market but there doesnt seem to be enough coins for you to do this is it me or are other people having the same problem, other than that i am enjoying the game but this has got me stuck and getting impatient now
December 15, 2011
Roads of Rome III
I like to play like this games to proof myself
November 13, 2011
fun time management game
keep these games coming.......love roads of rome
November 24, 2011
Better in this type available on this site
I have now done Road I, II and III and after I they are all the same except more fires in II and then more fires in III. You can cut down any trees until you get the sawmill up, the berry bushes replenish until you get the farm going and stones abound until the quarry is running. So, you really don't have to take a minute or two to figure out how you're going to get from point A to Z with the limited resources at your hands because you're never without resources. I have tried several other games of this type on this site and they were all better and after several easy levels worked you up to making you think of what your next move would be and if you didn't plan well you had to redo that level. Glam-ma says 2 thumbs down. Not even worth getting as a free game - so sad.
May 1, 2013
Rome wasn't built in a day!
This is the same as the myriad of other 'clear the path' type of TM games out there (such as Sweet Kingdom, Royal Envoy, Outta this Kingdom et al), what I will though in this short(ish) review detail what I thought the differences were (for the better and the worse), were between this game and others. The better This game started as most others in this genre do by the first few levels being a 'gentle' learning curve into the game, when it got to level 3 onwards it for me started to get to the game proper. One thing I did like about this game was that you were able to gain an extra 'co-worker' in the earlier levels as this meant that you didn't just have one person having to go back and forth to complete the tasks, in games in this genre, this to me has been a tad tedious and makes those first few levels drag before you can then start controlling more than one character. The game itself is pretty similar to others, clear the paths and build buildings in order to continue. I would say though that I had to re-start a few times on level 8 as the strategy really needed to be thought about on this level. This whilst frustrating was also good, as it nicely bought a good strategic element into the game. A tip that I would give though is to build up your 'camp' as high as you can at the start of each level as then you have more people enabling to do more things, the rest of it though does need quite a bit of strategical thinking. Other elements that were different were that occasionally a viking or other 'enemy' would appear and you would have to defeat this before the workers would go back to work. This again added a different element. Also there were mini earthquakes thus buildings got destroyed thus you had to rebuild to continue (the first time this happened was on level 8 thus you would probably have to play this through a couple of times to get the gist. of the level. There are three modes of a play and being a 'seasoned' player in this genre I thought I would try the 'hard' mode, even on the second level I was struggling to complete to 'expert' finish. I therefore 'dropped' down a level and played on normal, - I will say that if you do drop a level you start again from the beginning, so just maybe think on before you start playing the game. There are also some mini-levels that are only accessible if you play through on the hard mode, thus I will probably not see the whole game, as once I have completed on normal I do not tend to re-play (no stamina you see) the games. The game overall was good fun the graphics and music on par with others of this genre. I can't really say anything negative as it was/is overall a good solid game of this genre. One thing I will say though is if you minimise it to the windows taskbar and you get a 'ghosting' of mouse cursors, then the best way to remedy this is to minimise the game in the options (so it is not in full screen but windowed) then maximise the game again and you should have got rid of the rouge mouse cursor, this happened to me and as such couldn't access all the game screen, the above should hopefully help though if it happens to anyone else. Good game and I would recommend to others who like this genre, I haven't played the others in the series (don't tend to as I know that all in the series would be pretty much the muchness and by the later games they should have improved, thus usually go for the latest (obviously if it is a HO will play all as they tend to be a full storyboard but as usual I am digressing). I do recommend this game.
April 14, 2013
Another hit III
After having played the first two Roads of Rome I was glad to see number three and it was great. One reviewer said you have to adjust your strategy depending on the climates and I find that to be very true. My only complaint is the three expert bonus levels were very easy in my opinion. Number two had an expert level that was definitely a challenge and when I got it after many tries it was great. In the three that were offered the third was the only one I had to do again due to the Cat deciding she wanted to play too. If you like time management games these are great and I suggest getting them. I am looking forward to number IV.
March 25, 2013
Love This Series
I really enjoyed this game as much as the first two. Now I have to wait for number four :( Please hurry BF.
February 11, 2013
roads of rome III
great game super addictive, real fun
February 10, 2013
Round three is disappointing
You would think that by the 3rd release of this game, there would be an option for experienced users to turn off the hints, etc. It's insulting that that one little option is not available. It's disappointing that the scenes are altered only slightly from the previous version, and there just wasn't much effort put into this new game. I would have been a dedicated follower if my purchase investment would have rewarded me for spending my money on this game. It's comparable to re-releasing Monsters in 3D without any other changes - making money twice off pretty much the same release. Very disappointing.
January 30, 2013
Love the game
I finally finished this game and I have to say that this game is the hardest TM I have ever played. Reasons because of the fire that can distract you and you don't know which building is what. That is the challenging part of it.
January 19, 2013
The Apple logo is a trademark of Apple Computer, Inc.