Roads of Rome III
Stop the invading barbarian forces and restore the settlements and broken roads in Roads of Rome 3, a fun Strategy game! Julia and Victorius are absolutely happy awaiting the birth of their first child. However, one day a messenger arrives in Rome spreading the bad news about Barbarians that are destroying the Roman provinces. Help Victorius and his army resist the enemy and protect Rome from the forthcoming disaster!
Fantastic gameplay
Exciting action
Restore the settlements!
Game System Requirements:
OS:

Windows XP/Vista/8

CPU:

1.2 GHz

RAM:

512 MB

DirectX:

9.0

Hard Drive:

99 MB
Game Manager System Requirements:
Browser:

Internet Explorer 7 or later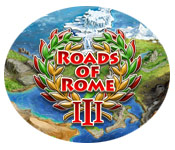 NEW299
The Big Fish Guarantee:
Quality tested and virus free.
No ads, no adware, no spyware.

Reviews at a Glance

Roads of Rome III
0
out of
5 (
0
Reviews
Review
)
Customer Reviews
Don't Get Me Wrong....
....I absolutely love this game, but I loved RR2 quite a bit more. The story is hokey (and sexist: pregnant wifey stays home and await her conquering hero husband to return home) and with the fires, the smithy and everything else to run around for things get pretty distracting. But the graphics are beautiful, the challenge is just right for me and I still highly recommend it if you liked RR1 or RR2. Bring on RR4!
February 15, 2012
Great Addictive Time Management Game
I really liked this game. I played it forever. I was addicted and had to finish all the levels. I am now replaying on the levels to get better scores. I do wish they could have changed it a little on the next levels. Some of the levels feel repetitive but overall really liked this game and played it often.
December 26, 2011
Good, but not as good as the others
I loved Roads of Rome I and II, so I was looking forward to this next game in the series. But about a third of the way through, I really got tired of all the fires. The red blobs of flame are distracting and make it hard to see where everything is to figure out your strategy. Still challenging, but not as much fun. I know they add a new dimension to the series, but it's a dimension that wears out its welcome quickly. I liked it, but not as much as the previous ones.
November 14, 2011
Good, but not as good as RR1 and RR2
I am a fan of Ancient Rome history, and this was the reason to try RR1. Afterwards, I purchased RR2 and, recently, RR3. Playing mechanism is similar to that of previous games in the series, so you are immediately comfortable with it. Barbarian invasion adds a new flavour, and the game seems more challenging than the previous two. But this third game has obviously lost its novelty, and you know more or less what you could expect in the next levels. Maybe the publisher would have to stop after the second game. If you are new to RR, the try the first in the series. Otherwise, think twice before purchasing RR3.
December 8, 2011
I expected more
As a third edition to the series I expected more from this game. I found that the cursor was still clunky and lagged, and the fires everywhere were just annoying. The game play is exactly the same as the first two, however, the smithy/workshop etc now put out a resource you need to go and collect, which in my opinion is just a huge distraction and time waster. This does have an expert mode, but as a seasoned Roads of Rome player I found the regular mode of play challenging to get expert times on. Expert mode was WAY out of my league after about level 5. Not the best game of the three, but I still enjoyed playing it. Also has LOADS of replay value with lots of time needed to get through it the first time. (I played it for about ten hours until I got bored of the sameness around level 3-10)
November 17, 2011
Help
I am currently playing Roads of Rome III and cannot get past episode 3 level 1 as it asks me to clear the road, destroy the totem and build a market but there doesnt seem to be enough coins for you to do this is it me or are other people having the same problem, other than that i am enjoying the game but this has got me stuck and getting impatient now
December 15, 2011
It's okay to pass some time, but there are much better ones
I got this when there was a good sale on games. I like it but it's NO way near Northern Tale or Kingdom Chronicles and games like that....My Kingdom For The Princess is one also. It's okay to pass some time but they could really do some improvements on this one. If they make a IV sequel, then need to make it so you can chain tasks and NOT have to wait until there is a free worker. They should also make it clear if "the path is blocked", where it's blocked from.....a line, highlight or something. I haven't gotten too far so I don't know yet if there are awards.....like "2 for the price of one" and so on. All in all, it an okay game but I wouldn't have paid full price for it.
August 31, 2014
Some levels too difficult
I really tried to like this game and it was fun until I got to only the second level and hit one that was just too difficult for me. I play a lot of these and usually have the patience to play over and over until I pass a level.. I don't mind a challenge but I definitely mind frustration. No matter what strategy as well as checking all forum hints I could not pass this level to unlock the bonus level. Even after umteen tries. This was not well thought out to put such a difficult level to pass so close to the beginning. Otherwise I found it to be similar to the first two Roads to Rome games. I would only recommend this game if you don't care if you pass all levels with a red flag. And that you will not be able open bonus levels. Disappointing for me.
August 6, 2014
Can't stack actions...
This is my same review for the first Roads of Rome.... I would love this game but you can't stack actions and have to wait til the guy gets back to the hut. Drove me nuts. I like that atleast you can stack one or two other actions in just about all the other games like this. I couldn't play more than 5 minutes. This would be a good game for people newer to these kind of games.
December 18, 2013
Round three is disappointing
You would think that by the 3rd release of this game, there would be an option for experienced users to turn off the hints, etc. It's insulting that that one little option is not available. It's disappointing that the scenes are altered only slightly from the previous version, and there just wasn't much effort put into this new game. I would have been a dedicated follower if my purchase investment would have rewarded me for spending my money on this game. It's comparable to re-releasing Monsters in 3D without any other changes - making money twice off pretty much the same release. Very disappointing.
January 30, 2013
The Apple logo is a trademark of Apple Computer, Inc.