My Farm Life 2
My Farm Life 2 takes casual games to new heights as players tend to crops 30 stories above busy city streets! Help Lisa tackle the unique challenges of running a rooftop farm as you grow crops, milk cows, and produce goods in 60 exciting episodes!
150 levels
38 trophies
Tackle the unique challenges!
Get back to your roots with My Farm Life!
Game System Requirements:
OS:

Windows XP/Vista/8

CPU:

1.0 GHz

RAM:

512 MB

DirectX:

9.0

Hard Drive:

55 MB
Game Manager System Requirements:
Browser:

Internet Explorer 7 or later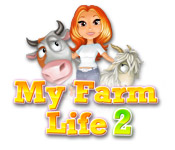 NEW299
The Big Fish Guarantee:
Quality tested and virus free.
No ads, no adware, no spyware.

Reviews at a Glance

My Farm Life 2
0
out of
5 (
0
Reviews
Review
)
Customer Reviews
A Big Game with Not Enough Room
I have both of these games, My Farm Life 1 and this one.. I think both are fun in a way and they have one of my main criteria for TM games, they have replay value.. But these two have some problems, the first and most important to me with all 'farm' type games is these don't have a 'sandbox' mode, something I enjoy thoroughly.. The second is these two don't have enough room to really build a good sized farm.. You are limited in both to a very small area.. Otherwise they are fun to play, they do have both a casual and an expert mode, which is nice.. I hope, if a number 3 comes out, it will have considerably more room to create the farm on..
November 14, 2011
Good Farming Fun
If you like 'Ranch Rush', you will like this game. In fact, it is not much different at all. I enjoyed it, but found the medals pretty easy to get.
November 11, 2011
It is ok
I noticed in this game the crops go bad a lot faster then in My Farm Life 1, Also they do have sprinklers but I have not figured out how to get them to work, I have one down but it does not help because my crops still have to be watered by the help, also selling stuff to Carlos and trying to get the order filled is very hard in the upper level of the game, so if anyone is reading this can someone tell me how the sprinkler system work ???
November 27, 2011
Good Resource and Time Management Game
The general object of this game is to harvest crops and animal products such as eggs and milk and sometimes make new products such as jam and bread by the established time period. Goal amounts are established for each level with opportunities to earn "lightning fast" trophies at each level, among a number of other different trophies. There are also opportunities to purchase upgrades that will help you move faster or have your crops and animals produce faster. My game review is based on playing the game on 'casual mode'. This game series is similar to Ranch Rush and Hobby Farm, which I also really enjoyed playing. Having said that, my review is somewhat based off of my game experience in those games. For the positives, there are many different crops and animals available to grow, and I also like that there are 50 levels to complete for longer game play. Also the trader, from whom you can purchase items needed to complete levels, comes in handy to complete levels either faster or on-time. The help are also useful and can actually come faster when you do repetitive tasks. There are details or features lacking that make this game not as interesting or sometimes a bit annoying compared to those other games. For example, there are no options to purchase storage units to stock up on extra crops or if you make a mistake, then it won't have to go to waste, because the only option is to put it in the barn. If you need to move or rearrange anything, then it has to be one at a time instead of having the ability to select a row or group of items to move. While different crops vary in cost to purchase and time to grow, when you sell them back to Carlos, they each are only worth $10. In addition, he doesn't accept anything else, except for crops. Even though I played on casual mode, I did find that it was overly difficult to achieve the ?lightning fast? trophies on certain levels. Overall, I would give this game a 3.5 stars #I rounded up for generosity#, as it was fun to play, but the experience could have been a bit more improved with details or better features.
November 25, 2011
It Must Be Me...
I have looked over the other reviews here & it seems as if I was the only one who had an issue with the difficulty on casual mode. Since the only visible goal icon was to get 'expert time' in casual mode, that is what I went for. I wound up having to restart the game in order to stock up for future episodes, as I did not do that well enough the first time around. I do own the first game in this series & enjoyed it tremendously. I do like that in this one there is no night time & no robbers, but Carlos wasn't much of a solution to that problem. I also had an issue with cows not giving milk, so I'd sell them as soon as I milked them & then replaced them. It was hard to know when to use the trader & when not to. I have completely finished the game in casual mode with expert time.... I guess that means I can beat it on expert mode next? Preferred the other setting to this one. Wish they would add the option to turn objects/plots/gear/buildings, so I can organize my farm better. A fantasy farm would be my next wish or a flower farm maybe? Something with same mechanics, but completely different items (hens/geese & sheep/goats too similar for me). I do love that they added the relaxed mode. I will probably replay in that mode. I just wish they had 'best score' or 'best time' to try to beat. Can't wait for the next one!
August 29, 2013
Fun Game
I had fun playing this one, though parts of it frustrated me. I couldn't get past lvl 19 on Casual mode, didn't dare try Expert, and Relaxed I finished no problem... I like games where you can turn off the clock and complete the goals at your own pace. Also you can't replay a mode unless you start another character. That being said, Carlos always wants more product; there are several scenes where trying to satisfy him AND make goals in the same timed period is really difficult. The animals were cute; you could tap them on the backside to make them move faster, though finding the goats sometimes could be a challenge. At one point i had to move a crop plot to get to one to shear it. Also, gathering enough eggs in some of the later levels is definitely a pain... you've got everything else done, but still need 16 cases of eggs... Wondering should I have built a second henhouse and bought more hens?
June 23, 2013
My Farm Life 2 & more
I really enjoyed playing this game. I cant wait for my monthly free game, so I can purchase it. If I had my way, I would purchase all these types of games. It has great graphics. Its not a repetitive game either.
December 7, 2011
Farms are not on the rooftop
I enjoyed this game but I didn't like the idea of the farm being on a rooftop. Not enought room. We should of be given the option to enlarge the rooftop. Looking forward to My Farm Life 3
December 4, 2011
allright
needs more of a challage to be good
November 11, 2011
my farm life
i have only play the first my farm life i find it is ok to play if your in the right sort of mood
April 28, 2012