Awakening: The Goblin Kingdom
After overcoming the Dreamless Castle and Moonfell Wood, you have come to the rugged, mountainous snow-peaked Goblin Kingdom. Princess Sophia, the only human seen in over a century in this part of the world, seeks answers from its wise King about the fate of the rest of her people. But dark portents await: things are not well in the Kingdom, and dark shadows lurk waiting to trap the unwitting Princess in Awakening: The Goblin Kingdom!
Fantastic gameplay
Incredible action
For a more in depth experience, check out the Collector's Edition
Game System Requirements:
OS:

Windows XP/Vista/8

CPU:

800 Mhz

RAM:

512 MB

DirectX:

8.1

Hard Drive:

370 MB
Game Manager System Requirements:
Browser:

Internet Explorer 7 or later
Fantasy Violence
Mild Blood
Tobacco Reference
Use of Alcohol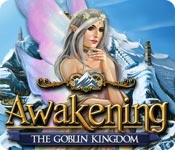 NEW299
The Big Fish Guarantee:
Quality tested and virus free.
No ads, no adware, no spyware.

Reviews at a Glance

Awakening: The Goblin Kingdom
0
out of
5 (
0
Reviews
Review
)
Customer Reviews
Awakening: The Goblin Kingdom
124
124
Lots of Fun
I enjoyed this game for the most part. The fact that it has no demons, ghouls, vicious monsters and the like is a huge plus for me. Loved the goblin characters and their environment. The goblin fight behind the tavern made me laugh out loud! The storyline was cute, but I don't usually pay a lot of attention as most are too far-fetched. It is heavy on puzzles which I don't mind because it makes for a longer game. The hidden object scenes were very interactive, fun, and at times a bit challenging. I would have liked more. My only snit has to do with the puzzles/mini-games. I appreciate that some puzzles are easy, some are harder, but some didn't even have clear instructions. I had to check the walkthrough several times only to find that it wasn't always clear either and I ended up skipping a few. Also, in some puzzles the pieces did not rotate easily; it would take several clicks just to get one rotation. This got to be frustrating and was the one thing that ruined my enjoyment. If it weren't for the puzzles I would give the game 5 stars. The game flowed well otherwise. I'm one who doesn't like a lot of running back and forth, but I didn't find it excessive in this game. I only had to check the walkthrough as mentioned above and to figure out where I had missed an inventory item so I could complete the game. All that considered, I recommend the game, but beware of those puzzles!
October 28, 2012
Not as good as Moonfell Wood, unfortunately.
I hate giving this a lower rating than the previous installments since I really love this series as a whole but I can't help it. In my opinion, it's just not as good overall. Yes, the story proceeds in a natural flow but I was really hoping that it would wrap up only to learn that it's still not over! Three parts to a story seem to be the logical way to go and anything more than that just seems like the devs are milking it for all they've got. I don't know if I'm that interested in buying the conclusion as I wasn't that impressed with this installment. I expected the puzzles to get harder and that's a good thing because they were challenging enough and I liked them. Maybe it's because I was so enchanted with the whole woodland experience in Moonfell Wood with its bluish colors and animated outdoor scenes that I became disenchanted with the scenes depicting frozen train stations and the many goblins lurking about. I don't know for sure but this game just felt different to me. I still liked it enough to buy it after playing the trial but even then it felt different and I waited until a half off sale to buy. The pocket dragon is back but to a much lesser degree so that was disappointing but we do get to meet Ran the owl. He's painted in subtle shades of purple and it's cute when he goes to sleep after giving a hint. It shows him breathing with his head nodding off. Sadly, it's not enough to get me fired up about this installment and I'll be glad to see this series end with the next game. I'll still recommend the Goblin Kingdom because the series is great overall and offers the kind of gameplay that many people are looking for and this game offers it too.
September 23, 2012
A good game but ...
I didn't like this episode in the Awakening trilogy as much as Moonfell Wood. The graphics weren't as crisp and the storyline fell short. There are mini games on top of mini games. You have to play a mini game to complete most tasks. I was getting bored by the end of the game and was glad when it ended which is the opposite of Moonfell Wood. It felt like the developers just wanted to be done with the trilogy and move on. The music was beautiful and I recommend this game on the basis of finishing the trilogy.
August 2, 2012
Waiting on the next installment
Really enjoyed this installment of the Awakening series. Came looking for the next one, but apparently not out yet.
April 16, 2012
fish hook
I have enjoyed the games until now. I am stuck on the fish hook. I cannot grab it. I have quit and gone back several times and no luck. I have completed ALL of the mini-games, Does anyone have an answer for this? I have gone to the forum specifically the one re the fishhook.
March 14, 2012
Best of the series
I have played all the games in the series and I felt this was the better of them. It kept my interest more throughout the game and the flow of the game was smoother than the others. Puzzles were fun and had enough of a challenge that you didn't want to cheat. Yet they are not too difficult that you get turned off by them. My kids love to sit and play the games with me and this was a good one for them. It is a solid game.
January 9, 2012
the goblin kingdom
enjoyed the first 2 but am stuck on this one carnt seem to get past the file cabinet were it keeps saying someone has a file on the princess.
November 22, 2011
Not as good as Moonfell Wood
This 3rd installment of the Awakening series was OK but not great. I enjoyed Moonfell Wood (2nd installment) a great deal more. The scenes in GK were not as visually beautiful or interesting. Again, this is not a series heavy in Hidden Object scenes so if that's your true love this one isn't for you. There were MANY mini-puzzles required and some multilayered. The difficulty level was about the same and Moonfell Wood and much better than the first Awakening that was very easy. The hints (from the purple owl) were for the most part unhelpful. My one true complaint is there were a few mini puzzles that had very vague or incomplete instructions. It was pretty frustrating trying to figure out exactly what you were supposed to do.... what the goal of the puzzle was. The strategy was not difficult once you figured out what they were asking for but they could definitely have been more detailed and clear instructions. I would probably test drive the next installment before buying but overall I guess I would recommend The Goblin Kingdon.
December 20, 2011
You know a 4th installment is coming
I knew this story would end the way it did....the dev's gotta make some more money on this story! Ok, I'm being a bit mean but the game was drug out with puzzle after puzzle after puzzle...come on! I will give credit that the puzzles (mini-games) were very creative and less technical and that was different/enjoyable....for a while, but after so many I was getting a bit bored. I also figured out other things in the game so there were no surprises for me... I enjoyed the last installment more than this one and probably won't buy the next. Maybe I am burning out a bit on this genre since so many people loved this....but I just feel as if this story is over already or should be. Sorry, I don't like being negative...but I am telling my true feelings about this game. Hope you like it more than me.
December 8, 2011
Sophia seeks Goblin help
Review based upon completion of the game with 24 out of 29 achievements. Sophia is at large again. After escaping the Dreamless Castle and crossing Moonfell Wood she now reaches the Goblin Kingdom to seek help. Of course it will be more complicated as it seems. The Good: + adequate game length + (some tough) achievements + varied minigames... The Neutral: o ...but at least 95% of them are ridiculously easy o voiceovers only for the storyteller (as usual) o very easy HO scenes The Bad: - I don't know if my 23'' resolution has something to do with that, but the graphics are blurry and not sharp at all While some achievements are very tough to complete (find optimal solutions for riddles - but they don't tell you which ones beforehand) an experienced player will likely breeze through the game. I am ready for Sophia to finally find her people.
May 7, 2012