Oddly Enough: Pied Piper
Enter the weird and wonderful realm of legend in Oddly Enough: Piped Piper, an enchanting Hidden Object adventure that puts a quirky twist on a classic tale. Interact with memorable characters, decipher mind-melting codes, repair bizarre machines, and cook up strange concoctions in a quest to rescue the children of Hamelin. Packed with compelling puzzles, masterful minigames, and stunning design work, Oddly Enough: Pied Piper has something for everyone!
Incredible gameplay
Wonderful locations
Save the children!
Game System Requirements:
OS:

Windows XP/Vista/8

CPU:

1.6 GHz

RAM:

256 MB

DirectX:

9.0

Hard Drive:

381 MB
Game Manager System Requirements:
Browser:

Internet Explorer 7 or later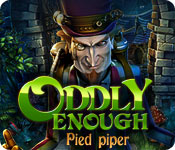 NEW299
The Big Fish Guarantee:
Quality tested and virus free.
No ads, no adware, no spyware.

Reviews at a Glance

Oddly Enough: Pied Piper
0
out of
5 (
0
Reviews
Review
)
Customer Reviews
Oddly Enough: Pied Piper
30
30
A solid, fun game
The pros: colorful graphics, engaging story, nice sound (except for the footsteps, that got annoying) The cons: I found the controls a bit clunky for moving around, the game is on the shortish side - about 5 hours for me. All in all, I really enjoyed this game. The controls weren't clunky enough for me to stop playing, just made me roll my eyes a few times is all. ;o) Would recommend!
February 15, 2012
Short but plesant!
When I first started this game and viewed the intro I was very worried that I had made a mistake in buying it without trialling it first. The graphics were grainy and amateur, the storyline a bit vague and the voiceover was very annoying. Thankfully once the actual game started my initial concerns were put to rest. The game is relatively short compared to other similar games; I completed it in around 2 hours but did enjoy playing it and would recommend its purchase. The scenes were drawn in cartoon style which I found to be a refreshing change from the majority of HO / Adventure games, but they still had with tons of detail to keep the game play interesting. The music and sound effects were perfect giving life to the game and creating drama without interfering with the game play, so much so that I hardly noticed them when playing. Once the game had started there were no voiceover for any of the characters, however if the voice actor from the intro is anything to go by this may have been a blessing. The dialog was very easy to read and did not interfere with the game itself. I did not find the majority of the game very challenging although it was still fun to play. The hint button refills very quickly and if you play in casual mode bright stars shine on the next object you need to use, almost walking you through the game play. This is perhaps a perfect game for beginners to HO/ Adventure games or maybe for younger people. The Hidden Object scenes themselves were different to most H/O games in that you had a collection of shadow parts for which you needed to find the corresponding image within the scene and then all these parts joined together to form an object you required in the Adventure. This may be disappointing for H/O lovers as they were not very challenging. The storyline was poor; it was mainly predictable but in parts did not make any sense. If the villagers all had their share of the money spare why would they not have paid the piper in the first place and why isn?t at least one of them smart enough to realise that is what will resolve the situation and they did not need to hire my character at all. The character of the piper himself was not very consistent going from reasonably offended (although kidnapping the children may have been a bit of an overreaction), to kind (willing to be reasonable once he had been paid) to evil (I?ll control you all!) and then ultimately giving up at the slightest of challenges. The ending was disappointing and did not seem realistic but I suppose that the makers will want to leave the story open for a sequel.
February 9, 2012
A Nice Enjoyable Game ...
Good Graphics, Sound & Style Of Game Play ... Game Length Was A Little Shorter Than Hoped, But Still A Good Level Of Enjoyment ... The Hogs Were Simple (Find All The Parts To Make The Needed Items) ... But This Did Help Keep The Feel Of The Game And Purpose ...
June 1, 2013
Colorful graphics and characters made me want to play longer
This game is somewhat on the shortish side but makes a perfect filler game in between those longer and harder ones. There are four areas to explore with about a half dozen locations within each area, so your movement is contained in only that area until all tasks are completed. This makes the adventuring part easy enough to navigate and remember since you'll only be going back and forth within a limited amount of scenes, which I like. You can't go back to previous areas once you're done with them so the movement is very logical and linear. The cartoonish graphics are lovely and wonderfully skewed at odd angles (oddly enough?) using rich, bright colors and very creative animations especially regarding the mechanical devices. I took one star away because the story could have been padded with more to do in order to make the story better and the gameplay longer. The story is lame at best and as one reviewer already said, if the townspeople had just paid the piper, none of the children would have been kidnapped. There are only three kids to save and the piper isn't actually mentioned again anywhere in the game until the final minutes. And then, there is really no climax. You get a little conversation with him where he goes back and forth with his opinions but there's really no climactic confrontation with him, which was a disappointment to me. I still had fun playing this game because it looked so darned pretty with its excellent artwork and animations and was easy enough where tasks were still challenging but not frustrating to complete. The hints refilled quickly and puzzles were easy and skippable so experts looking for brain twisters and tough challenges should look elsewhere. The hidden object items are all in silhouette but they keep the same orientation as those in the scenes themselves, and they combine to form tools that you need elsewhere in the game. The characters with whom you interact are quirky and fun and the game could have been better had voiceovers been provided for them. I experienced some glitches with freezeups a couple times on my eight year old computer, but clicking out and into the game again let me back in where I left off and saved everything I had done, so I still liked the game enough to keep it at four stars. I just wish it had lasted longer.
April 14, 2013
good game, overall
The graphics were nice, as well as the game play. Some parts were hard to figure out (I had to use a walk thru several times). There were some unique parts - the magic hat was inventive. I did find it annoyingly easy to accidentally move between screens. Overall, this game is worth playing, although it is a tad on the short side.
April 5, 2013
Love a Legend.....good game
This game offered a bit of a different twist on HOS. Each scene has you finding parts that create an object needed in the game. It was different and a nice change. If you are looking for challenging puzzles, forget it. These puzzles are super simple.....you won't need a walkthrough. There were times when I became dizzy with the wondering back and forth between rooms, but that seems to be in all games of this genre. Music is pretty.....harp.....and not at all intrusive. The graphics and visual art reminded me a bit of Hodgepodge Hollow which is another simple but visually beautiful game. I found the ending to be quite entertaining as well. There was enough game play to entertain for several hours without becoming long and tedious. I enjoyed the game.
March 17, 2013
Fun take on old story
I bought a Mystery Masters pack and this was on there, it's quite a bit of fun. The Graphics are pretty and the music is nice. I dislike the HO scenes a bit since instead of a word they give you a silhouette of the object, and then the objects are made into a contraption. They do have extras, including some of the music and several wallpapers for your desktop.
April 5, 2012
Oddly Enough - A Unique Experience
This game is a hoot and a half! Despite its shortcomings, there were enough unique features to tip my scale in favor of a four star review. The story is broken up into several chapters with different areas to explore within each chapter. Searching the sites gave me a pretty good idea where to go, what to do, and what to find, but a task list is available. I really enjoyed the way all the areas within the chapter interact with one another. Pick up a random item here, use it over there, assemble components in one scene and use it in another, that sort of gameplay is fun for me. The hint system is subtle and forces you to figure out things on your own. Once you've got it and had your moment in the sun, you continue on to another chapter of the game. Each area is a delight with refreshing, bright graphics and clever situations to resolve. What I did not like were the puzzles. For the most part they were random or so simple that they practically solved themselves. The rest of the game is so clever and challenging I felt the puzzles were just an annoying distraction. I didn't have an issue with the length of the game. For me it was a full evening of delightful entertainment with a chapter left over for breakfast.
April 1, 2012
Fun and different HOG
I loved the graphics. I liked the story line and the characters. It wasn't a suspenseful drama with death and gore. It was a very fun and entertaining game. It was vague on what to do exactly, so there was a lot of going back and forth. The hint button helped finding the pieces but not where to go next, but if you followed each arrow to a scene a little light would blink telling you you had something to do with that item. I thought the game was a little short but it was fun none the less. I like when games are different from the norm.
February 27, 2012
Pretty good with a few problems
Overall, this is a fun and quirky game. I recommend it. I would describe it as a mostly adventure (find objects, use them elsewhere), sometimes Hidden Object game (by shape, not item name). The game is based on the Pied Piper story. You must find the Pied Piper and pay him to get the children back. Graphics are cartoon-like, but well done. Great atmosphere. There are a good number of cool places to explore and interesting things to do. The funny characters are enjoyable. I liked the Gargoyle best. Some say it is short, but the length seemed 'ok' to me. There are some not-so-great aspects. First, there is a LOT of going back and forth within each location and each has, maybe, 8 to 10 places to visit. Some of the actions required, like making coffee, require a high number of not-very-intuitive steps. I had to use the hint button more than I like to. At one point, something just wouldn't work and neither the in-game dialogue, nor the hints were helpful. Extremely frustrating! A long time later, I figured it out, but it was just luck. There were other things I had problems with. Here is a hint: If you can still examine something, like a table, that means there is still something to do there, just not right now. Also, look around carefully. A few of the things you need are not obviously placed. The ending was a bit weird. Some reviewers are calling it sudden. I think dumb is a better description. My guess is the developer's wanted to keep it PG and set up for a sequel. Despite all this, I enjoyed the game! It is different and that, in itself, is refreshing.
February 12, 2012